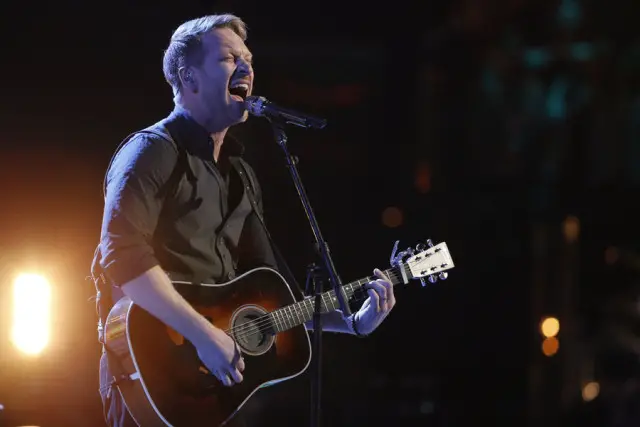 There were no on camera homecomings for The Voice 9 finalists. Homecoming footage usually airs during semi-final week. But with NINE singers vying for four spots during this season's semi-final bloodbath, homecoming segments were out of the question. Winner, Jordan Smith had a huge parade and concert in Harlan Kentucky a few days before Christmas.
Now, 3rd place finisher, Barrett Baber will celebrate his return to Fayetteville AR with two shows. Tonight's show, at 700 capacity George's Majestic Lounge, sold out quickly  A second show was then scheduled for tomorrow night (Dec 29) and it also sold out.
Interestingly, Barrett tells the Fayetteville Flyer in a phone interview,  that as far as recording an album is concerned, he's waiting on Republic Records.
And now he waits for the decision of Universal Republic Records, which has first right of refusal on offering him a record deal. If that company doesn't offer him a deal within 30 days, he can explore other options. That might include another record deal from a different label, or forging out on his own, his situation just months ago before a friend convinced him to try out for the show.
It sounds like Republic has the first right of refusal on all of the finalists. The label signed season 7's runner-up and 2nd runner-up, Matt McAndrew and Chris Jamison early this year. Matt released only one single with the label, "Counting on Love," while Chris has yet to release new music. Republic also released a single with Season 8 finalist, Mia Z, that was written and produced by her coach, Pharrell Williams.
Barrett has also secured a deal with the William Morris booking agency, and will be heading out on the road after the holidays. The upcoming concert dates include opening for a national act he's not ready to announce yet. The singer would like to use his local band,  many of whom play in the band Boom! Kinetic. He'd love to use them "forever and on every project," unless contractual obligations from a record deal get in the way.
But if a record deal does not happen? Barrett is fine with that. He feels his appearance on The Voice gave him a shot of momentum.
"I felt like I had a really good shot at making the final," Barrett said, reflecting on his The Voice experience. "I had done so much groundwork. I'm not sure anyone else did that much work."
Tonight's show will feature his band, while tomorrow's show will have a "Storytellers" theme, with Barrett answering questions in between acoustic performances of songs he sang on the show, and others he prepared, but never got the chance to debut on television.

Need to hide a sidebar or con