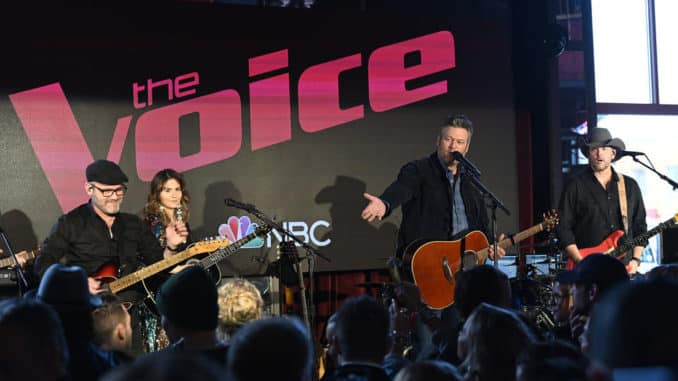 On Thursday (Nov 14), Blake Shelton threw a The Voice party at his Nashville Bar Ole Red. He performed for an audience that included a slew of his former Team Blake Shelton members, and others. A few of his former teammates also performed.
The party took place the day after the 2019 CMA Awards, where country star and The Voice coach won Single of the Year for his hit "God's Country." He also performed the song on stage.
Former The Voice contestants who attended the Ole Red event include: Raelyn, Red Marlow, Sundance Head, Emily Ann Roberts, Reagan Strange, Craig Wayne Boyd, Michael Austin, Jackie Verna, Dallas Caroline, Kyla Jade, and more. 
"Damn good time at @olerednashville with @nbcthevoice today!" Blake posted on Twitter.
UPDATE: Forbes reports that the event set the stage for a Team Blake Shelton segment for Monday's (Nov 18) Top 13 Live performance show.
Blake Shelton's Ole Red restaurant and entertainment complex in downtown Nashville was buzzing with energy, added security, and a lot of people wearing NBC The Voice badges. TV cameras were also moving around in preparation for a Blake Shelton performance set for the stage a short time later. Members of Team Blake from this season's show which includes contestants Cali Wilson, Kat Hammock, and Ricky Duran, were there and would be watching him. It would all be recorded for a segment for next week's show.
Check out photos and social media posts below. 
Had a blast @OleRedNashville yesterday for the #voiceinnashville party! How many of these #Voice alums do you recognize?! Tag 'em in the comments! @NBCTheVoice #OleRed #TheVoice #TeamBlake pic.twitter.com/onGf5pORbs

— Red Marlow (@redmarlow) November 15, 2019
Had an awesome time at @OleRedNashville yesterday for #VoiceInNashville. Great to see @blakeshelton perform and visit with fellow #VoiceArtists. Now headed to Paris TX for tonight's show at Heritage Hall. Trey Rose opens up the show then we hit the stage.

— Sundance Head (@SundanceHead) November 15, 2019
#VoiceinNashville @NBCTheVoice pic.twitter.com/MiKBQ8M0Hr

— Sundance Head (@SundanceHead) November 15, 2019
#CMAAwards  week brings out some of the best #countrymusic talent…and when you find them all together in one spot… ! @NBCTheVoice alums @CWBYall @adamwakefield @SundanceHead & Michael Austin ! Now this would be one AMAZING show! pic.twitter.com/jLtnRihyng

— Official TEAM CWB (@TeamCWByall) November 14, 2019
Look who i got @itsjackieverna and @Dallas_Caroline #nbcthevoice #season14 pic.twitter.com/W64c4Tm1YW

— Kyla Jade (@kylasings) November 14, 2019
Hangin' with the CMA Musician of the Year today! Congrats @JeneeMusic! #CMAawards2019 #OleRed #TheVoice #TheVoice #TeamBlake pic.twitter.com/QiHe8zzFZE

— Red Marlow (@redmarlow) November 14, 2019
Damn good time at @olerednashville with @nbcthevoice today! pic.twitter.com/J3C8goRy7i

— Blake Shelton (@blakeshelton) November 15, 2019
"Every time I'm in Nashville I try to make it a point to come out here, and at least hang out and hopefully get on a stage" @blakeshelton @NBCTheVoice #voiceinnashville pic.twitter.com/ZYblsymmzW

— Ole Red (@OleRed) November 15, 2019
Photo Gallery