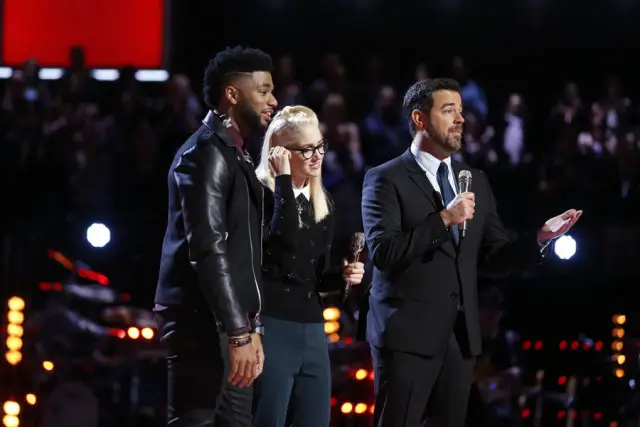 The Voice 9 Top 12 Results Live blog! Join us as we report who is staying in the competition, and who is leaving. ONE contestant will exit the competition after the insta-save sing-off.
For the finals, eliminations will proceed differently than in past seasons. It's a 5 week final round. One contestant will be eliminated tonight, next week and the week after. The Top 9 will perform for your votes during the Semi-final round. FIVE contestants will be eliminated that week. The remaining 4 contestants will compete in the finale. Click for the full schedule.
While you're at it, read our recap from last night's The Voice Top 12 performance, and check out our polls and predictions.
Will the eliminated contestant come from Team Adam Levine, Team Blake Shelton, Team Gwen Stefani or Team Pharrell Williams? Stick around to find out.
Host Carson Daly brags that all 12 singers hit the iTunes Top 100. Three contestants reached the Top 10 (Barrett Baber didn't make the cut off after all. He was so close!).
Carson brings the Top 12 out to center stage. First, a little awkward Q&A.  He asks Amy Vachal what Adam means to her as a coach, and she babbles on for a bit. Barrett is given another opportunity to pimp himself as a family man. We get right to some results. Probably will be the obvious ones first. And I began typing "Jordan Smith" before Carson even finished his sentence.  America also saved, from Team Gwen, Jeffery Austin. NO KIDDING.
SO MUCH FILLER. Blah blah from the coaches until we get to the good stuff. Product placement from Pharrell, pimping his sunglasses. The wearing-them-indoors thing is annoying.  Blake believes all three of his team members have the potential to be stars post-show.
The remaining contestants are called back to the stage. Mark wants to show America he's not a one trick pony. He hopes to get that chance. Good luck with that, buddy.  Madi says having Pharrell turn a chair for her was confidence building. More results! America saved, from Team Blake, Emily Ann Roberts! America also saved…from Team Pharrell…Madi Davis! Hooray.
Carson notes that all coaches have representation on stage now. I don't expect that to last.
Blake Shelton takes the stage with his team, Barrett Baber, Zach Seabaugh, and Emily Ann Rose to perform a countrified "Lean on Me." Wake me up when it's over, will ya?
https://www.youtube.com/watch?v=KCq4vYcQ2-U
The remaining 8 artists take the stage. Seventeen year old Zach wants to continue in the competition as an amazing growth opportunity.  Evan is learning that you have to do what you love and love what you do, and go in the direction where God leads.  Oh. Braiden Sunshine is safe! I knew those low iTunes numbers didn't mean anything. From Team Blake Shelton, Barrett Baber is safe. . And from Team Adam, Amy Vachal. So far, no real surprises.
The Bottom TWO will perform for The Insta-Save.
Pharrell Williams and his team, Evan McKeel, Madi Davis and Mark Hood are singing….some early 70's sounding R&B thing. Oh. It's a Pharrell Williams song, "Just a Cloud A Way." That performance was really weird and messy.
https://www.youtube.com/watch?v=MnPLSlVH0aI
The remaining contestants take the stage. Korin nervously answers a question about her coach, Gwen. Shelby waxes on enthusiastically about working with Adam.  America saved…from Team Pharrell….Evan McKeel. America also saved…Shelby Brown from Team Adam. America also saved…Zach Seabaugh.
Korin Bukowski and Mark Hood sing for the save.  Ooo. I think Mark has a chance, because Korin will likely be nervous. The contestants perform a song they choose.
Mark Hood – Signed Sealed and Delivered –  Mark is working the stage, performing this soul classic. Mark has brought back the entertaining dance moves. He's a tad on the desperate side, but it's a solid effort. At the end, he grabs the air, almost defiantly. He's in it to win it, as they say. Gwen calls his spirit big and beautiful. "That was magic." Adam singing the song with Stevie, and being real nervous. "It's a really good lyric for this moment," he says. Blake says Mark is "so much fun to watch." He tells him not to think too hard about what's going on. "You deserve to be here," he says. His coach, Pharrell, is proud of him. "You bared your spirit for the whole world to see."
https://www.youtube.com/watch?v=RPqeo_mUJHs
Korin Bukowski – I Don't Know Why – This is very sweet. She more relaxed than I was expecting. She's like I remembered her from the Blinds. The pit is waving their hands. These are performances you can't really compare? It depends on what you like. This is pretty good in its own quiet way. It was Adam's favorite Korin performance. He heard confidence. "That was really a touching performance." Blake notes she's bashful and unassuming when she's not singing, and agrees it's her best performance. Pharrell congratulates her on delivering an authentic performance. It's also coach Gwen's favorite. "She deserves to be here!"
https://www.youtube.com/watch?v=H3d-DoGwxsY
Oh. After those glowing comments for Korin, I think she might take it! OK. It's time. Tweet #VoiceSaveKorin or #VoiceSaveMark. REMEMBER ONLY TWEET ONCE. Return tweets to vote more.
Mark and Korin thank their respective coaches.  Coaches Pharrell and Gwen give their charges a pep talk before the results are revealed.
America INSTANTLY SAVED Korin Bukowski.  Mark Hood is ELIMINATED.
NOTE: R. City was originally scheduled to perform tonight, but will appear at another time.
The Top 11
Jordan Smith – Team Adam
Jeffery Austin – Team Gwen
Emily Ann Roberts – Team Blake
Madi Davis – Team Pharrell
Braiden Sunshine – Team Gwen
Barrett Baber – Team Blake
Amy Vachal – Team Adam
Evan McKeel – Team Pharrell
Shelby Brown – Team Adam
Zach Seabaugh – Team Blake
Korin Bukowski – Team Gwen – SAVED BY AMERICA
Mark Hood is eliminated from The Voice
ETA: I thought they both acquitted themselves pretty well. Mark did his Mark thing, and Korin sang better than she has in several weeks. Because there was such an improvement, maybe Korin deserved to say. But I hated to see Mark go. He's the only African American contestant remaining. Correct me if Amy, who is Asian and bi-racial, is the only person of color remaining…
Neither contestant was going to get much farther in the competition anyway. Korin will be history before the semis, unless Gwen suddenly transforms into a coach that does not suck. And no, Gwen. Korin's near miss doesn't mean you get her a tattoo, or design her some fugly outfit. How about paying attention to the stuff that matters–her performance.