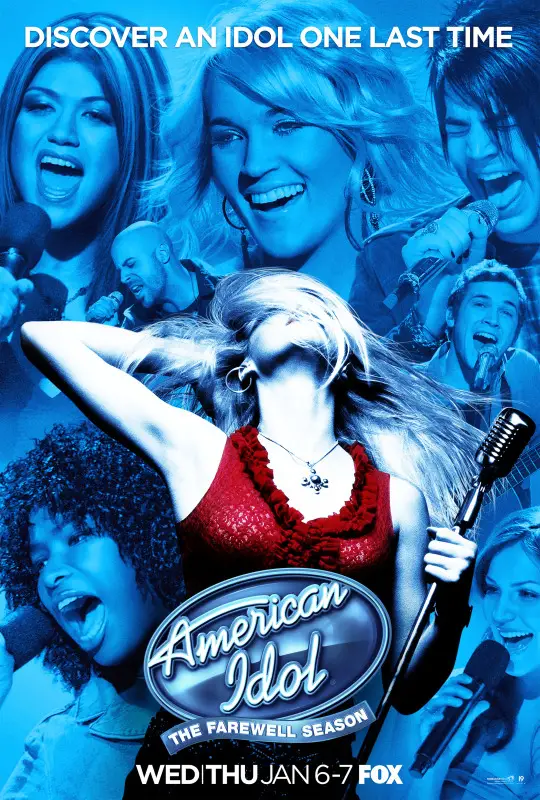 American Idol released key art for the beloved franchise's fifteenth and final season on Tuesday. In the photo, there's a blond singer flipping her hair. According to TVLine, the model is the same model Amanda Noret that Fox used for the show's Season 1 posters way back in 2002.
Around her, are an assortment of alums who have helped make the franchise famous, including Kelly Clarkson, Carrie Underwood, Adam Lambert, Chris Daughtry, Phillip Phillips, Jennifer Hudson, and the woman in the right hand corner…that's Katharine McPhee, I believe.
Kelly, Carrie and Adam are in the midst of promoting albums on a major label. Chris and his band Daughtry, aren't actively promoting a record, but he did recently film a TV pilot for FOX.
I don't quite get continuing to promote Phillip Phillips, considering the ugly way he broke up with 19. But, Phillip did release "Home," which sold more than 4 million copies and is the best selling Idol single of all time. It could also be that FOX is driving the promo and doesn't care about the concerns of the show's owners.
Jennifer is currently starring in a Broadway revival of The Color Purple. Katharine stars in the hit CBS drama, Scorpion.
Share your thoughts on American Idol's new key art in comments!