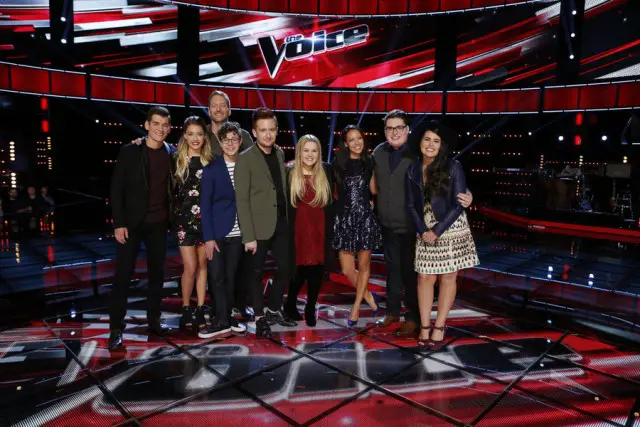 The Voice 9 finals continue! The Top 10 will perform for your votes tonight, and one will be eliminated tomorrow. See what the members of Team Pharrell Williams, Team Gwen Stefani, Team Blake Shelton and Team Adam Levine are singing right here.
The Voice 9 Top 9 Power Rankings – What Are Yours?
REMEMBER! Wait until 10 pm ET before downloading your favorites, or it will not count as a vote for this week's elimination.
Madi Davis – Team Pharrell – Big Girls Don't Cry by Four Seasons  – Download from iTunes
Braiden Sunshine – Team Gwen –  Amazing Grace – Download from iTunes
Jeffery Austin – Team Gwen – Believe by Cher   – Download from iTunes
Barrett Baber – Team Blake –  Ghost by Ella Henderson – Brett Barber – Download from iTunes
Emily Ann Roberts – Team Blake – 9 to 5 by Dolly Parton – Download from iTunes
Zach Seabaugh – Team Blake – The Climb by Miley Cyrus – Download from iTunes
Amy Vachal – Team Adam – To Make You Feel My Love by Bob Dylan  – Download from iTunes
Jordan Smith – Team Adam – Somebody to Love by Queen – Download from iTunes
Shelby Brown – Team Adam – Even God Must Get the Blues by Jo Dee Messina – Download from iTunes
Dolly Parton is mentoring this week. I'm assuming she came in towards the end to help the contestants polish up their performances.
I assumed Madi Davis was singing the Fergie song…until I listened. Hm. Really Madi? You believe performing a Joey Cook style cover of The Four Seasons is the prudent choice at this point of the competition? Sigh.
So. Braiden Sunshine is so desperate to stay in the game, that he's resorting to pandering for the Christian vote. Really. Ugh. I'll be so annoyed if the ploy works.
WTF Barrett Baber. You're probably all proud of yourself, re-arranging "Ghost" to sing with a twang. But. NOPE NOPE NOPE. I'm actually a little happy, because it might help my favorites (who aren't choosing the greatest songs to begin with, either).
I have mixed feelings about Jeffery Austin covering FREAKING CHER. Well, he is staying true to himself, God love him. The version is sufficiently ballady, he could pull off an impressive vocal and win over America, maybe even the less open-minded out there.
Giving Emily Ann Roberts a Dolly Parton song. THUMBS UP. Giving her a pop crossover hit like "9 to 5" NAY NAY NAY. A heartfelt old school country tune, with a guitar in hand would have been the thing to do. Dolly is mentoring this week. I'm going to assume that wasn't her idea.
Zach Seabaugh – Welp. A big song like "The Climb" will probably reveal all of his vocal weaknesses. But if he comes off super-sincere, he could win viewers over.
"To Make You Feel My Love for Amy Vachal is a good choice. She won't bring the vulnerability required, but she'll set a gorgeous mood and offer up an interesting arrangement. She's on the right track.
Jordan Smith will plead with America to help him find "Somebody to Love," nail the high note, before gliding into the Top 10 on iTunes and subsequently the Top 3. The cover won't be very interesting or special, but that's nothing new.
I hope Shelby Brown's song is better live than that dull recording.