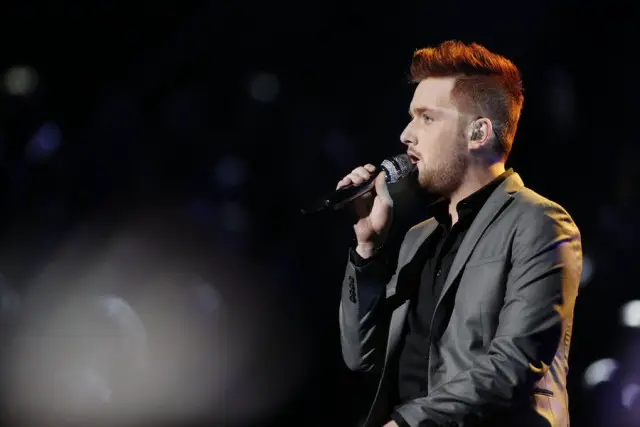 The Voice 9 Recap Top 11 Performance Live Blog VIDEOS
Tonight, the 11 remaining members of Team Blake Shelton, Team Adam Levine, Team Gwen Stefani and Team Pharrell Williams perform for YOUR votes! Click for Voting Rules. No phone. No texting. Online voting only at NBC.com, The Voice Facebook or via The Voice smartphone app. And of course, iTunes downloads count as votes!. Don't download until 10 pm ET! Voting during the show ONLY on the smartphone app.Click for tonight's Top 11 Song Spoilers.
Hello host, Carson Daly. He introduces the coaches. Pharrell is still wearing sunglasses with that black eye Jay Z didn't give him. Pharrell is performing his hit song, "Freedom."
Shelby Brown – Team Adam – You and I by Lady Gaga – Oh. Shelby's dad is with her. It must be family week. American Thanksgiving is on Thursday. Make those YOU AND I's BIG! Adam advises. Her dad is a police officer. He's her guardian on set, too. Adam promises to buy her a giraffe if she nails her performance this week. Shelby has a growly edge to her vocal and a hefty middle range. She might want to dial that back–the effect is a tad strident. She doesn't look altogether comfortable stomping around the stage, either. She's talk singing a little. I know that's all the rage these days in country music, but please don't do that. She changes "Nebraska" to her home state "Alabama." The performance transforms when she hits the chorus–she really belts it out. I spent the entire song waiting for that moment. It was the best part of the song. She went a little wonky on the last bit. It was Blake's favorite performance of hers, ever. "You came out here like a cannon," says Pharrell. He felt it was her most comfortable performance (I disagree with that). Gwen thought she used the growl too much (she's correct). Shelby hopes she gets her giraffe. Adam thinks she deserves it, but he's not sure how he'll pull it off. He chastises the audience for clapping off the beat. Oh, audience. –  Download from iTunes
https://www.youtube.com/watch?v=8NFGU7ofQVs
Evan McKeel – Team Pharrell – Smile by (Standard written by Charlie Chaplin) – Evan's mom sits in. Jeez, this song choice is akin to sabotage.  But obviously, Evan trusts Pharrell implicitly. A talented musician, I wish Evan would trust his own instincts more.  Mom tears up a little watching him. Evan loves the message of hope "Smile" sends, particularly in these difficult times. Evan performance in the death spot this week. He's going to have to kill it. But even with a dramatic a'cappella opening and his gently guitar strumming, the performance was bland. His vocal is pretty enough, but the song goes nowhere.  I appreciate the sentiment Evan is trying to express, but this performance does not showcase his vocal ability at all. There's a cheesy silhouette dancer performing behind him. Ugh. After, Carson mentions that the song was a good choice, "considering events." It's Gwen's favorite performance of his, ever. Hm. "Very very good." she says. Blake thinks he's such a pro and loved the silhouette girl.  Pharrell felt like Evan let people in for the first time.  The coaches were so complimentary, maybe that will keep him out of the bottom two.  I think Pharrell is handling Evan all wrong.  – Download from iTunes
https://www.youtube.com/watch?v=-Ze6DguXMjg
Barrett Baber – Team Blake – Delta Dawn by Tanya Tucker (originally Helen Reddy) – Barrett's wife is here.  He says this is the week that he shows the audience his artistry.  He plans to do that with a Tanya Tucker cover?  HE picked the song, not Blake. Alrighty then. He loves "tossing around ideas" with Blake, whom he seems to consider a peer. Mrs. Baber is sitting in on the mentor session. She chats about how they met. This is such a random song to perform. Out of all of the songs in the world he could sing.  Barrett is a guy who's been playing around town for a long time. He's got confidence, but not a lot of originality. This performance is not terrible, but Barrett is not  raising the bar in any way shape or form. Congrats on missing the iTunes Top 10 AGAIN Barrett. Gwen congratulates him on "maning the stage." It doesn't even matter what he sings! Adam mocks Blake for a minute, before saying the performance was fun. "You just took us all to church," says Blake, while Adam continues to talk over Blake. SHUT UP ADAM. What church is that Blake. Oh the hyperbole. –   Download from iTunes
https://www.youtube.com/watch?v=oqDpEK9jbuc
Christina is backstage for kohl's with SUGAR JOANS. She just released a new song.  They talk trends and stuff. The guys look so dapper, they say.
Korin Bukowski – Team Gwen – Only Hope by Mandy Moore – Gwen assures Korin that her save me song was the best she's ever sounded. Korin's dad reveals that Gwen's "Just a Girl" was her jam as a kid. I wasn't expecting much from this song pick, but Korin sounds so pretty on it. I like the first half better than the second. She doesn't have the power to elevate the song when it's needed. The band overwhelms her. Korin has to work on dynamics, or maybe she should perform an acoustic song. It's her best regular performance in a while. Adam thinks she's growing so much. I beg to differ. I think Gwen is confusing her. Pharrell thinks she's beginning to enjoy herself.  The coaches are seeing things that aren't there. Gwen is proud and happy for Korin.  The consensus seems to be that Korin is just blossoming. She still looks scared to me, but at least she didn't sing like a dead fish this week. –  Download from iTunes
https://www.youtube.com/watch?v=aT8wjJC94PA
Amy Vachal – Team Adam – Blank Space by Taylor Swift – They joke that her dad looks like Walter White. Heh. But without the murder. Adam is sure Taylor will like her version. Amy calls Adam a "straight up bad ass coach." Adam suggests she lose the guitar. Keep the energy on the vocal. That's good advice. Amy delivers a sweet, winsome version of the song. It's so slight, that it might float away. Her voice is stylized, but so soft. The song needs a little snark. A bit of edge. But I think people are going to like that. Amy is always consistently herself. She's  self-possessed. Having a distinct style and sticking to it is half the battle. Blake wants Amy to flip his "Boys Around Here." It's his favorite vocal, because her bottom range sounded great. Pharrell urges America to buy her song on iTunes. Adam thinks she's winning by taking her own approach to songs.  –Download from iTunes
https://www.youtube.com/watch?v=TaB1yW_KLdg
Let's take a break from the competition to watch Pharrell Williams perform his smash single "Freedom."  Shout it out y'all.
https://www.youtube.com/watch?v=wRU-y1K1Je4
Zach Seabaugh – Team Blake – Are You Gonna Kiss me Or Not by Thompson Square – He has four sisters. He's the only boy. His mom is sitting in. She admits she was uncomfortable while he was on stage gyrating his hips during the Playoffs. She's proud of him, though. I know the gals love this kid, but I'm just not seeing the charisma. His vocals are competent, but his performance doesn't keep my attention. His timing is off, and so is his pitch in spots. So mediocre. I'm trying not to be a negative nelly, but nobody NOBODY has brought it yet tonight. Now, let's hear some nonsense from the coaches. Gwen thought it was cheating to do that song. Because of the cute girls. Or something. Ugh. Her comments are useless. The girls in the audience are screaming. "You have the chops, you can sing," says Adam. Blake declares a big night for Zach. The comparisons to Elvis again. NOPE NOPE NOPE. "You're singing is spot on," Blake finishes. Uhm. Not really.  – Download from iTunes
https://www.youtube.com/watch?v=8WWg7O7dHXc
Madi Davis – Team Pharrell – Love is Blindness by U2 (Jack White covered) – Another mom sitting in. Pharrell thinks the song fits her journey. He loves that her "isms" are all hidden in the right places. He namechecks Adele. Madi accompanies herself on keyboards, until eventually rising to lean against the piano, chanteuse-like. Singing an unfamiliar song, without much of a hook, could hurt her. She has some exquisite moments. Madi has an amazing instrument. She hits some big notes where they count, and adds gorgeous vocal flourishes where they aren't expected. "I'm too numb to feel…blow out the candles." Wow. I hope viewers appreciate the emotion Madi poured into that beautiful song.  The performance may be too dense and complicated to translate to a singing competition. Dad is crying like a baby. And so is Gwen. Blake calls it the best performance of the night. Pharrell urges the crowd to stand and clap. Madi is getting a little teary here.  –  Download from iTunes
https://www.youtube.com/watch?v=Ijwb8VXgboE
Braiden Sunshine – Team Gwen – True by Spandau Ballet – Braiden's dad is his best friend! Music is the thing they do together. Gwen is looking to bring back that Buble vibe from "Feeling Good." Gwen sings along to help with the melody. Carson says Braiden will introduce the song to the younguns. More like ping the grannies. Braiden appreciates Gwen's maternal instinct. She notes her son is just a little younger. Sans glasses and hair blow dried back. Braiden is bringing the cheese to a super cheesy song. Still mining the high school talent show vibe. Braiden is so out of his depth. Oh. Hey. BIG NEVERENDING NOTE. That will garner him some votes. I really think he's sticking around until the semi-final blood bath. Blake thinks the pairing of singer and coach is one of his favorite things. Pharrell notes his control, and subtle runs. Hm. Gwen's got mom feels. She's so blown away by his performance. –  Download from iTunes
https://www.youtube.com/watch?v=1MCv8JF3ETY
Yay. Jeffery has the pimp spot!
Jordan Smith – Team Adam – Who You Are by Jessie J – His mom comes along. She introduced him to music. And she tells embarrassing stories. Jordan's The Voice run has been all about his backstory, and "Who You Are" is the embodiment of the misfit trope that's been driving his success. Jordan belts out his big impossibly high trademark notes. He's pouring everything he has into the performance. The crowd goes wild, as he tears up. "It's just OK to be who you are!" he cries. And the iTunes downloads fly. Pharrell appreciates his attention to detail when he sings. Gwen gushes, "How great is this life to have this moment right now!" Adam reveals that Jordan has a performance insecurity, but insists he's one of the best, because he brings conviction.  I wish he'd bring a little subtly.  –  Download from iTunes
https://www.youtube.com/watch?v=Kpgy-thdiGA
Emily Ann Roberts – Team Blake – Why Not Me by The Judds – She loves "Uncle Blake." Speaking of which, her dad sits in. Emily has been singing since she was 4. Ricky Skaggs follows her on twitter. Sweet. She and Blake give the song a super-bluegrass feel. Great song choice. Standing in place with a guitar allows her to focus on her vocal. This is really good. Definitely her best in the lives. She's got such a sweet clear tone. It's a perfect radio voice. Her personality is really shining through this week. I remember why I liked her in the first place. Good for you, Emily Ann. She adds a little giggle at the end. So natural. Pharrell loves her super classic sound.  She's a better singer than both Zach and Barrett. Blake is so proud of how she bluegrassed up that song. –  Download from iTunes
https://www.youtube.com/watch?v=ubwxBwXoCsg
Jeffery Austin – Team Gwen – Dancing on My Own by Robyn – Jeff was thrilled to make the Top 10 last week. Mom is in the house. He mentions how accepting she was when he came out as a gay man. And as a gay man, he's thrilled to be singing Robyn. She's an icon.  Gwen notes that he doesn't know what to do with his body when he's not singing and gives him tips on body movement. The original is an upbeat dance tune. The version Jeffery is performing is arranged as a ballad. The song, about watching someone you dig hit on other people, is full of longing. Jeffery's performance builds to a huge emotional crescendo. Leaving it all out on the dance floor, as they say. I love the depth of emotion Jeffery brings to his performances. Gwen is crying her head off. Adam insists what Jeffery has, can't be taught. Blake thinks Jeffery could win, and notes that HIS BOO COULD BE THE FIRST FEMALE COACH TO WIN. Gwen, moved to tears, thanks him for being awesome. –  Download from iTunes
https://www.youtube.com/watch?v=3704FhUn238
Tomorrow night at 8 pm, one more contestant leaves the competition. Join us then!