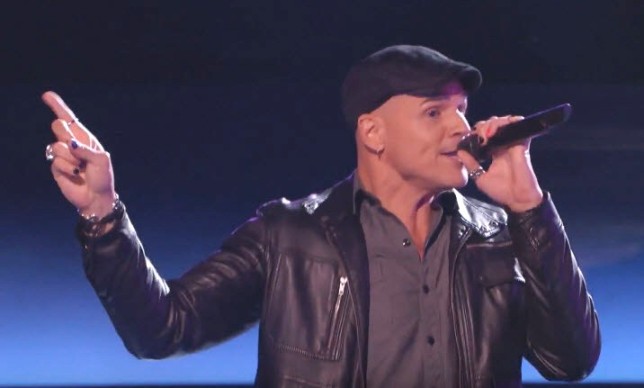 Rock singer, Manny Cabo, gets a 4 chair turn in this preview for tonight's The Voice 9 blind auditions. Adam Levine is the first coach to turn, almost immediately after the singer begins his performance of Whitesnake's "Here I Go Again." Blake Shelton hits his button soon thereafter. Pharrell Williams, and Gwen Stefani are next.
Exhibiting a strong classic rock voice, with an impressive wail, the coaches vie to get Manny on their teams. Blake, seemingly running out of ideas to woo potential singers says to Manny as he takes off his cap. "You don't have any hair…and you were doing hair band stuff!" Astute observation! Next, he knocks Adam's penchant for rolled up jeans as a reason to reject his team. "I'm desperate!" admits Blake. "You seem like a man's man," he says to Manny. "And I want a man."
You'll have to wait to hear Blake's fellow coaches presumably less embarrassing pitches for Manny on tonight's The Voice blind auditions, airing at 8/7c PM on NBC. We'll be live blogging as always.
https://youtu.be/zM2VAarCWc8