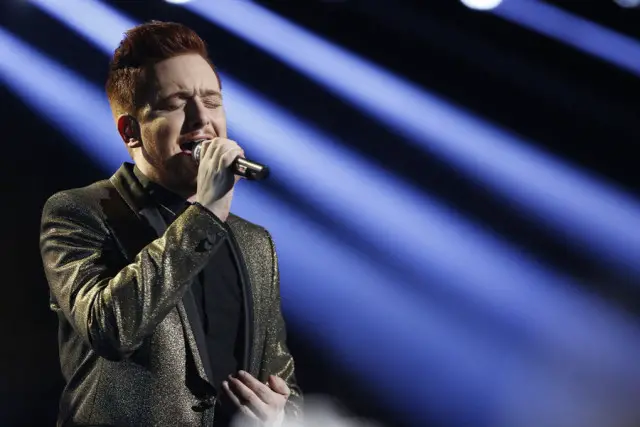 A couple of notes about tonight:
If the coaches have nothing useful to say, why say anything at all? The contrived gushing after Every. Single. Performance. whether it was good or not, got on my last nerve. After the coaches pick their final teams, they literally have nothing of interest to say to the contestants. Now, if they were actually offering some constructive criticism, that would change the picture considerably.
Pharrell seemingly took a passive-aggressive swipe at Republic, the major label that signs The Voice winners. He said to frontrunner Jordan Smith, after he performed "Mary Did You Know,": "My greatest hope for you is that…dream is realized in the proper way…you go to a label that really understands everything that you need, and everything that these people have come to fall in love with…not becoming something else. Not chart chasing. Just Jordan Smith." It's like he's assuming Republic will mishandle him (could there be trouble behind the scenes, concerning season 8 winner, and Pharrell protege, Sawyer Fredericks', upcoming debut, that's making the coach a little salty?). But, unless Republic has a classics or CCM division, the label won't be a good fit. Jordan probably would be better off at a niche label or specialized imprint.
Last week's tense all-or-nothing bloodbath really seemed to leave the remaining contestants spent. Also, up until this week, the singers only had to worry about rehearsing one song for competition. Suddenly ramping it up to three may have been too much pressure. It's not uncommon for finalists to be burnt out at finale time, but being thrown into a situation that didn't include a gradual whittling down of competitors/ramping of performances didn't help. A final of uneven performances was the result.
The Voice 9 Final Performance – Live Blog and VIDEOS
I still can't wrap my head around replacing original songs with CHRISTMAS songs. It was one less new song to learn, but to the last one, those holiday performances were lacking. It was the new covers that gave the finalists an opportunity to shine. Emily Ann Roberts, Jeffery Austin and Barrett Baber rose to the occasion. Something was off with Jordan Smith tonight, both vocally and emotionally. It was as if he gave everything he had last week, and was done.
Not that it matters. Jordin was presented, by way of song choices, editing, and coaches critiques, throughout the season, as the one to beat. His vocal prowess and sincerity in combination with a powerfully crafted backstory, has resonated with viewers since the day he performed in the Blind Auditions. This is a train that's been barrelling down the tracks for miles. Nobody is going to catch up. Once again, according to the preliminary iTunes numbers, Jordan continues to dominate.
iTunes Charts as of 12:32
1. Jordan Smith – Team Adam – Mary Did You Know
2. Emily Ann Roberts – Team Blake – Burning House
3. Jordan Smith – Team Adam – Climb Every Mountain
5. Jordan Smith & Adam Levine – God Only Knows
6. Emily Ann Roberts & Blake Shelton – Islands in the Stream
10. Barrett Baber – Die a Happy Man
12. Jeffery Austin – Team Gwen – Stay
14. Emily Ann Roberts – Team Blake – Blue Christmas
19. Jeffery Austin & Gwen Stefani – Leather and Lace
20. Barrett Baber & Blake Shelton – Rhinestone Cowboy
25. Barrett Baber – Team Blake – Silent Night
27. Jeffery Austin – Team Gwen – O Holy Night
More Jordan Smith
11. Somebody to Love
16. Hallelujah
42. Great is Thy Faithfulness
56. Halo
60. Chandelier
65. Set Fire to the Rain
Jeffery Austin charts at 64 with "Believe." No other contestant is charting higher than 65 with a prior week's performance.
Favorite Performance
Favorite Duet
Favorite Contestant
Who Will Win The Voice 9
Grade the Episode