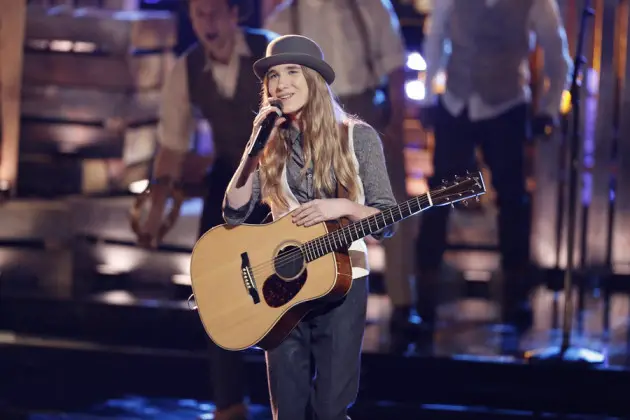 iTunes Rankings as of Midnight 5/12/15
4. Sawyer Fredericks – A Thousand Years
6. Sawyer Fredericks – For What It's Worth
16. Meghan Linsey – Tennessee Whiskey
28. Joshua Davis – I Can't Make You Love Me
33. Meghan Linsey – I'm Not the Only One
35. Koryn Hawthorne – Oh Mary Don't You Weep
48. India Carney – Earth Song
50. India Carney – Gravity
60. Joshua Davis – When I Paint My Masterpiece
78. Koryn Hawthorne – One
Holy Moly. Can we just crown Sawyer Fredericks now? Has any The Voice contestant run away so completely with the competition? And this is without any help from production. It's a pure, grassroots level fandom for Sawyer. A good thing productions seems perfectly fine with him winning, because this young singer is unstoppable.
Read More: The Voice 8 Top 5 Live Blog and Videos
His songs shot straight to the iTunes top 10, but they weren't my favorites. I thought the other teen in the group, Koryn Hawthorne, was tonight's star. She slayed both of her performances. I'm disappointed to see "One" ranking dead last. "Oh Mary Don't You Weep" should be higher! Oh Joshua Davis–I knew that The Band song was a mistake. But I have a feeling he'll still be safe this week.
India Carney, despite the elaborate staging, and wind machines, effusive comments and great performance spot? She's still ranking pretty low on iTunes. She's going to hit bottom again and will face off against either Koryn or Joshua. My bet is on Koryn. Can India survive another twitter save? I think no.
Did anybody understand what Pharrell was talking about? His critiques are making less and less sense. Not that the coaches had much of a role this week. No behind the scenes mentoring packages at all. The second half of the show was taken up by hometown visits, which is always fun to see.
Now it's YOUR TURN. VOTE for your favorites. Who do YOU think is leaving the competition?
The Voice 8 – Top 5 – Favorite Performance
The Voice 8 – Top 5 – Favorite Contestant
The Voice 8 – Top 5 – Grade the Episode
The Voice 8 – Top 5 – Who SHOULD go Home
The Voice 8 – Top 5 – Who WILL go Home