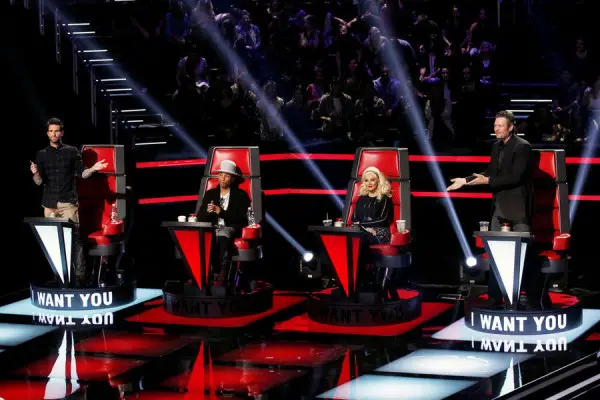 The Hollywood Reporter interviewed Paul Telegdy, NBC's president of late-night and alternative programing about what we can expect in upcoming seasons of The Voice. Here are a few interesting sound bites from the interview.
The Voice has adhered to a 1 woman 3 man coaches panel for all 8 seasons of series, but Telegdy reveals the producers are considering configurations that include more than one female coach at a time.
We will definitely try that in the imminent several seasons. We think it would work. Sometimes it feels like it needs more girl power. Christina is a very strong woman, Shakira is a feisty one, too. It's not about needing strength in numbers. I think they've done it in a couple of places around the world [where The Voice airs local versions], and it's provided a good switch-up to the format. We're looking at that combination.
I would LOVE to see a switch up in the gender configuration of the panel! It's one way to shake things up a bit. Although the Mariah Carey/Nicki Minaj combo was a bust, Mel B. and Heidi Klum are a great team over on AGT.
No radical changes to the format, says Telegdy. But it appears there will be a concerted effort to engage the audience even more via social media.
This is not a year for radical changes, from a format point of view. Building off last season — which, by the way, in the absence of a format story, we go to the next thing, which is viewer engagement in the digital story. We've been seeing a seismic change in how people interact with TV shows. You go back 10 years, it's a toll-free number, then social media happens. Our own app was astonishingly — and I mean a factor of 10 — more successful than any other voting method. That was almost the beta version of what we're unveiling [this week] for the show. I think a lot of the story is going to be how can I impact the outcome of the show differently, and in a way that feels more natural. We've abandoned the "wait until the show [ends] to vote." It's more fluid engagement. That's working really well. We're expanding on the audience engagement tools that are part of the storytelling.
The interviewer asked if the live rounds might be lengthened, because it's tough to lose so many contestants at one time.
You won't find that many people — either in my job or the production side — advocating for more Voice; quite the reverse. I feel that we're a slightly different story going into the live shows [this season] in terms of the numbers. I can't remember exactly what they are but we're tinkering with how it plays out live. But in terms of blinds, battles, knockouts and the playoffs, that kind of structure remains the same, including the playoffs being live. Not radical format changes, but some pretty significant tweaks in how the viewers will engage.
I'd personally love to see the live shows expanded, but the fact remains, that the live shows are lower rated than the earlier rounds. I think what Telegdy might be saying here, is that live shows won't be longer, but some tweaks they have planned will make them more exciting.
Speaking of which, NBC loved the "wildcard" twist going into the finale. It appears to be here to stay. Also, expect original songs again, maybe deeper in the competition. I'm not complaining!
Yeah, that worked well. That drove a huge amount of social chatter and engagement. It was a bit of an obvious one horse, two horse race [last season], so we're looking at how to make that more exciting for the viewer. The other thing that worked phenomenally well that we weren't expecting to work, was the original songs we did in the finale. All three of the top 3's records were major sensations. They were perfect for them, and elaborately woven kind of stories for the individual contestants. That's something we're going to amplify. I don't know where in the competition, because can you imagine finding 12 amazing songs or six amazing songs [for multiple weeks]?
The Voice is VERY focused on increasing social engagement, as a way to create excitement. It makes me a little nostalgic for the old days when the excitement was created solely from incredible (or not so incredible!) performances from the singers.
Read more at The Hollywood Reporter