Here's your COMPLETE guide to The Voice 7 Top 48! Organized by team, with Photos, Videos, Interviews, Social Media and MORE!
Battle Rounds Begin Monday With Previously Named Advisers Stevie Nicks, Little Big Town,Gavin Rossdale and Alicia Keys Joining Forces With Adam Levine, Blake Shelton, Gwen Stefani and Pharrell Williams to Prepare Teams for Next Phase of Competition
Coaches from NBC's Emmy Award-winning musical competition series "The Voice" have each selected their 12-member teams that will advance to the Battle Rounds phase of the competition.
Below is a breakdown of adviser and team
 

Team Adam Levine – #TEAMADAM
Alessandra Castronovo – Millstone Township, NJ @alessandrasfans – AUDITION – INTERVIEW
Damien – Monroe, LA – @iamdamienmusic – AUDITION – INTERVIEW
Chris Jamison – Pittsburgh, PA – @iamchrisjamison – AUDITION – INTERVIEW
Matt McAndrew – Barnegat Light, NJ – @mattmcandrew – AUDITION – INTERVIEW
Mia Pfirrman – Covina, CA – @miapfirrmann – AUDITION – INTERVIEW
Rebekah Samarin – Whittier, CA – @rebekahsamarin – AUDITION – INTERVIEW
Jonathan Wyndham – Lexington, SC – @jonathanwyndham – AUDITION – INTERVIEW
Team Blake Shelton – #TEAMBLAKE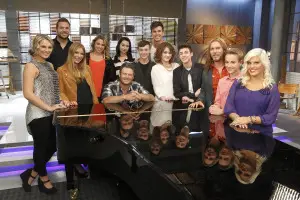 Craig Wayne Boyd – Nashville, TN – @cwbyall – AUDITION – INTERVIEW
Fernanda Bosch – Miami, FL – @fernandabosch – AUDITION – INTERVIEW
Taylor Brashears – Nashville, TN – @taylorbrashears – AUDITION – INTERVIEW
Allison Bray – Louisville, KY – @theallisonbray – AUDITION – INTERVIEW
James David Carter – Jacksonville, FL – @jdcmusic – AUDITION – INTERVIEW
Bree Fondacaro – Orange, CA – @breefondacaro – AUDITION – INTERVIEW
Grant Ganzer – Johnston, IA – @grantganzer – AUDITION – INTERVIEW
Reagan James – Burleson, TX – @thereaganjames – AUDITION – INTERVIEW
Justin Johnes – Massapequa, NY – @justin_johnes – AUDITION – INTERVIEW
Tanner Linford – Kaysville, UT – @tanner_linford – AUDITION – INTERVIEW
John Martin – St. Louis, MO – @iamjohnmartin1 – AUDITION – INTERVIEW
Kensington Moore – Campbellsville, KY – @kensingtonmoore – AUDITION – INTERVIEW
Team Gwen Stefani – #TEAMGWEN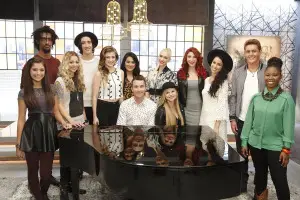 Mayra Alvarez – La Porte, TX – @mayravalvarez – AUDITION – INTERVIEW
Anita Antoinette – Kingston, Jamaica /Boston, MA – @anitantoinette – AUDITION – INTERVIEW
Sugar Joans – Los Angeles, CA – @sugarjoans – AUDITION – INTERVIEW
Jean Kelley – Atlanta, GA – @jeankelleymusic – AUDITION – INTERVIEW
Amanda Lee Peers – Rochester, NY – @amandalpeers – AUDITION – INTERVIEW
Jessie Pitts – Birmingham, AL – @jessiepitts724 – AUDITION – INTERVIEW
Troy Ritchie – Trabuco Canyon, CA – @iamtroyritchie – AUDITION – INTERVIEW
Bryana Salaz – San Antonio, TX – @bryanasalaz – AUDITION – INTERVIEW
Gianna Salvato – Freehold, NJ – @giannasalvato – AUDITION – INTERVIEW
Ryan Sill – Sterling, VA – @ryansill – AUDITION – INTERVIEW
Taylor John Williams – Portland, OR – @mrtaylorjohn – AUDITION – INTERVIEW
Menlik Zergabachew – Silver Spring, MD – @menlikz – AUDITION – INTERVIEW
Beth Spangler – Aiken, SC – @iambethspangler – Stolen From Team Adam – AUDITION – INTERVIEW 
Team Pharrell Williams – #TEAMPHARRELL
Brittany Butler – Boston, MA – @ibrittanybutler – AUDITION – INTERVIEW
Griffin – Greenville, SC – @hellogriffin – AUDITION – INTERVIEW
Toia Jones – Montgomery, AL – @jonestoia – AUDITION – INTERVIEW
Ricky Manning – Cape Coral, FL – @therickymanning  – AUDITION – INTERVIEW
Blessing Offor – Nigeria / Brooklyn, NY – @blessingoffor  – AUDITION – INTERVIEW
Taylor Phelan – Dallas, TX – @taylorphelan  – AUDITION – INTERVIEW
Elyjuh Rene – Long Beach, CA – @elyjuh_rene  – AUDITION – INTERVIEW
DaNica Shirey – York, PA – @nicashirey  – AUDITION – INTERVIEW
Jordy Searcy – Fairhope, AL – @jordytsearcy  – AUDITION – INTERVIEW
Maiya Sykes – Los Angeles, CA – @maiyasykes1  – AUDITION – INTERVIEW
Katriz Trinidad – San Diego, CA – @katriztrinidad  – AUDITION – INTERVIEW
Luke Wade – Fort Worth, TX – @lukewademusic  – AUDITION – INTERVIEW