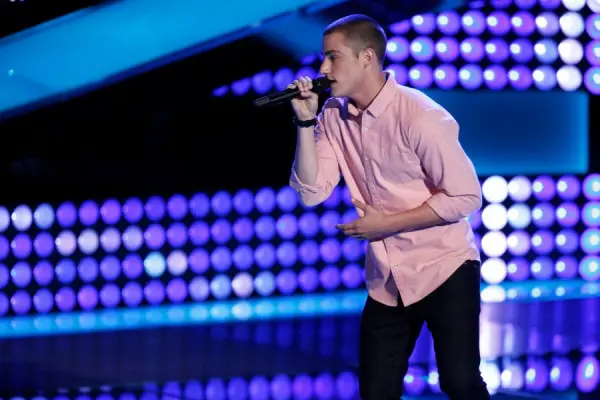 We're at the end of week #2 for Blind Auditions. What does tonight episode hold? Find out in less than 7 minutes!
I really hope that we have some good ones tonight. There still hasn't been that one contestant that completely grabs me. What do you think guys? Do you have any favorites so far?
Number of artists so far:
Team Pharrell: 8
Team Gwen: 7
Team Adam: 6
Team Blake: 7
Katriz Trinidad, San Diego CA- "At Last" by Etta James – Download from iTunes
Lives with 8 family members, originally from the Philippines. Her mom is adorable lol. When she was 8, she joined her first singing competition and has won a lot of them since then.
She just started singing and I have goosebumps. Gwen, Blake and Pharrell push their buttons right away. Adam bobs his head, but doesn't push his button. Pharrell is on his feet. Ooh that one run was a little off though. And that other one was too…guess I'll chalk it up to nerves since the girl is ONLY 15.
Pharrell says he's been dreaming of an artist like her for his whole career. He wants her on his team "so bad" and is looking all adorable, begging on his knees. Blake says she was born to be a star and deserves to "win this thing." Gwen feels like Katriz is a very controlled singer and can't believe she is 15. She wants her performance to feel less rehearsed and make it more relaxed.
Katriz goes with…. Team Pharrell (you go boo!)
Next artist is Ethan Butler, Chicago IL- "Beneath your beautiful" by Labrinth – Download from iTunes
His dad was a pastor so for the first half of his life, he had only heard Gospel. He plays in a lot of bars and open mics, and his family has been supportive of him branching out of the church. Work helps him pay the bills but would love to make music his full time job. His sister has special needs and music helps them connect.
"Be good!" ~Adam
His runs are lovely. Blake and Adam hit their buttons! He and Pharrell have similar hats lol. Is it enough to captivate The Voice audience? Time will tell, but he is officially IN the season 7 competition!
Adam loved it, he tried to act all cool and collected so Gwen and Pharrell wouldn't turn their chairs. He also said Ethan kept the song in the pocket while managing playing/singing. Blake can tell he is a musician and that he is MORE than ready for this competition.
Ethan chooses…Team Adam!
Tanner Linford, Kaysville UT- "When you say nothing at all" by Alison Krauss – Download from iTunes
Aww Tanner! I remember him from last season. No one turned around, and his performance last year was shaky. Let's hope he brings his A game this time!
His voice is crisper this time around. Still a little pitchy. Ugh. I feel bad for him. THANK GOD BLAKE lolll, I was feeling so embarrassed for him.
"Well look who's back!" ~Blake
"Your voice doesn't match your body" ~Gwen
Adam sees his improvement. Blake says his lower register was a little wobbly but knew it was due to nerves. He loved it, and said he was meant to be on Team Blake.
Roem Baur, San Francisco CA "Pretty Woman" by Roy Orbison
He is a stay at home dad who plays gigs at night. He pursued opera as a tenor, and won some awards for his talent. Roem decided it was limiting, so he went a different direction in his career.
He sort of looks like Freddie Mercury(?) His voice does sound similar to Roy's, I'll give him that. Is it strong enough for The Voice? Oooh, bum note. It wasn't enough to convince anyone to push their button.
Adam said it was a lot like Roy, wanted to hear more Roem in the song. Pharrell believes he chose influence over individuality (I like that quote!)
Aww the other coaches are giving their kudos to Pharrell for his kind words and inspirational quotes. I soooo agree. I could watch Pharrell speak all day.
Next is Jean Kelley, Nashville TN- "Already Gone" by Kelly Clarkson – Download from iTunes
Her mom was a big inspiration in her life (really sad story coming up). Her mom passed away when she was 12 of a congenital heart disease, and it happened right in front of her. :( She had her own band but wants to try something on her own.
Gah, this song always tugs at my heart strings. I like her voice, she needs to do more in the song though before it's too late! There's the glory note, but no chair turns yet. Gwen and Blake push their buttons at the end of the song!
Blake felt like she was a real "singer" when he heard that BIG note. Gwen could hear some of herself in Jean's tone and really liked her range/vibe/style.
"Did you notice that Blake?" ~Gwen, to Blake
And Jean goes with…Team Gwen!
The next artist is Chris Jamison, Pittsburgh PA- "Gravity" by John Mayer – Download from iTunes
He's a college student and works as a mailman on campus. He's part of a rock ensemble and has helped him prepare for The Voice. Chris is also a triplet (Aw!) and has two sisters. He seems like a very solid, salt of the earth kinda guy. I'm digging him.
There goes Blake and Pharrell! Can't blame them, Chris's voice is like buttterrr and I am loving it. Silky. Effortless. And there's Adam once Chris hits that high note! He is making me like this song. Gwen pushes right at the last second, 4 chair turn!
Pharrell is dying to know who his influences are.
"That scream is why I turned around" ~Adam
Adam felt like it was really emotional, but that he did a lot of technical stuff and could probably tone that down a bit. Gwen wants more guys on her team (really Gwen? You're saying that alot). She wants to bring out a signature song for him. Pharrell says he knew he got lost in the moment, and wants to spend time in getting to know what he wants to do. Blake says Chris accomplished his mission and that he wants to give him a "spotlight" on his team.
Chris picks…Team Adam!!
Craig Wayne Boyd, Nashville TN-"The Whiskey Ain't Working" by Travis Tritt – Download from iTunes
Honed his skills in local rock bands, but due to the "twang" in his voice people said his voice was more country than rock. Was a staff writer for EMI publishing and did showcases around Nashville. Craig's a father of a two year named Jackson, and he is trying to balance being a full time father and a full time musician.
He's got a good voice for country! Blake is strumming along in his chair. Blake pushes his button! Pharrell follows behind. Blake is notttttt happy with this surprise.
"What the hell is wrong with you?!" ~Blake, to Pharrell
Pharrell pressed his button because he didn't know the song but love the adlibs that he put into it. Liked his growls/runs.
"He says he growls when he has the runs" ~Blake
Blake says he brings an edge to country music. Pharrell liked the chances that he took.
Craig picks…Team Blake!
Tini Grey, Islands Samoa-" Sara Smile" by Hall & Oats
Came from humble beginnings, his father was a traveling musician. He studied architecture but couldn't sit still at the desk. His father had a stroke during a performance, and Tini decided to step in and keep music in the family.
I LOVE this song. This is my go-to song to rock out in my car. Tini's voice is impressive. Sexy, even. Fits the tone of the song very well. Someone please turn around! :(
Wtf. Okay I am pretty disappointed, I won't lie.
Gwen thought his voice was amazing, isn't sure why she didn't turn around.
"Maybe the chair's broken!" ~Tini (ha!)
Blake said Tini's falsetto needs some work. Adam said he does have a great voice.
I'm sad. Hope you come back next time Tini!
Here comes another artist montage. Ahhh someone sang Keane?? That one guy looks like Macklemore, holy doppleganger!
Next up is Toia Jones, Montgomery AL-"One and Only" by Adele – Download from iTunes
Grew up singing in the church choir. Her father passed away when she was 16 due to complications with diabetes. She struggled for years to get her music career started. She met her current boyfriend and they started a cover band together.
LOTS of love for her from the crowd already. Her voice is soulful and gritty. She's a belter, she's got a powerful voice! Waiting for a coach to turn…
THERE goes Pharrell with a silly grin on his face. He's seeing $$$ signs right about now. And there goes Adam too!
Adam likes her lipstick. Pharrell said she sang from the heart.
"If you go on Adam's team, he will lift you. If you come on my team, I will help you lift yourself" ~Pharrell
Adam said there's no one like her on his team. Pharrell felt her spirit, like someone singing FOR their life, WITH their life.
Toia chooses…Team Pharrell!!!
"Dammnit! I hate you right now." ~Adam, to Pharrell
Amanda Lee Peers, Rochester NY-"Put the Gun Down" by ZZ Ward – Download from iTunes
Another person who grew up singing in the church (lol, I'm sorry. There's just so many with that backstory) She is also openly gay and used music as a way to let that all go. She felt unwelcome at her church and ended up leaving it. Amanda likes to play a lot of rock, soul and pop at shows.
Gwen turns around! Her voice is alright I guess, nothing that I am going crazy over.
"You guys are all really stupid!" ~Gwen, to the other 3 coaches
Welcome to Team Gwen Amanda!
And ANOTHER artist montage. Wow, another person doing "Case of you." I won't complain. It's a fantastic song.
Gianna Salvato – Glitter in the Air – Team Gwen – Download from iTunes
Rebekah Samarin – A Case of You – Team Adam – Download from iTunes
Grant Ganzer – Unaware – Team Blake – Download from iTunes
The last audition of the night is Jonathan Wyndham, Lexington SC -"Say Something" by A Great Big World – Download from iTunes
Carried a briefcase as a kid, a little nerdy (heeee I like that). Used music to help him get through a speech impediment. He has been trying to go to every Cracker Barrel in the US.
His voice is rather beautiful. I know this song has been sung 1000 times on shows like this, but I haven't gotten sick of it. Blake is first to push his button! Here comes Adam and Gwen! Andddd lastly there goes Pharrell. Another 4 Chair Turn!
The girls are screaming for him! Gwen loved how sincere he sounded, thought he kept getting stronger and stronger. Also realizes he is veryyyyy attractive. She wants to help him with his stage presence. Adam is just going to start coaching him now lol, he liked the vulnerability but he wants him to get better control of his nerves. He wants to know more. Pharrell "concurs" with what everyone is saying. Thinks he should be very proud of himself. Blake feels like Jonathan was telling a story with that song, and both wear plaid, and like leather…
"Do you like Cracker Barrel?" ~Jonathan
"O-M-G we're meant to be!" ~Blake
"You're a grown ass man, please don't say that (O-M-G). It sounds creepy" ~Adam
"LOL" ~Blake
And Jonathan picks…Team Adam!!
The Teams:
Team Adam
Clara Hong
Damien
Joe Kirk
Kelli Douglas
Mia Pfirrman
Alessandra Castronovo
Ethan Butler
Chris Jamison
Rebekah Samarin
Jonathan Wyndham
Team Blake
James David Carter
Allison Bray
Taylor Brashears
Reagan James
John Martin
Kensington Moore
Bree Fondacaro
Tanner Linford
Grant Ganzer
Craig Wayne Boyd
Team Gwen
Bryana Salaz
Taylor John Williams
Sugar Joans
Menlik Zergabachew
Jessie Pitts
Troy Ritchie
Anita Antoinette
Jean Kelley
Amanda Lee Peters
Gianna Salvato
Team Pharrell
Luke Wade
Elyjuh Rene
Danica Shirey
Maiya Sykes
Taylor Phelan
Ricky Manning
Blessing Offor
Jordy Searcy
Katriz Trinidad
Toia Jones
Next week is the last week of the Blind Auditions! Thanks so much for joining me tonight everyone, have a good night! See you next Monday!
Feel free to follow me on twitter @loveoutloud.
xo Kelly