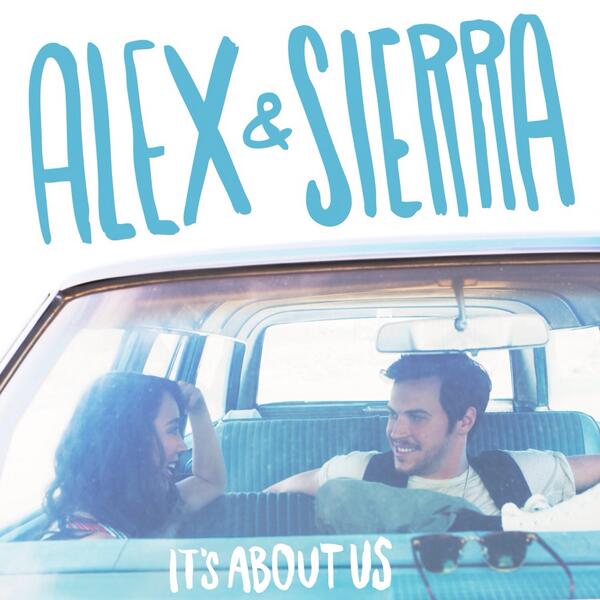 It's been nearly a year since the singing duo, Alex & Sierra, competed in and WON the very last season of the American version of X Factor.
Finally, the long wait for fans is over.  The romantic duo's debut, It's About Us, will be available everywhere on October 7. But in the meantime, you can listen to the ENTIRE album RIGHT HERE, courtesy of VEVO!
The singers just finished criss-crossing the country as the opening act for Colbie Caillat (There were a few dates with Train, too…)
After their last date with Colbie in San Diego, earlier this week, the two left a sweet message for their fans on Instagram:
"Last night in San Diego was the last stop of our first tour…," the singers  wrote, "and there are just no words to accurately describe how grateful we are. We had the time of our lives traveling the country in a bus full of people, exploring and delving into unknown territory. thank you to Ms. Colbie Caillat & company for taking us with you and welcoming us with open arms."
The message continued, "Thanks to our amazing band and team who are really just family now. and a special thanks to everyone who came to the shows and clapped along. Hope to see you again soon.
Check out streams of every song on the album below. If you like…click the link to pre-order at iTunes.
Click this link to Pre-Order from iTunes.
1. Scarecrow
2. Give Me Something
3. Bumper Cars
4. Almost Home
5. Here We Go
6. It's About Us (Interlude)
7. Little Do You Know
8. Cheating
9. Just Kids
10. I Love You
11. Broken Frame
12. Back To You
13. All For You