The Voice season 24 Battles end on the Monday November 6 episode in the first hour. The next round, the Knockouts begin in hour two. Check out spoilers for both the Knockout and Playoff Rounds.
AGAIN, these spoilers come courtesy of the spoiler team at Idol Forums. These spoilers ARE NOT CONFIRMED AND ARE STILL RUMORS. However, the forum's Blind and Battle spoilers were nearly perfect, so I expect that record to continue.
Like season 22 last fall, contestants will compete against each other in trios. It's simple math: With Knockouts comprising of 9 member teams, the math for duos is impossible.
During the round–now stick with me here as I explain–the coaches will choose the winner of each Knockout. The remaining two singers can be SAVED by their coach, or STOLEN by another coach.
BUT THERE IS A TWIST CALLED "THE SUPERSAVE." And it appears that each of the coaches, in a addition to one Save and one Steal, will choose an ADDITIONAL contestant to save. The SuperSave can come from their own team or another coach's team. Altogether, each coach gets a Steal, a Save and a SuperSave.
PLEASE NOTE it appears that the coaches DO NOT choose their SUPER SAVE during the rounds, but after all the trios have performed. The twist was NOT mentioned on the Knockouts premiere episode.
NBC announced recently that country singer Wynonna Judd will serve as Mega Mentor during the Knockout Rounds for ALL four coaches.
Three-Way Knockouts Results
Team John Legend
Kaylee Shimizu – Ain't No Way by Aretha Franklin – WON
Mara Justine – Without You by Harry Nilsson (Celine Dion) – STOLEN by Niall.
Caleb Sasser – Jealous by Nick Jonas
Mac Royals – Lost Without U by Robin Thicke – WON
Taylor Deneen – Sweet Thing by Chaka Khan – SAVED by John
Brandon Montel – Nobody Gets Me by SZA
Lila Forde – Fire & Rain by James Taylor – WON
Stee – Pretty Wings by Maxwell – STOLEN by Gwen
Deejay Young – Breakin My Heart (Pretty Brown Eyes) by Mint Condition
Team Gwen Stefani
Tanner Massey – In My Blood by Shawn Mendes – WON
RUDI – Smokin' Out the Window by Silk Sonic – SAVED by Gwen.
Chechi Sarai – Never Can Say Goodbye by Jackson 5
BIAS – You Should Probably Leave by Chris Stapleton – WON
Jason Arcilla – TBA
Jenna Marquis – Complicated by Avril Lavigne
Kara Tenae – Leave (Get Out) by JoJo – WON
Kristen Brown – This One's for the Girls by Martina McBride – STOLEN by John
CORii – Ain't It Fun by Paramore
Team Niall Horan
Huntley – Wanted Dead or Alive by Bon Jovi – WON
Claudia B. – Don't Know Why by Norah Jones – SAVED by Niall.
Noah Spencer – Where Rainbows Never Die by The SteelDrivers – STOLEN by Reba.
Nini Iris – Karma Police by Radiohead – WON
AZÁN – Caught Up in the Rapture by Anita Baker – SUPER SAVED by John
Olivia Minogue – Bring Me to Life by Evanescence
Alexa Wildish – Believe by Cher – WON
Julia Roome – Unstoppable by Sia – SUPER SAVED by Niall
Lennon VanderDoes – I Won't Give Up by Jason Mraz – SUPER SAVED by Gwen
Team Reba McEntire
Jacquie Roar – GIRL by Maren Morris – WON
Tom Nitti – I'm Losing You by The Temptations – SAVED by Reba
Alison Albrecht – It's Too Late by Carole King
Jordan Rainer – hole in the bottle by Kelsea Ballerini – WON
Caitlin Quisenberry – Lady Like by Ingrid Andress
Elizabeth Evans – you broke me first by tate mcrae
Ruby Leigh – Blue by Leann Rimes – WON
Ms Monet – Best of My Love by Emotions – SUPER SAVED by Reba
Rachele Nguyen – Die from a Broken Heart by Maddie & Tae
SUPER SAVE CONTESTANTS
Team John: AZÁN
Team Gwen: Lennon VanderDoes
Team Niall: Julia Roome
Team Reba: Ms. Monet
---
The Voice 24 Top 24 Playoffs Teams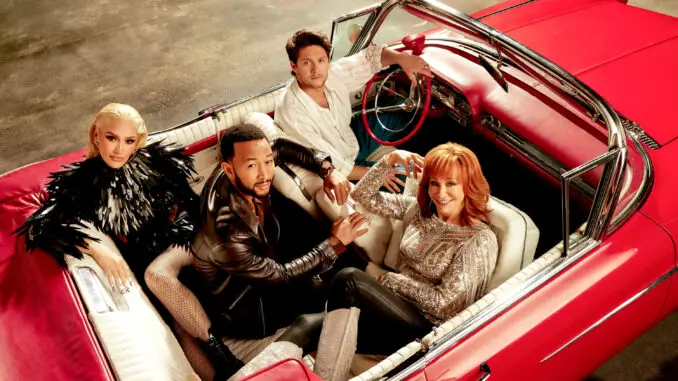 Team John Legend
Kaylee Shimizu
Kristen Brown
Lila Forde
Mac Royals
Taylor Deneen
AZÁN (Super Save)
Team Gwen Stefani
BIAS
Kara Tenae
RUDI
Stee
Tanner Massey
Lennon VanderDoes (SuperSave)
Team Niall Horan
Alexa Wildish
Claudia B.
Huntley
Mara Justine
Nini Iris
Julia Roome (SuperSave)
Team Reba McEntire
Jacquie Roar
Jordan Rainer
Noah Spencer
Ruby Leigh
Tom Nitti
Ms. Monet (SuperSave)
---
The Voice 24 Top 12 (Playoff Results)
For years, The Voice presented LIVE Playoffs, where the contestants sang, and the results were determined by both viewer vote and coach saves. But last Spring, the show TAPED the Playoffs, that had the coaches choosing their team members after performances.
The Voice has finished taping both Season 24 AND the Spring Cycle Season 25 and the Playoff rounds for each season have already been filmed.
Here are the Playoff results for season 24. Tentatively, The Voice season 24 Playoffs begin either Monday Nov 20 or Tuesday November 21. After The Playoffs, the LIVE shows begin on Monday December 4.
Team John Legend
Lila Forde
Mac Royals
AZÁN (SuperSave)
Eliminated: Kaylee Shimizu, Kristen Brown, Taylor Deneen
Team Gwen Stefani
BIAS
Kara Tenae
Tanner Massey
Eliminated: Rudi, Stee, Lennon VanderDoes (Super Save)
Team Niall Horan
Huntley
Mara Justine
Nini Iris
Eliminated: Alexa Wildish, Claudia B., Julia Roome (Super Save)
Team Reba McEntire
Jacquie Roar
Jordan Rainer
Ruby Leigh
Eliminated: Noah Spencer, Tom Nitti, Ms. Monet (Super Save)