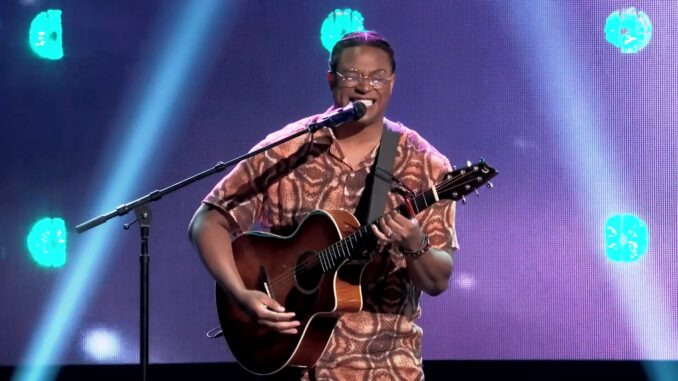 The Voice season 23 premieres next week! And the first contestant NBC chose to preview should be familiar to American Idol fans.
Savion Wright was a fan favorite contestant on Season 13 and 14. The judges cut him before the Top 30 on season 13. He made the Top 24 in season 14, but the judges cut him before he was able to sing in one of the show's more terrible twists.
The Voice 23 Contestant List and Guide: Meet the Artists!
The Voice 23 Spoilers Blind Auditions – Top 40 Teams, Song Picks
Eight years after his last Idol stint, Savion goes by the stage name NOIVAS, which is simply Savion spelled backwards.
A 4-chair turn…with a BLOCK
A powerful acoustic performance of Sam Cooke's classic, "A Change Is Gonna Come," moved coaches Kelly Clarkson, Chance the Rapper, Niall Horan and Blake Shelton to turn their chairs. Kelly and Chance turned QUICK giving CHANCE the opportunity to block Blake before he hit his button. The retiring The Voice coach noticed it right away. Niall turned pretty quick too.
The Voice 23: Watch Coaches Croon "Can't Take My Eyes Off You"
"You are an incomparable talent, and I would love to give you the platform to show yourself to the world. I think you're a voice of this generation that deserves to be heard," said Chance. He readily admits to blocking Blake. And he knew it, too, "because your smile, ear to ear, when you looked at me!" Blake added, "You're threatened by me!"
NOIVAS went viral on Tik Tok, thanks to Chance
"I remember, in about 2016, you made a challenge go viral, and I actually was inspired by you to do my own — for the first time ever," NOIVAS shared with Chance after he invited the singer to join his team. "I was like, 'You know what? I'mma just try to rap. It went viral on social media, and I would've never expected that I could try to rap a little bit, but I thank you for inspiring me to do that."
After Blake rolled his eyes accompanied by an "OH GOD," the singer asked him to please do the "finger thing" for him, which Blake obliged, lifting his arm to point at himself. "I always wanted to see that!" NOIVAS said.
"I've won this show a few times"
Kelly jumped in, "I don't know if you know this, but I've won this show a few times. And I'm just saying, I have a TV show. You wanna perform on a TV show? I'm just saying." Chance and Blake wondered if Kelly's offer is legal. "I don't like the way this is going right now!" Chance laughed.
"But I think the key thing will be having a coach that's familiar with a show like this," the American Idol OG winner added. At this, Chance jumped out of his seat to do a gimmick. Stating that NOIVAS has only one choice, he proceeded to step on all the coaches nameplates turning them all to say CHANCE. "Make the right choice, my boy," Chance said. "I'mma give you all the space. I want you to win this show, and I want you on Team Chance, man."
"Please consider Team Niall!"
"You gave us so many beautiful, sensitive moments at the very start there. I knew straight away you were playing guitar," Niall said, finally having the opportunity to pitch. "And then when I spun around, I haven't seen anyone with a passion like that. It's like Stevie Wonder stuff. It's incredible what you're able to do. I don't make this kind of music, but sometimes the best things happen when opposites come together."
But when NOIVAS admitted that he considered himself a pop artist rather than R&B, Niall jumped on it. "Please consider Team Niall."
Who does NOIVAS choose as his coach? Tune in to The Voice premiere on Monday March 6 at 8 pm ET/PT to find out!