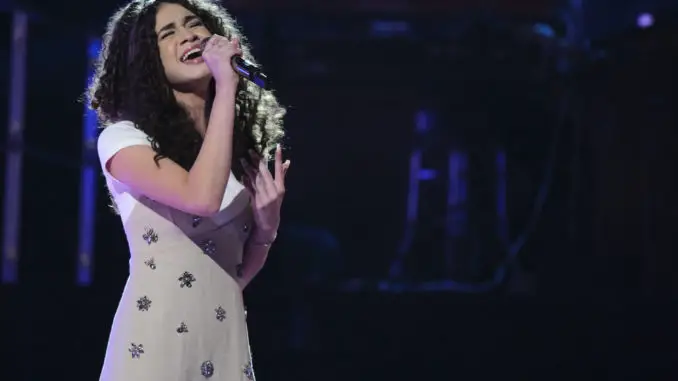 The Voice season 21 LIVE SHOWS begin tonight (Nov 8) with the Playoffs. The Top 20 perform for YOUR VOTES and a chance to advance to the Top 13.
Coaches Blake Shelton, Kelly Clarkson and John Legend and Ariana Grande sit on the panel.  Carson Daly serves as host.  We'll be live blogging all the performances here.
The Voice 21 Playoff Preview: Team Power Rankings – Who Will Advance?
VOTING Instructions: Download The Voice Official App (Available on the APP Store and Google Play). And/or vote on NBC.com/VoiceVote. Limit 10 votes per artist per method. Must be 13+ AND IN THE US OR PUERTO RICO. More at NBC.com/VoiceVoteRules.  VOTING IS OPEN UNTIL 7 AM ET NOV 9.
Team Kelly Clarkson
Girl Named Tom – Creep by Radiohead – This sibling trio's superpower is their ability to create gorgeous, inventive arrangements. That's in addition to their exquisite sibling harmonies. And the female lead singer, in particular is incredible. They never fail to surprise. No instruments tonight, just pure vocal power. John loves their blend, tightness and musicality. Kelly is so proud of her group. "It's perfect," she says. She compares their harmonies to the classic rock band Queen.
Katie Rae – Stormy Weather by Lena Horne – Katie is a throwback to 50s and 60s standards. My mom would have LOVED this. But will The Voice audience vote for her? I'm not so sure. I love this era, so no complaints from me. It's her best performance so far. Ariana calls her former member "a queen." and adds "you just keep getting better and better." Kelly calls her voice insane. And compliments her storytelling vibe.
Gymani – Say Something by a Great Big World – Gymani performs a slow soulful version of the song. She's an inventive interpreter. And her lower register is divine. She creates a slow build to the last pleading chorus. Just beautiful. Her rasp is everything. Blake says he's on the edge of his seat. "You didn't disappoint." He has no doubt that she's moving on. Kelly is close to tears, and so is Gymani. She loved her "walls down" performance. "It is so beautifully broken."
Jeremy Rosado – When I Was Your Man by Bruno Mars – Jeremy's passion is the highlight of every performance. He's genuinely invested in what he's singing. When he competed on American Idol season 11, judge Jennifer Lopez took a special shine to him, and I think Kelly has too. John loves that he puts so much heart, soul and energy into his performance. Kelly calls it her favorite performance from him. "You were the best storyteller ever." 
Hailey Mia – Traitor by Olivia Rodrigo – Hailey at only 14 exudes amazing maturity. She sings songs that require a mature approach, and pulls them off somehow. Plus, her tone is as beautiful as the sound of a  bell. Former coach Ariana Grande is so proud. Kelly calls the young singer incredible, and declares, "If every record label isn't 'OH MY GOD' they are all idiots." 
Team John Legend
Shadale – Love on the Brain by Rihanna – Shadale flew under the radar until she broke out in the Knockouts with "Impossible" which had Kelly Clarkson in tears. She's got a beautiful tone, but with a growl she uses in all the right places. She's a powerful and passionate singer. Blake says, "You came here tonight to win this damn thing. You took the stage by storm. How are you not going to vote for her America." John compliments her confidence, skill and precision. "Stunning and powerful," he says. 
Joshua Vacanti – You & I by Lady Gaga – Joshua has a Broadway career ahead of him, maybe! He has a big theatrical voice. But while he's belting a tune, he's also telling a story, which is a skill all great Broadway singers possess. He's been consistently good throughout the competition, but I'm not sure The Voice fans will go for his vibe. "You better sing," says Ariana. She's still mad that John blocked her.  John compliments Joshua's intention and theatricality.
Jershika Maple – Beggin by Four Seasons – How to choose between all the incredible female R&B singers this season? I say advance them all. It's Jershika's grit and gravel that separates her from the rest of the pack. She's fierce and fearless. I would not mess with her, thank you. Former coach Kelly is going on the record to say eliminating Jershika was a mistake. John can't stop gloating. "You are phenomenal. You walk with purpose" 
Samuel Harness – So Sick by Ne-Yo – Samuel is one of the more interesting voices on Season 21. He's raspy and folky, and interprets songs with an emotional, original spin. He can sing R&B, folk, rock, pop or a mixture of all of that. John loves how he puts his own personality on every song he sings. "It's all you…powerful and compelling." Here's where we start running out of time for comments!
David Vogel – Slow Burn by Kacey Musgraves – David's thing is flipping female songs. And he's pretty good at it! His superpower is his LUXURIOUS HAIR. Ok, I'm kidding. Sort of. He's not the strongest singer, but he performs with the sincerity of an indie singer. His former coach Ariana praises him. "He's going to do this forever." John would love to go see David's show. "You're a musician…it's in every fiber of your being."
Team Ariana Grande
Raquel Trinidad – Don't Know Why by Norah Jones – Raquel is taking a risk tonight with a smooth soulful song from the 90's. Her high energy songs have been winners. She's having pitch issues here and there. It's not a night for that, as viewer voting begins. Kelly loves what she did with the song. "You kept it classic," she says. Ariana is so proud that Raquel wanted to show America a different side of her talent. "Your growth is so healthy," she says. 
Jim and Sasha Allen – Hey Jude by The Beatles – Dad, at the piano, starts the song off key. Their harmonies are off. Sasha gets up from his seat. And the off key harmonies continue. This is easily their worst performance of the season. Jim and Sasha's strength was always questionable. The duo has had their moments, but over all their performances have been spotty. Also, "Hey Jude" is NOT a competition song. Cutting a 7 minute classic to two minutes is nearly impossible. John loves seeing the "rockstar energy." Here's where it's clear the coaches are willing to gloss over a bad performance. Ariana calls Sasha a star. Oh. Sasha has laryngitis. But dad wasn't great either. 
Bella DeNapoli – The Sweet Escape by Gwen Stefani – Bella chose a hard song to sing! But her voice soars on the chorus while she builds up to a few big notes. She's having issues reaching them, however. These live shows make or break these artists. The pressure is immense. Blake is impressed with Bella's rendition of his girlfriend's song. Ariana calls Bella "the perfect pop star." 
Ryleigh Plank – I'm Your Baby Tonight by Whitney Houston – This is an unexpected song choice. Instead of a current pop song, Ryleigh is going for classic Whitney. That should garner some attention. She's acquitting herself fairly well. It's almost too much for her, she has some pitchy things going on in spots. But kudos to her for taking such a huge risk. Ariana trusts her song choices always. She's rushing so fast through her remakes that she keeps repeating herself. YEP. Short on time.
Holly Forbes – Torn by Natalie Imbruglia – Holly comes on after Ryleigh, and shows what a seasoned, confident, self-aware singer can do. Her phrasing, tone and power are on point. Former coach Kelly Clarkson calls Holly gifted. "I'm so happy you are still on the show." Ariana calls her performance brilliant and stunning. Holly is probably going to advance by default. At this point, she should be thanking Kelly for cutting her loose. Ariana's team is the weakest of the four. 
Team Blake Shelton
Peedy Chavis – Proud Mary by Creedence Clearwater Revival – His lower register is shaky. Oh gosh. He's performing the Tina Turner version. I don't get Blake's attraction to this kid. He's warmed over Elvis. If he was a better vocalist, he might get away with it. Las Vegas lounges await. CORNY. John says Peedy gives his heart and soul to everything. Blake's mom loves Peedy. "Vote for Peedy!" he shouts. 
Libianca – Woman by Doja Cat – Libianca's song choice here is audacious. She sings, she raps, she hits high notes. She's a little whiny in spots, but nevertheless, I appreciate her adventurous spirit. And that girl can SANG.   Blake wants America to know how personally connected she is to every song she sings. 
Paris Winningham – I Wish it Would Rain by Temptations – I expected Paris to go in the country direction again. But instead, he chooses a classic Motown song. He starts off tentatively, but eventually he's performing the song with more passion and emotion than the original. Kelly Clarkson threw her shoe! Blake thanks The Voice Gods for putting Paris on his team. He laughs at John's folly letting him go. 
Lana Scott – Next Girl by Carly Pearce – Lana is the only pure country singer left in the competition. Amazingly! Lana sings with an old school twang. If she survives the Playoffs, she's got a wide open lane available to her. She could go far. Blake calls being the only country artist a "heavy lift." Not really! It makes her prospects easier. "We need you in country music," says Blake. A thing he says to many of his country team members.
Wendy Moten – I Will Always Love You by Dolly Parton/Whitney Houston – NOT taking a big risk tonight, is Wendy. She's performing the Whitney version of the song. It shows off her powerful voice. Yup. She can sing. But her playing it safe tonight is disappointing. Kelly is OBSESSED with the "gifted" Wendy. Blake declares that he wants her to advance more than he has any contestant in 20 seasons. In other words, if she doesn't make the cut, he'll pick her to advance.
Tomorrow night: Only 13 survive. Two advance on viewer votes, the other is chosen by their coach. The highest vote getter remaining on each team AND the winner of The Voice Comeback–that's five singers–will perform for the Instant Vote and the 13th spot in the finals.