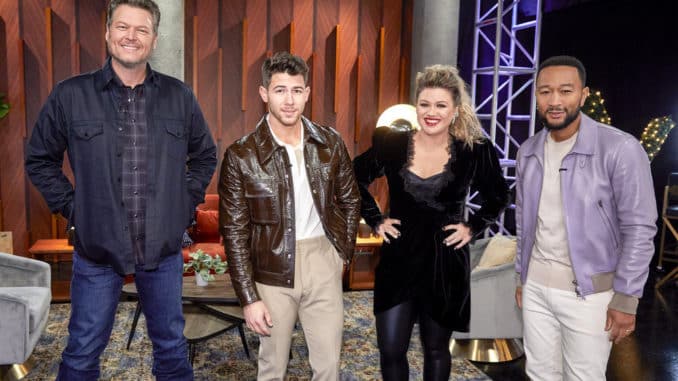 The Voice finished taping season 20 on Sunday (Feb 21). All that remains for coaches Blake Shelton, Kelly Clarkson, John Legend and Nick Jonas are the Live Playoffs, Semi-Finals and Finale.
As always, the spoilers at IdolForums have spoiled the Knockout Rounds. Every detail, including matchups, song choices and results and a Top 16 are revealed. Additionally, the SAVED contestants from the Battle Rounds performed for YOUR VOTES. The winner will be revealed on the Playoffs show. 
Make sure to check out IdolForums SPOILER PAGE. The spoiler posted a detailed rundown of both tapings from Sunday DO check out IdolForums HERE.
Due to COVID-19 restrictions, show tapings have employed virtual audiences from around the country for ALL taped rounds. Some of those members were willing to report what they saw to our intrepid spoilers. It's not like American Idol, which has been taping on a closed set. I have every confidence in this season's The Voice spoilers.
ALSO, check out Top 40 spoilers including Team results and song spoilers, as well as Battle Round spoilers with matchups and song choices:
The Voice Season 20 Top 40 Spoilers – Teams and Song Picks!
The Voice 20 Battle Round Spoilers – Matchups, Song Choices, Results
In the Knockout Round, the coaches paired up 24 singers who performed a song of their own choosing. The coaches picked a winner, who advanced to the Playoffs. The loser was eligible to be stolen (each coach got one steal) or eliminated. At the end of the round, the four saved contestants from the Battle Rounds performed for America's vote. The winner, revealed on the Playoffs, will become the 17th Playoffs contestant. 
The Voice 20 Knockout Teams Performance Spoilers
Team Blake Shelton
Pete Mroz – Before You Go by Lewis Capaldi vs Andrew Marshall – I Won't Give Up by Jason Mraz – Pete WINS, Nick STEALS Andrew
Cam Anthony – Feeling Good by Nina Simone vs. Connor Christian – Youngblood by 5 Seconds of Summer – Cam WINS
Jordan Matthew Young – She Talks to Angels by The Black Crowes vs Ethan Lively – Help Me Hold On by Travis Tritt – Jordan Matthew Young WINS
Team Kelly Clarkson
Gihanna Zoe – Glitter in the Air by P!NK vs Anna Grace Felten – If I Die Young by The Band Perry – Gihanna WINS, Blake STEALS Anna Grace
Kenzie Wheeler – Beer Never Broke my Heart by Luke Combs vs Avery Roberson – Tomorrow by Chris Young – Kenzie WINS
Corey Ward – Already Gone by Kelly Clarkson (Sleeping at Last Version) vs. Ryleigh Modig – Use Somebody by Kings of Leon – Corey WINS, John, Nick & Blake STEAL Ryleigh, Ryleigh PICKS John.
Team John Legend
Pia Renee – What the World Needs Now is Love by Jackie Jackie DeShannon vs Ciana Pelekai – Cuz I Love You by Lizzo – Pia WINS
Victor Solomon – My Girl by The Temptations vs Gean Garcia – Afterglow by Ed Sheeran – Victor WINS
Zania Alake – If I Were Your Woman by Gladys Knight vs Rio Doyle – Issues by Julia Michaels – Zania WINS
Team Nick Jonas
Dana Monique – Nutbush City Limits by Ike & Tina Turner vs. Keegan Ferrell – Just My Imagination by the Temptations – Dana WINS 
Jose Figueroa, Jr. – Break Every Chain by Tasha Cobbs vs. Raine Stern – No Such Thing by John Mayer – Jose WINS
Rachel Mac– Foolish Games by Jewel vs. Zae Romeo – Electric Love by BØRNS – Rachel WINS, Kelly STEALS Zae
The Voice Season 20 Top 16
Pete Mroz – Team Blake
Cam Anthony – Team Blake
Jordan Matthew Young –  Team Blake
Anna Grace – Team Blake (Blake STEALS from Kelly)
Gihanna Zoe – Team Kelly
Kenzie Wheeler – Team Kelly
Corey Ward – Team Kelly
Zae Romeo – Team Kelly (Kelly STEALS from Nick)
Pia Renee – Team Legend
Victor Solomon – Team Legend
Zania Alake – Team Legend
Ryleigh Modig – Team Legend (John STEALS from Kelly)
Dana Monique – Team Nick
Jose Figueroa, Jr. – Team Nick
Rachel Mac – Team Nick
Andrew Marshall – Team Nick (Nick STEALS from Blake)
4-Way Knockout
The four saved contestants from the Battle Rounds will sing in a four way Knockout for America's Vote. The winner, revealed on the Live Playoffs, will become the 17th Playoff contestant. 
Emma Caroline – Neon Moon by Brooks & Dunn – Team Blake Shelton
Devan Blake Jones – Sign of the Times by Harry Styles – Team Nick Jonas
Carolina Rial – Anyone by Demi Lovato – Team John Legend
Savanna Woods – Black Hole Sun by Soundgarden – Team Kelly Clarkson