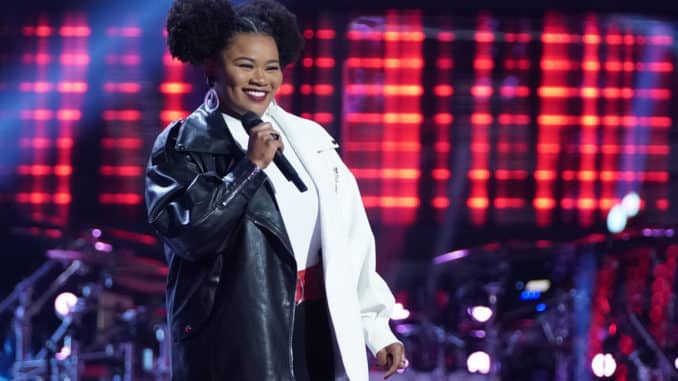 The Voice season 20 Blind Auditions conclude tonight with returning coaches Blake Shelton, Kelly Clarkson and John Legend. Nick Jonas rejoins the panel after a season off. Carson Daly returns as host.
Each coach has ONE MORE spot to fill their teams. Once the Top 40 is revealed, the rest of the two hour broadcast will feature the Best of the Blinds. Just in case fans need to catch up. The Battle Rounds begin next Monday (March 28).
The Voice Season 20 Top 40 Spoilers – Teams and Song Picks!
The Voice 20 Battle Round Spoilers – Matchups, Song Choices, Results
The Voice 20 Top 16 Knockout Spoilers: Matchups, Song Choices, Results
REMINDER: NO SPOILERS IN COMMENTS. Keep spoiler talk under spoiler posts above, thank you.
Denisha Dalton – PILLOWTALK by Zayn – 22 – Warwick, NY – She says she's been a hustler since she was little. She created two girl groups during recess when she was younger. She competed in talent shows in school, but her confidence faded when she started college. She admits she got in her head a lot and wondered if she's good enough. She says it's time to "reignite little Denisha." She performs a more subdued version of the song. She shows off some soulful vocal and nice runs. Blake turns first, and he's followed by John and Kelly. Kelly loves her sultry and raspy vocals. She tells her she has no one else like Denisha on her team. Blake compliments her transition from falsetto and full voice. Denisha tells Blake she met him before at an Usher show. Nick says he's picky about his last remaining spot in his team, but he says she'll be great with some coaching. John compliments her style and says he wants her to be the last member on his team. Denisha picks John. – Blake, John, and Kelly turn, Denisha picks John.
Awari – Weak by SWV – 35 – Virginia Beach, VA – He's a single dad of two children. He's co-parenting with his ex-wife. He wants to give his kids the best life possible. His upbringing was difficult, but his mom made it the best it could be. He's grateful for everything his mom did while he was growing up. He joined the Air Force when he was 30-years-old, and he's thankful for the opportunities the Air Force gave to him. He got to sing the National Anthem for football teams. He left the military to focus on his kids. He has a good, soulful voice, and he looks comfortable on stage. Kelly turns quickly, and she's followed by Nick. Blake congratulates him on getting Kelly and Nick to turn since they each only have one spot left. Nick says he's making an album with R&B influence similar to the song Awari just performed. John says he couldn't turn since his team is full, but he's excited that Awari will be on the show. Kelly reminds him she turned for him first, and she gives him props on how he emoted during the performance. Kelly says she won the show before, but Nick counters that he'll work extra hard for him. Kelly shows him the jackets she has waiting for her team members. Nick says he has notebooks. Awari says it's a hard decision, but he chooses Nick. – Kelly and Nick turn, Awari picks Nick.
Charlotte Boyer – Love is a Losing Game by Amy Winehouse – 17 – Rock Island, IL – She admits she's a shy girl, but the stage feels like home. She gigs at restaurants and festivals. She hopes the coaches will hear her artistry and not notice how timid she can be. She calls this audition the highlight of her life. She has a classic sound to her voice, and she shows off her range in the latter half of the song. Unfortunately, none of the judges turn for her. John thought she had a lovely tone, but he says it was too stylized. He thinks she'll improve with more time and experience. Kelly says she would do better if she got to show more of herself in another song. Blake says he loved her voice, but he didn't turn since her style is out of his lane. Nick believes the result would be different if she comes back in the future. – No Turns.
Keegan Ferrell – She Will Be Loved by Maroon 5 – 21 – Fort Wayne, IN – We hear his voice before knowing anything about him. Kelly turns around after the first few notes. Blake turns shortly afterwards. He has a nice, smooth voice, and he accompanies himself on the keyboard. After the end of his performance, we learn more about him. He was adopted when he was six months old. He was abandoned at an orphanage as a baby. He speculates he was a second child or illegitimate child due to China's one child policy. He says it's not a sad story since he's part of a loving family and has been given great opportunities. Blake jokes that Kelly got Adam fired, and he shouldn't be part of her team if Maroon 5 is an inspiration for him. Kelly says that's a lie and she's not that powerful. Blake says he has one spot left on his team. He says there's no one like him on his team, and he says there is someone like him on Kelly's team. Kelly denies this too. Kelly tells Keegan she loves pop music, and he would be a great member on her team. Keegan picks Blake. – Kelly and Blake turn, Keegan picks Blake.
Connor Snow – This City by Sam Fischer – 27 – Maui, HI – He grew up around music, particularly Hawaiian music. He moved to Los Angeles when he was 20 years old and released an album. He admits the music industry is tough, but he's grateful for this opportunity on The Voice. He has an interesting tone to his voice, and he shows off his falsetto too. However, he doesn't get a turn from Kelly. Nick tells him there were special moments in the performance, but Nick noticed some nerves. Connor admits it wasn't his best performance. Kelly compliments his range, but she noticed hesitancy. She says his tone is beautiful, but he needs to believe in himself 100%. John says it didn't click today, but he'll have plenty of opportunities. Blake asks him to come back and try again. – No Turns.
Ainae – Best Part by Daniel Caesar (feat. H.E.R.) – 21 – Washington, D.C. – She calls this a crazy moment. Her mom works in music marketing, and her father is a songwriter. Ainae is majoring in marketing at Howard University. She says she wants to be the person her father has inspired her to be. She calls him her anchor. Ainae sings in her higher register, and she has a lot of control on her vocals. It doesn't take long before Kelly turns for her. Nick calls her voice unique. John loves the tone of her voice. Kelly says she has an ethereal style, and she's excited to have her on her team. She calls her a competitor with a special voice. "Welcome to The Voice!" says Blake. – Kelly turns.
The Voice returns with the Battle Rounds next week.