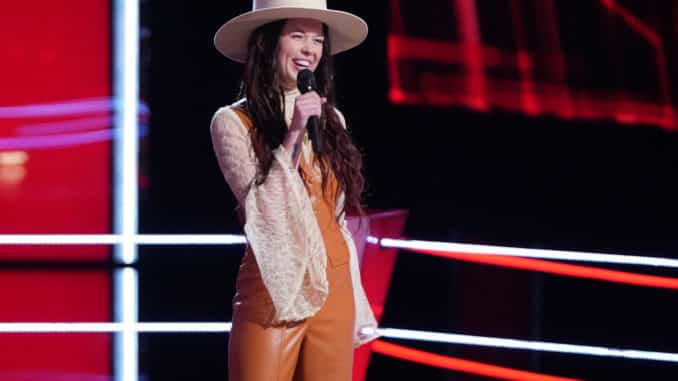 Tonight, the Battles continue on The Voice season 20.  In the Battles, the coaches pair up members of their teams for duets. The singers prepare for performances with the help of their coach and a celebrity advisor. Blake Shelton teams up with country duo Dan + Shay, Kelly Clarkson and Latin star Luis Fonsi join forces, John Legend enlists the help of R&B legend Brandy. And Nick Jonas gets help from Glee star Darren Criss.
After the performance, the coach chooses a winner to move on to the next round. The loser is eliminated, unless saved by their coach or stolen by a rival. Each coach gets one steal and one save.
Note: Due to illness, country singer Kelsea Ballerini sits in for Kelly Clarkson during the studio performances. Kelly will be watching from home, however, allowing Kelsea to dial in for advice. Kelly was able to film the mentor sessions with Luis Fonsi.
The Voice 20 Battle Round Spoilers – Matchups, Song Choices, Results
The Voice 20 Top 16 Knockout Spoilers: Matchups, Song Choices, Results
Who is Performing on The Voice 20 Week 2 Battles? Find Out! (Video)
REMINDER: NO SPOILERS IN COMMENTS. Keep spoiler talk under spoiler posts above, thank you.
Cam Anthony vs Emma Caroline – 10,000 Hours by Dan + Shay & Justin Bieber – Team Blake – Blake believes "10,000 Hours" is the perfect song for two artists from different genres. Dan + Shay are guest mentors for Team Blake, and Cam is intimidated to be singing one of their songs. Emma has been grinding it out in Nashville, and she calls The Voice a big opportunity. Cam says he's spent half his life focused on music. During the mentoring session, Dan + Shay are impressed by Cam and Emma. Blake compliments their harmonies. Dan + Shay say Blake has a tough decision to make.
Cam starts the song off before Emma joins him. Cam has a rich tone to his voice and looks comfortable on the stage. Emma looks nervous, but she hits some nice notes too. Overall, Cam outperformed Emma on this song.
Nick says Emma has a pure and beautiful tone that stands out. Nick thought Cam made some good choices, and he would pick him. John says Emma has an enjoyable tone, and he reminds everyone that Blake blocked Cam from picking him for his team. Kelsea says Emma's tone is her super power, and she compliments Cam's stage presence. Blake calls Emma an incredible vocalist, but her body language makes it seem like she doesn't know how good she is. Blake says Cam's body language makes it seem like he was born to be a performer. Blake picks Cam, Blake saves Emma. They ask why did he wait until the last second to save her, and Blake said he wanted to scare some stage presence into her.
Gihanna Zoë vs Halley Greg – Thinking Out Loud by Ed Sheeran – Team Kelly – Kelly believes "Thinking Out Loud" is a song anyone from any genre can sing. Luis Fonsi is helping out with the mentoring session. He likes the emotion in Halley's voice, and he's impressed by how strong Gihanna's vocals are. Kelly is impressed by Halley's range, and she calls Gihanna's dynamics gorgeous. Kelly believes the winner of the battle will be the one who showcases her artistry the best.
Gihanna and Halley trade off parts of the song, and they don't sing together until the end of the chorus. They both have nice moments, and Halley hits a high note that stands out. Gihanna delivers a solid performance, and she showcases some nice runs too.
Blake likes Halley's quirky voice, and he says Gihanna's voice is well beyond her years. Nick says Halley has a wonderful energy, and he says Gihanna shined more today than in her first performance. Nick compares her to Beyoncé. John compliments Halley's unique voice. He'd rather she be interesting than sound like anyone else. John was impressed by Gihanna's range. Kelsea said she grew up listening to vocal powerhouses Kelly Clarkson and Carrie Underwood, but she realized she couldn't try to match their vocals. She tells Halley to embrace her uniqueness. Kelsea calls Gihanna a perfect singer, and she was glad to see her let go in the performance today. Kelsea picks Gihanna, Halley is eliminated.
Durrell Anthony vs Zania Alaké – Emotions by the Bee Gees (Destiny's Child version) – Team Legend – Zania and Durrell both grew up listening to Brandy, and they are excited to meet her. John says they both have a soulful vibe, and he wanted them to showcase that in their battle today. Brandy calls Durrell's falsetto unstoppable, and she says Zania has a powerful voice. Brandy  suggests a key change to hear them both sing in their higher registers. John advises them to focus on the storytelling since they are already great singers.
Durrell and Zania seem comfortable with the song. The song is in their wheelhouse, and they both have great stage presence. They show off some nice runs toward the end of the song, and John gives them a standing ovation after the performance.
Kelsea says she was blown away, and she wishes Kelly was there to watch their performance. Blake thought Durrell did a great job, and he says Zania has the "it factor." He would pick Zania. Nick calls it a brilliant song choice. He says Zania has natural charisma, and he compliments Durrell's falsetto. He thinks Durrell won the battle. John also compliments Durrell's falsetto, and he likes Zania's grace and poise on the stage. John picks Zania, Durrell is eliminated.
Jordan Matthew Young vs Keegan Ferrell – Calling All Angels by Train – Team Blake – Blake likes Keegan's focus and his nuances, and Dan + Shay compliment his tone. They think Keegan has a smooth voice, but they want more stage presence. Blake says Jordan is used to singing loudly to be heard in the places he's gigged at while Keegan has been more focused on studio recording. Blake wants them to make it a difficult decision for him. He says they are neither at a bar nor a studio, so he wants them both to step up and take ownership of the moment.
Keegan and Jordan are both accompanied by guitar. Keegan has a nice tone to his voice, but he gives a quieter delivery. Jordan has more grit to his voice, and the song seems to be a better fit for his style. The disparity between the two is noticeable, making it an odd pairing compared to the other battles so far tonight.
Nick says Keegan has grown a lot since his first audition, but he wants to see Keegan enjoy the moment more. Nick likes Jordan's grit, and he thinks he can make it far in the competition. John says Jordan looks like a star, but he calls Keegan's voice flawless. He would pick Keegan. Kelsea says Jordan looks comfortable on the stage, and she says it looks like Jordan has already discovered who he is as an artist. Kelsea says Keegan is young but hungry to succeed. She was impressed by both, but she would pick Jordan. Blake said they both gave incredible performances, and that's all he can ask for as a coach. Blake picks Jordan, Nick steals Keegan.
Lindsay Joan vs Zae Romeo – Rewrite the Stars from The Greatest Showman – Team Nick – Lindsay feels prepared with her theater background. She feels like Nick and Darren are great mentors for her since they have background in both acting and singing. Zae says being on The Voice has been eye-opening for him. People in his past have told him his voice was not good enough, but he got all four coaches to turn their chairs for him. Darren says they have good instincts and are amazing individually, but he thinks they need to work on blending well together. He advises them to treat the smaller moments of the song like dialogue before the song builds to the bigger notes.
Lindsay and Zae seems to take the advice from Darren and Nick to heart. The start the song off quietly before they show off their big voices in the chorus. They have soaring vocals, and it was an all-around strong performance.
John says they have expansive ranges, and he's unsure who Nick should pick. Kelsea compliments on Zae for holding his own against someone with a theater background. She would pick him. Blake was impressed by them both, but he would pick Lindsay. Nick likes them both, but he says he will go with his gut. Nick picks Zea, Lindsay is eliminated.
Ciana Pelekai vs Denisha Dalton – You Broke Me First by Tate McRae – Team Legend – This battle was montaged, but we see them both belt big notes. John liked how they both take vocal risks. John picks Ciana, Denisha is eliminated.
Corey Ward vs Savanna Woods – Dreams by Fleetwood Mac – Team Kelly – Kelly thought they would be surprised to be paired together, but they admit they expected it as they both have gritty voices. Luis likes Savanna's raspiness, and he says Corey is someone he can see fronting a band today. Kelly says they both sound great together, and she likes how their voices complement each other. Luis says they are the real deal. Kelly says they were both so great in rehearsal, and she doesn't want them to change a thing since they were perfect. She thinks the battle will come down to who handles their nerves in the moment better.
Corey and Savanna both deliver a solid performance. The song suits them, and they look comfortable on stage. Neither of them have as big of voices as other contestants featured tonight, but it's a good pairing and they sound good together.
Blake thinks they both did great, but he thinks there were pitchy moments in the middle. He likes them both, but he was most surprised by Savanna. Nick is curious to see where Savanna goes as an artist, and he thinks Corey rose to the occasion. John thinks they both were wonderful, but he thinks Corey had the edge in the performance. Kelsea says it's a difficult song, but they made it work. She compliments Savanna's artistry, and she likes how Corey's style blends different genres. Kelsea picks Corey, Kelsea saves Savanna. Kelsea was texting Kelly before she made her decisions.
Advancing to the Knockouts
Cam Anthony – Team Blake
Emma Caroline – SAVED by Team Blake
Gihanna Zoë – Team Kelly
Zania Alaké – Team Legend
Jordan Matthew Young – Team Blake
Keegan Ferrell – STOLEN by Team Nick
Zae Romeo – Team Nick
Ciana Pelekai – Team Legend
Corey Ward – Team Kelly
Savanna Woods – SAVED by Team Kelly
Eliminated
Halley Greg from Team Kelly
Durrell Anthony from Team Legend
Lindsay Joan from Team Nick
Denisha Dalton from Team Legend