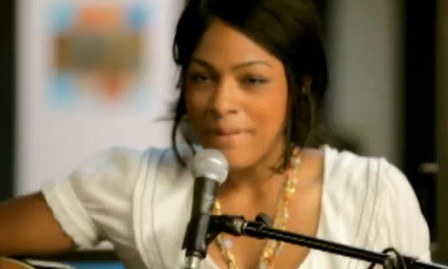 Let's take a closer look at a couple of last night's "The Voice" contestants! Today's "second chancers" include  Idol's Jamar Rogers, ex Aware records artist, Angel Taylor, and Jermaine Paul, a former back-up singer for Alicia Keys.
Jamar Rogers
You all remember Jamar as Danny Gokey's BEST FRIEND FOREVER, cut during Season 8 Hollywood week, while Danny went on to earn a spot in the finals. Host Carson Daly personally invites Jamar to be on the show. And we find out that his story is much darker than we saw on Idol. He stopped using crystal meth 6 years ago, but not in time to keep him from contracting AIDS.
Jamar lives in New York City now. He never mentions his time living in Milwaukee or his BFF. Incidentally, Jamar was passed the Season 9 audition, but quit to work on a record with producer, Phil Ramone. Guess that didn't pan out.
Here's Jamar's Idol audition. Wow. That was NOT good. His Voice audition was a big improvement!
Angel Taylor
Angel's backstory is about her entire family escaping her abusive father. But guess what? She had a record contract 2 years ago! Her single, "Like You Do" was on VH1's regular video rotation.
Her audition, Adele's "Someone Like You" didn't impress me particularly, but her single and a beautiful cover of The Script's "Breakeven" reveals her as a contestant to watch out for.
Like You Do
Breakeven
Jermaine Paul
Jermaine's past experience as Alicia Keys back up singer IS his backstory. We even get a little good luck message from Alicia via video.
Sometimes, a backup singer is in the background for a reason. Maybe that's why Jermaine tried oh so hard to make an impression during his audition. His shouty, uncontrolled cover of "Complicated" was a hot mess.
His cover of Trey Songz, "We Can't Be Friends" is a little better. Still not impressed.