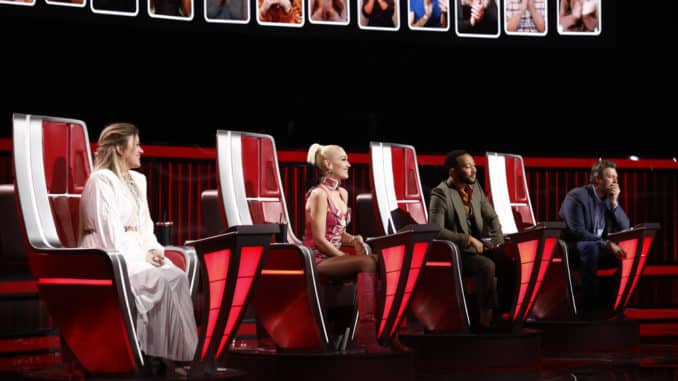 We're LIVE BLOGGING The Voice 19 LIVE results here. The Top 9 will become a Top 5 by the end of the episode. Here's how it will work: Host Carson Daly will announce the top vote getter from Team Blake Shelton, Team Kelly Clarkson, Team John Legend and Team Gwen Stefani. 
The remaining 5 singers will compete in the Instant Save for the 5th spot. The Top 5 will compete in next week's finale.
The Voice 19 Top 5 Semifinal Predictions and Poll Results
The Voice 19 Recap: The Top 9 Live Semifinal Performances (Video)
OH WHERE IS KELLY! She's getting ready for her performance tonight. She and Brett Eldredge open the show with their Christmas duet "Under the Mistletoe." She's dressed in a princessy red floofy gown. Brett is dressed in slim fitting flood pants and a white tuxedo jacket. It's odd! He's tall, and a little stiff as he gestures with one hand. Kelly is pulling all the focus here. Carson notes that Kelly co-wrote the song.
Team Kelly Clarkson kicks off the RESULTS. DUMB QUESTIONS ARE FIRST. Cami talks about her mother's support. Desz thanks her fans. And the artist who got the most votes is…Desz! No surprises here. Cami Clune will perform in the Instant save.
Team John Legend is next! He has three team members. Bailey hares her thoughts about John's belief in her as a country artist. John gives a shoutout to his grandmother "big mama." Tamara thanks her fans, the "lucky charms." The artist who got the most votes is…John Holiday! Bailey Rae and Tamara Jade will compete in the Instant Save.
Next, it's Team Blake Shelton. Ian shares about his life on the road, where he hopes to see his fans. Jim loved singing on top of a "giant frigging rock." He's got a sense of humor! That rock was weird. The artist with the most votes is…Jim Ranger!!!! Oh gosh. That's surprising. Really surprising. Ian Flanigan will compete in the Instant Save!
Blake and his Mom wrote a book that became a Hallmark movie. Every year there is a sequel including 2020. So look out for that. 
Now, John Legend performs his new single "Wild." It's from his latest album, Bigger Love.
Team Gwen Stefani is last. Ben thanks Gwen for stealing him, and helping his confidence. Carter shares about the lessons he's learned from his autistic brother, Jack. The artist who got the most votes is…Carter Rubin. Of course! Ben Allen will sing for the Instant Save. 
Instant Save Performances
Ben Allen – Pray for You – Team Gwen – Ben never had a shot at this thing. But I think Gwen kept him for the potential TV moments between her and fiance Blake Shelton. "I am going to win this show with a country artist!" was a ridiculous thing to say with Carter Rubin on her team. But I'm sure Shefani fans enjoyed the back and forth. Oh right. Ben's performance. "Nice work," says Carson. That about sums it up. Gwen mentions again how she was afraid he'd blow it last week. She begs America to vote. "We've got to win with Ben! Right.
Cami Clune – When the Party's Over by Billie Eilish – Team Kelly – The verse is too low for her. This is a hard song to sing, by the end of the verse Cami is reaching up into her head voice. It's an imperfect performance, but she delivers the emotion, which means everything. Kelly reminds America that the show is called "The Voice." It's not just her vocals, but also her storytelling. "I would not be shocked if you won this knockout," says Kelly,
Bailey Rae – Your Cheatin Heart by Hank Williams – Team Legend –  Bailey is going back to a classic. John seems to be enjoying himself. I wonder if it's the first time he's ever heard this song? I'm not kidding! John seems completely unaware of the country music world. John calls her rendition "fun" and "charming." and "splendid." He hopes America gives them one more week to work together. Really? With Tamra coming up next?
Tamara Jade – Feeling Good – Team Legend – "I feel good Uncle John!" Tamara shouts. This is the Save Me song of all Save Me songs, and Tamara is killing it. I like that Tamara doesn't over do it. That coupled with her impeccable jazz chops. Her phrasing is sublime. John is on his feat. He calls her an evangelist and prophetest. He loves the way her personality just shines through. All his words to Bailey were just lip service, of course. 
Ian Flanigan – – Team Blake – Anymore by Travis Tritt – Ian gets the pimp spot, which actually might save him. The Voice fans love their white male country singers. Wisely, he sings a straight up country classic. I hope Tamara wins this Instant Save. She deserves it. But Ian is delivering a heartfelt performance. He really should have gone straight to the Top 5. Blake hints that he didn't expect Ian to wind up in the Instant Save. He begs America to vote.
Now, The Voice fans have FIVE MINUTES to vote for their fav. Vote on The Voice app or at NBC.com.
Before the vote is revealed, the singers thank their respective coaches. Blah blah, believing in me…blah blah…thank you…blah blah blah…incredible experience…blah blah…staying true to myself…The usual thing! Except Tamara, who is hilarious. 
America INSTANTLY SAVED….your fifth finalist….Ian Flanigan. TAMARA WAS ROBBED ROBBED ROBBED. Not the least bit surprised, though. 
Actually, Tamara deserved to go straight to the finale. But there was too much competition on her team for that to happen. That's why it's better to ditch coach parity once the live finals begin. Maybe it wouldn't have made a difference. But for the future, coaches need to suck it up if they are left empty handed by the end. A top five including Ian, Tamara, Desz, John and Carter would have been reasonable. It's really something that Jim's shouty performance whilst singing dorkily on top of a fake rock put him over the top. I guess he had people. 
Top 5
Desz – Team Kelly Clarkson
John Holiday – Team John Legend
Jim Ranger – Team Blake Shelton
Carter Rubin – Team Gwen Stefani
Ian Flanigan – Team Blake Shelton
Eliminated:
Ben Allen  – Team Gwen 
Cami Clune – Team Kelly
Bailey Rae – Team Legend
Tamara Jade –  Team Legend