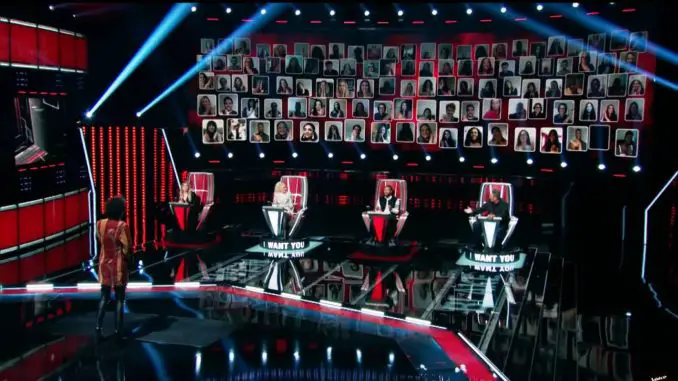 The Voice season 19 is almost here! Check out a first look at the season, including interviews with the coaches Blake Shelton, Kelly Clarkson, John Legend and Gwen Stefani.
The coaches explain how COVID-19 protocols have changed the season. The crew has returned to Universal Studios, but with notable changes. The big red chairs are now positioned 8 feet apart. There is no studio audience. However, fans watch the show from the comfort of their own homes. The wall behind the coaches is filled with a "virtual" audience. 
In one shot, John picks up a vial and eyes it suspiciously. Yes, production tests the cast and crew  regularly for COVID-19. 
And the coaches have funny ways to accommodate the new normal. Gwen shoots t-shirts at her new team members. The pandemic WILL NOT STOP HIJINKS, Y'ALL. 
Also, Blake, Kelly and John welcome Gwen back to the show. She took Adam Levine's spot last fall. But she skipped the spring cycle (Nick Jonas took her place). "It felt like the old gang got back together again," says her boyfriend Blake, "And we're having a blast."
The clip ends with a glimpse at the new talent, including Tamara Jade, a soulful, big voiced singer performing Lizzo's "Cuz I Love You." Speaking of talent. We have spoilers through to the live shows. Check it out:
The Voice 19 Top 16 SPOILERS: Battle, Knockout Results, Song Choices
The Voice 19 Top 40 Contestant Spoilers – Teams & Song Choices
Watch The Voice season 19 first look video below. The Voice returns to NBC Monday, October 19.