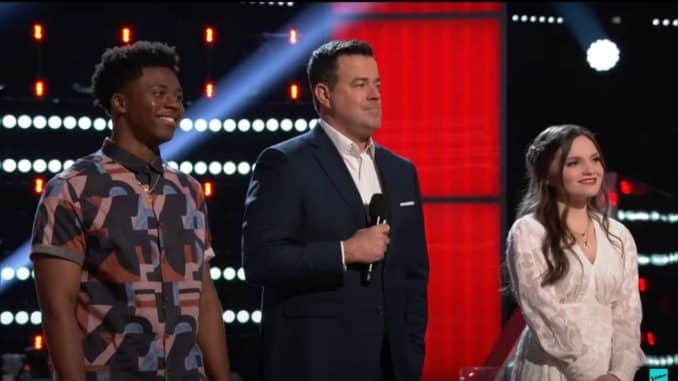 The Voice season 18 Knockouts kick off on Monday, as the coaches pair up team members to face off against each other with individual solo performances.
In this new preview from the upcoming episode, Kelly Clarkson pairs CammWess, a steal from Team John Legend, and teen country singer, Megan Danielle up against each other.  Camm performs A Great Big World's "Say Something" while Megan takes on her coach's massive song, "Piece by Piece."
After the performances, Blake Shelton calls it a "close neck and neck competition." He remarks that both Camm and Megan really "stepped out" and had their big moments.  If he had to choose, it would be CamWess. John compliments Megan on her tone and control and how she did a "great version" of Kelly's song. John calls Camm's performance a "tour de force as a vocalist" and feels "mountains of regret" that he is no longer on his team. "It was really bold of you to pick this song," Nick Jonas compliments Megan. 
Who will Kelly choose? Find out when The Voice 18 Knockouts part 1 airs on NBC Monday April 13 at 8 pm ET/PT. The round will feature the legendary James Taylor as Mega mentor.
Watch CammWess and Megan Danielle Fight for a Spot on Team Kelly Clarkson