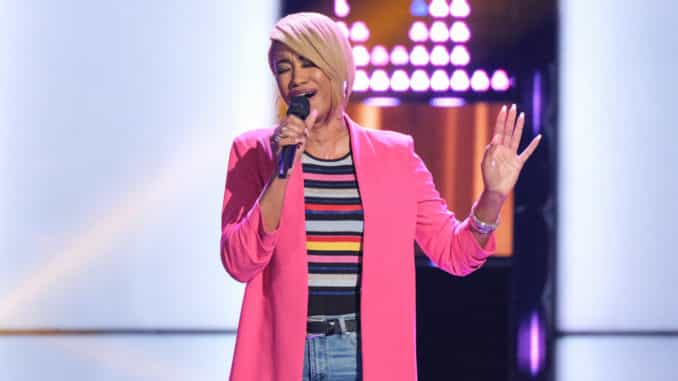 The Voice season 17 Blind Auditions continue with returning coaches Blake Shelton, Kelly Clarkson and John Legend. In the wake of Adam Levine's abrupt departure from the show, Blake gal-pal Gwen Stefani takes a seat on the panel.  Carson Daly returns as host. We'll be live blogging all the Blind Audition performances right here.
The Voice Season 17 Contestant List Spoilers: Blinds, Battles, Knockouts
The Voice 17 Myracle Holloway Performance Brings Kelly to Tears (Video)
The Voice Season 17 TV Schedule: Blinds, Battles, Knockouts, Lives
Myracle Holloway – 44 – Los Angeles CA – When I Was Your Man by Bruno Mars – Philip Bailey discovered her in a soul food restaurant, years ago. She toured the world, but a troubled childhood filled with abuse led to substance abuse problems. She left the music business to work with high risk students. Eventually, she reconciled with her mom, who also got clean and sober.  Myracle's presentation is very professional. Her experience shows. She has a tone that's both sweet and husky. Oh boy. Here we go again. Blake hits his button first. And Gwen follows. Fake-azzz bickering coming up. But then Myracle tells her story and it sobers everyone right up. Blake was completely wrapped up in the performance. John could feel the pain in her voice. He felt the connection. But did not turn! Kelly is moved to tears. She's sad her team is filling up. Myracle Picks Gwen
Ricky Braddy – 36 – Nashville TN – The Story by Brandi Carlile – HEY RICKY BRADDY! We know this guy. He was a Top 36 contestant on American Idol season 8. He was a church boy growing up. Oh wait. Ricky shares that HE RECENTLY CAME OUT AS A GAY MAN. Holy cow. GOOD FOR HIM. He introduces his BOYFRIEND Logan.  I knew Ricky auditioned this season. I was NOT expecting that little twist, however. I remember Ricky as a very religious man when he competed on Idol. What a big step for him to take! He calls coming out at 36 "incredibly freeing." I remember thinking Ricky was kinda robbed his season. His performance here is a bit wobbly and overwrought, however. Blake, John and Gwen turn! YAY!!! John calls his range "exciting."  Gwen notes his theatrical flair. Kelly thinks he should do theater. Blake and Gwen bicker some more. Ricky Picks Blake
Damali – 16 – Norwalk CA – Ocean Eyes by Billie Eilish – She attended a military high school because her parents felt the public schools were poor. But a military school was the only option? Hm. Denali has a very pretty tone. But she's flat on the high notes. But at the very last minute, Kelly pushes her button. Ha. Blake started to apologize. He didn't realize Kelly turned! Kelly's been holding back, but then decides to hit her button for an inexperienced pitch-impaired singer? Well, she does like young female singers she can help improve.
Steve Knill – 37 – San Francisco CA – Up to the Mountain by Patty Griffin – Steve performs a sweet, soulful rendition of one of Kelly's favorite songs. So of course, Kelly hits her button right away. Steve's a little shrill on the high notes, but his falsetto is very pretty. Beautiful finish! Steve sang Kelly's arrangement, which she seemed to appreciate very much. John thinks he should dial it back a little, but compliments the "raw material." He needs to work on his chest voice in the upper register, but other than that, I liked that. 
Destiny Rayne – 23 – Coral Springs FL – To Make You Feel My Love by Bob Dylan – She grew up with a single mom, who got married when she was 9. Her stepfather is very supportive. She's engaged. Hm. I wasn't too sure about this performance at first. Then she hit a couple of high notes. Her range is solid! By the end of the song, I came to appreciate her unique tone. Gwen and John hit their buttons. Gwen figured she didn't have a chance once John turned, but she's going for it anyway. Maybe her outfit will impress Destiny? Whatever! John appreciated the way she stayed in the pocket, and her point of view on the song. Destiny Picks John
Jo James – 31 – Austin TX – It Ain't Over 'Til It's Over by Lenny Kravitz – At one point in his life, Jo was 300 pounds. He started playing an electric bass at 8 years old! In middle school, he gained a lot of weight. Finally, his girlfriend persuaded him to live healthier. They're married now. She also persuaded him to audition for the show. John, Kelly and Gwen begin immediately grooving in their seats. But who will turn? Jo has a classic blue eyed soul sound. Very smooth! Aw. No Turns. I think he deserved to advance. Too bad he came so late in the process. John felt he tried to put "too many ideas" in his performance. 
Khalea Lynee – 36 – St Petersburg FL – Best Part by Daniel Caesar & H.E.R. – She's the mother of two teenage daughters. An early marriage and motherhood derailed her career. But after she got divorced in 2014, she began writing and performing. She sings like a pro. I wonder if there's more to this story. She's got a jazzy sound–like Anita Baker. It's a 4 chair turn to end the episode. John calls her tone beautiful, he loved all her choices–passion and discipline. And she name checks Anita. What did I say. Heh. "In my head she's my auntie," Khalea confesses. Blake makes a super lame play for Khalea, but he figures he doesn't have a chance. She should probably choose John. When he sings to woo her, it's obviously a done deal. Khalea Picks John
On Monday, the Blind Auditions end in the first hour, and the Battles begin in the second!