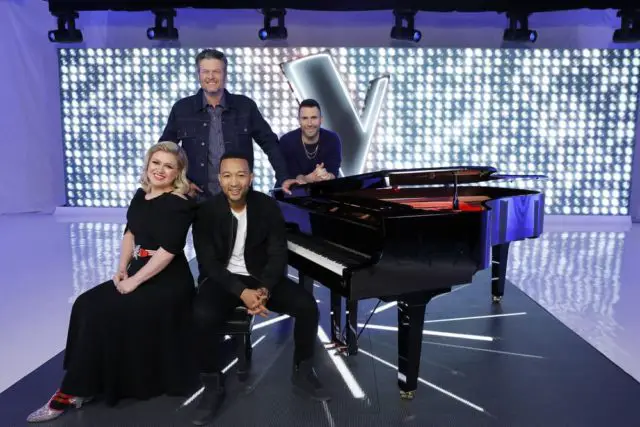 The Voice Battles have concluded, and now the show moves on to a brand new TWIST. In The Voice Live Cross Battles, coaches will pair up singers across team lines to fight for a spot in the Top 24. The coaches–Adam Levine, Blake Shelton, Kelly Clarkson and John Legend–will choose team members "schoolyard" style. Unlike previous battle rounds, VIEWERS will decide which singer wins the battle via overnight voting.
The winners will be revealed on the week's respective Tuesday result show. Each coach gets one save and one steal. Sixteen singers (8 pairs) will do battle Monday night (April 15) while the remaining singers pair up next Monday (April 22)
The Voice 15 Live Cross Battles Twist – NBC Reveals ALL the Details
A few days ago fans voted for their favorite contestants. With 32 contestants still remaining in the competition, it was easier to split the vote up by teams. I have to confess, I'm still having issues wrapping my arms around all the singers! And with the final rounds reduced to a 3 week death match? (Click for the FULL The Voice live schedule). I'm afraid I will remain confused.
A few notes about the results: You favorites are: Celia Babini (Team Adam), Selkii (Team Blake) Jej Vinson (Team Kelly) and Maelyn Jarmon (Team Legend). Speaking of which! In the original poll post, I listed my own favorites and SOMEHOW overlooked Team Legend's Maelynn Jarmon. She may be the best singer out of the 32. MY BAD. Also, I understand why Jej Vinson tops Kelly's list! He's not my cup of tea, but he is an extremely talented vocalist. Definitely finals material. Also, I think Team Adam is the best it's been in quite a few seasons. Have fans forgiven him for throwing DeAndre Nico under the bus last fall?
Favorite Team Adam Contestant
Celia Babini 24.46%
Dominic Haynes 19.37%
Mari 18.89%
Kendra Checketts 10.41%
LB Crew 8.96%
Rod Stokes 8.23%
Andrew Jannakos 6.78%
Kalvin Jarvis 2.9%
Favorite Team Blake Contestant
Selkii 37.3%
Dexter Roberts 15.45%
Andrew Sevener 9.77%
Gyth Rigdon 9.24%
Oliv Blu 9.06%
Karly Moreno 8.35%
Kim Cherry 7.82%
Carter Lloyd Horne 3.01%
The Voice 16 – Favorite Team Kelly Contestant
Jej Vinson 41.33%
The Bundys 15.33%
Presley Tennant 14.22%
Betsy Ade 8.22%
Rebecca Howell 8%
Matthew Johnson 6.89%
Abby Kasch 4%
Karen Galera 2%
The Voice 16 – Favorite Team Legend Contestant
Maelyn Jarmon 41.95%
Kayslin Victoria 13.17%
Jacob Maxwell 11.22%
Beth Griffith-Manley 9.76%
Shawn Sounds 7.32%
Lisa Ramey 6.59%
Julian King 5.61%
Jeremy Mowery 4.38%
Best Team
Team Kelly Clarkson 33.15%
Team Blake Shelton 29.86%
Team Adam Levine 20.27%
Team John Legend 16.71%