Reporters got a chance to speak with The Voice contestants who earned spots on teams. Check out interviews with singers who appeared on Tuesday's (Sept 25) show.
DeAndre Nico – DeAndre started singing when he was 7, eventually learning to play keyboards and drums. A year ago, Hurricane Harvey hit his hometown. His neighborhood was devastated and his family lost their home. The singer earned a 4 chair turn with an emotional performance of "When I Was Your Man" by Bruno Mars.
Were you expecting a four-chair turn, and what does that feel like?
I was expecting a four-chair turn; that was a big goal of mine, and I prayed–that's what I wanted. But when it happened…that was a tremendous feeling. Everything was just–I was speechless.
You said you chose Adam because he was the first to turn. But did you have a specific reason for choosing Adam?
I made a vow to myself whoever had turned around first, that's what I was going to choose, and I stuck to my word, I'm a man of my word. If I say I'm going to do it, I'm going to do it even though someone else sounds better–J. Hud was trying to get me.
What is it like working with Adam?
Adam's a great guy, he's really cool, down to earth. He tells us what we need to hear–he don't cut no nickels with us, he lets us know what's up–hey, that sounds bad. He tries to help us in every area that he can. He's trying to win, just like us.
You released a gospel single a couple of years ago?
I released a gospel single, I think it was like 2016 or '15, one of the two. That was just one of the areas that I considered going down because that's my faith and what I believe in. That was one of the areas that I was going down. But wherever God leads me now, that's where I'm going.
What were you doing musically right before the show?
I was playing drums, playing keyboard. I really wasn't gigging singing. It was just mostly me playing instruments for people.
What was it like when all four judges were fighting for you? 
My family was there, first of all, so my dad was acting a fool. He was having so much fun. My mom and all my family were really emotional. You have your family there, and everybody there supporting you, and then the crowd going crazy. It was just an amazing feeling, it's really overwhelming. I'm just grateful that I had that experience. [It was] just amazing, I love it. And it was very emotional, I wanted to cry up there, but you know, couldn't do that.
Michael Lee – While most kids were doing kid stuff, Michael was listening to the blues and going to shows. The singer married shortly before his Voice audition and credits his wife for saving him from a destructive rock n roll lifestyle. Blake, Adam and Jennifer fought for Michael after his impressive cover of BB King's "The Thrill is Gone." Michael chose Blake.
Could you talk a little bit about your musical influences?
My musical influences growing up ever since I could remember have been BB King and Otis Redding and Stevie Ray Vaughan. My parents would pull me out of school to go to blues concerts and I was already into the blues from a very, very early, early age.
I decided from an early age that I wanted to play guitar, like Stevie Ray. Growing up in Fort Worth and Texas in general there's a strong country music pulse that emanates from that part of the state, and it really kind of blends with the blues and the soul, because you would have Dallas with all these old school blues guys like Freddie King and Blind Lemon Jefferson, and then you would have all these country greats over in Fort Worth.
They all kind of blended and all the different bands played together. So guys like Delbert McClinton would play with Howlin' Wolf on Monday and Tuesday, and [then] go play country gigs on the weekend.
So it's a blend of BB King and Stevie Ray Vaughan and blues in my early childhood, and then discovering people like Merle Haggard and Willie Nelson a little later on, and then just inadvertently kind of blending it all together.
Are there any contemporary artists that you admire?
Yeah, there's a lot of contemporary artists that I like, like Gary Clark, Jr. is a great example, Mark Broussard, Johnnie Lang, Lake Street Dive, I could go on and on and on.
Why did you choose Blake as your coach?
It was going to be easy for me if Kelly turned around, because she's from Burleson and I'm from Fort Worth, and it's like, well I'll just go home town. Burleson is just ten minutes away from Forth Worth, and I was going to go with the home town girl but she didn't turn around.
So whenever that happened, it was just kind of fair game for everybody. I've watched the show quite a bit and I know that Blake is a big picture kind of guy. He doesn't really get bogged down in the details or really try to change any nuances or get you out of your comfort zone too much, or try something crazy new. So I wanted to go with him, and you know he's been there since the beginning and he's won the most times, so I really felt like Blake was the best decision for me.
Keith Paluso – Keith is a natural resource manager in Germantown, Tennessee, which means he oversees 29 nearby parks and all their park rangers. The singer put his music on hold for many years until auditioning for The Voice. Following a performance of "Way Down We Go" by Kaleo, Blake nabbed Keith for his team after blocking Adam.
There was a reference [during the show] to you stepping away from music for a while. Could elaborate on that a little bit.
I grew up playing music with my brother and when we both went to college at UT-Martin, had to kind of figure out what we were going to do with our lives. I had already spent a lot of time in the outdoors, in the Boy Scouts and had worked at various camps and things like that, and was always pretty interested in the outdoors, so I went with biology.
I decided to hang on as a park ranger when I started working for parks in the summer, and that lifestyle is not very good for playing shows and things like that. So I mainly just focused on my career as a ranger and tried to make a life for my wife and I that way. So I didn't really have time for any kind of music.
Was there was substantial amount of time when you were away from music?
Oh, for sure. I played a few shows here and there when I was in college, graduated in 2012 and then after that I just hung it up, may get a guitar if I'm hanging out with friends and stuff like that, but otherwise, they were in a closet collecting dust. I really didn't start playing again until, I mean when I say playing again I don't mean playing shows. I mean, getting them out of a closet, maybe last summer.
Are you still a park ranger?
I am. I worked for Tennessee State Parks all through college and then five years full time, and then when I went on paternity leave, when our son (Kit) was born, I kind of had some time to clear my head and not focus on my job so much. So we, my wife and I talked quite a bit about maybe making a lifestyle change and I found a job as the natural resource manager for City of Germantown, which is kind of the head position over all the park rangers. I applied for it and we moved back to Memphis. Short story, I was a park ranger for Tennessee State Parks for several years and then recently moved to the city of Germantown, in Memphis.
How did you feel about the use of the block (Blake used the block against Adam)?
I feel like the block is–I think the contestants and I have talked about it before–it's a really great compliment. You only get one for the season, and that means that you like a contestant enough that not only will you turn a chair for them but you'll try to make sure you get that person ormuse your one ticket to get that person. I think it's a great compliment, and I really appreciate it.
How do you feel about your matchup with Blake?
Blake jokes around a lot on the show, but he is an incredibly intelligent person. I haven't been playing as long as some of the other people here and have been out of the game for a while. But I feel like if there's somebody–I mean any of the coaches would be fantastic–but I feel like Blake just has such a great ear for things and how he can change them for the better. I'm really excited about being on Blake's team.
Did you have a preference going in?
To be honest with you, going into the blinds, for months before the blinds, every time I thought about it my stomach would just turn, I was really nervous about it. And then that day, I didn't really think about it at all. I didn't think about the coaches at all. I was trying not to even look at the chairs, just play the best show I could. And so pretty much told myself before the blinds that whatever happens I'm just going to try to play the best show of my life, and it worked out.
In your video package you had talked about not having ever performed live in front of big audiences. What did it feel like standing on that stage, in front of TV cameras and a big studio full of people?
It's probably so different from my normal lifestyle that you couldn't even really be nervous about it, if that makes sense. It's just so surreal, and to be honest I don't remember much of the blind audition, because I was so excited. But it all just happened so quickly and it's all sort of like a dream. I came straight from being a back-country ranger to suddenly being in that room with all those people and the lights, and the cameras, it's just, it's more like a dream than it is reality.
You've probably learned a lot about the music business in your experiences so far?
I think one of the most spectacular parts of the whole experience is not really–the coaches are amazing and some of the best people in the business. But the amount of time and the relationships that you build with the other contestants, it's second to none. It's probably one of the most wonderful things that has ever happened to me. It's just been such a grand adventure, and most of it can be, instead of just be put on the coaches–it's on the contestants. It's on the wardrobe people and everyone that works behind the scenes. It's just fantastic. That's where I've learned most of what I've learned so far.
Claire DeJean – 18 year old Claire's goal is to help people which is why she volunteers as a music, dance and theater instructor. Blake and Kelly battled for Claire after a performance of Hurt Somebody by Noah Kalan and Julia Michaels. Kelly won the day.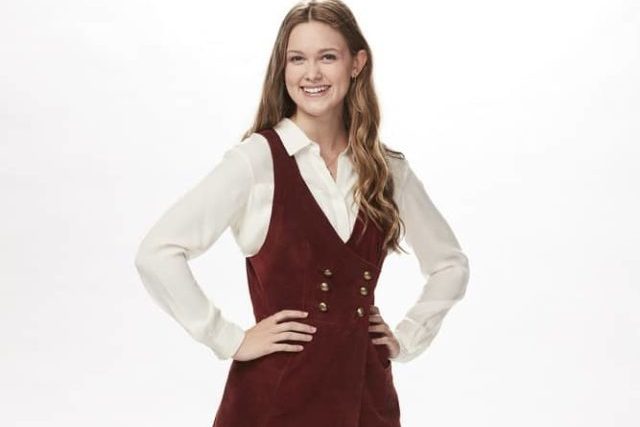 Could tell us a little bit more about a series of fundraising concerts you've done for childhood cancer research and teen suicide prevention mentioned in your Voice bio.
I chose those causes because, first of all, I love playing gigs and I love going out and playing my music and sharing music with people in my community. And those causes are really special to me because I've had so many people in my life, like friends or people who influenced my music career, that have suffered with cancer, anxiety and depression, and I've had friends who have committed suicide at a very young age. It's a cause that's very close to my heart, and I think it's important to use what I love doing to help people.
Do you play originals at your show and what type of music, how would you described your music if so.
I play a lot of originals. I am a very avid songwriter, but I don't currently have any music out, I just have music on SoundCloud, and I write, and I'm working on getting music together. 
How would you describe your music genre-wise?
As a musician I really like to take influences from all the different kinds of music I like, which is such a wide range. But I would probably generally describe myself very singer-songwriter, folksy but with a pop influence, too.
 You seem to be impressed Kelly called your voice soulful, is that why you chose her?
I was actually very close to choosing Blake but I think the reason that I chose Kelly was because the way that she described me as an artist. I think that she just got me a little bit more than Blake did. And I don't know, I just felt it in my gut that she was the right coach for me, so that's why I chose her.
What is it like working with her?
Oh, my gosh, she's absolutely amazing. It's so hard for me to describe. She's just such a genuine person and she really brings out the best in her artists, I think. She made me a lot more confident in myself, and pushed me into doing things that I probably wouldn't have done otherwise. She's just amazing, and working with her is such a dream.
Franc West – Franc learned to play the piano and drums, but didn't discover his voice until joining the Navy, where he led the troops as a cadence caller. A self-admitted "Pastor's Kid" (his mom), Franc got a turn from Jennifer after a performance of Otis Redding's' "Sitting on the Dock of the Bay."
Could talk about your musical influences.
A lot of Prince and James Brown, The Beatles, mainly the Abbey Road project, Outcast, Frank Sinatra, Otis Redding, currently Michael Buble, John DeLeon.
Could you talk a little bit about what it's like working with Jennifer Hudson?
Franc West: Working with Jennifer is a blessing. She is a ray of sunshine to be around, she's very sweet and very helpful. She's a living legend–to second-guess anything that she says would be a detriment to myself. However, she allows me to be me, and I appreciate that.
Could you talk a little bit about what you've been doing musically right before the show. A couple of years ago you were working on a couple of EPs and some original stuff. Did that ever get released? 
Yeah, I released the EP when I left Cleveland, Ohio, to move to Atlanta, Georgia, and I used that EP to basically pay my bills. I would do small shows. They were just walk-in shows, like open mics, and I was able to form a relationship with a lot of venues around the state of Georgia. They'd love to see me coming, they wouldn't charge me to perform, they wouldn't make it very difficult, they just allowed me on stage, and when I got on stage, the rest was up to me.
God has put me in a position to be able to affect people, and they patronize my music and I appreciate it. So I released an EP in 2013, but I have a strong gospel influence, a strong inspirational music influence, and that's where I come from. So when I released my solo EP, it was just me getting out here and seeing how I would fare singing all types of music. I also produced instrumentals as well. You can hear some of my work on a couple movies that are out in theaters now.
What type of music do you see yourself doing
I honestly see myself doing a wide range of music, different genres. I think that the importance about a specific genre is kind of dying down and people just want to feel something, they want to be a part of something, and I want to be one of the ones that ushers that new protocol in, to where it's not really genre-driven It's a smorgasbord, it's like a buffet. You know all the food's going to be good, you just come and eat. So that's kind of how I look at music. But I'm definitely going to release a worship project because that's what I believe in, my faith is very strong. I'm a serious believer of God and in his work.