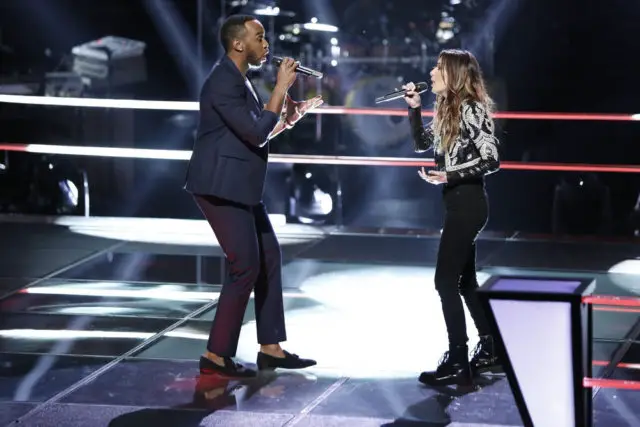 It's the very LAST of The Voice season 12 Battle Rounds. The coaches will be joined by superstar advisors to help prepare team members to battle. Two singers duet, only ONE advances to the Knockout rounds. That is, unless, another coach steals them. Each coach gets two steals.
Adam Levine will be joined by John Legend. Luke Bryan joins forces with his buddy Blake Shelton. Celine Dion teaches Team Gwen Stefani a thing or two about singing. And, DJ Khaled helps Alicia Keys prepare her team.
Click this link for tonight's The Voice 12 Song Spoilers.
There is one more steal left, and Adam Levine has it.
Lauryn Judd vs Lilli Passero – Team Alicia Keys – Every Little Bit Hurts by Brenda Holloway/Alicia Keys – Oh boy. Lauryn is a junior in high school. She's so innocent. And there's no way she wins this battle. Lilli is an actress and singer making her way in Los Angeles. She also attended Carnegie Mellon University. Maybe the most unfair matchup ever.  Alicia slips behind the piano to show the gals how it's done. Alicia and DJ toss the word "vibe' around a lot in this segment.  At the final rehearsal, we watch as Alicia expertly arranges the song. Lilli reveals how she'll draw inspiration from the painful fallout of a bad break up. There's no way young Lauryn can bring the same depth of experience to her interpretation. –  Download from iTunes
This isn't even a contest. Lauryn has this weird cowgirl accent that doesn't suit the song at all. Lilli's got the soul and skill to tell a story. And her phrasing and range are really great. Lauryn needs at least a few more years to marinate. And maybe she should consider a career in country. Adam says it's all about experience, Lilli should take it. Gwen would choose Lilli too. Blake says "Lilli sang the crap out of that." Poor Lauryn. The foddery-est of cannon fodder. Alicia pretends like she has to think about it. Alicia Chooses Lilli. Lauryn is eliminated.
https://www.youtube.com/watch?v=doJbAouwBk4
Jesse Larson vs Taylor Alexander – Team Adam Levine – Shameless by Billy Joel/Garth Brooks – Taylor is the country singer who flipped "Believe" by Cher. Jesse built guitars with his dad. He played with Prince and former The Voice contestant Judith Hill. Adam says he put together two "oddballs." John tells Taylor to modulate the twang. He's cutting off the words. Jesse is nervous because the song seems "tailor made" for Taylor. At the final rehearsal, Adam and John gives the singers a few final tips.   – Download from iTunes
Both singers play guitar. An interesting match up. They both come from different places musically, but sound good together.  Jesse has an authentic, effortless quality that I prefer. Taylor has a nice tone, but his country twang borders on shtick at times. He can sing–he doesn't need to force it. Blake thought Taylor had more work cut out for him. He would choose him. Alicia doesn't pick anyone. Gwen loves Taylor's look, but appreciates Jesse's spirit. They were both one chair turns. Adam Chooses Jesse. CORRECT ANSWER. Taylor is eliminated. Of course, we knew that, because only Adam has a remaining steal. Oh. Adam compares Jesse to Sundance Head.
https://www.youtube.com/watch?v=MtMuevPp3oA
Last Battle! Adam steals somebody here.
Brandon Royal vs Davina Leone – Team Gwen Stefani – In the Night by The Weeknd – Davina's family is French. She immediately begins chatting up Celine in her native tongue. One one hand, there is Davina, a popular Youtube star. Brandon is from the Islands and works as a fireman by day.  After the final rehearsal, Celine is really impressed. She gives Davina tips on how to be a fierce female. She shows Brandon how to move on stage. Her advice is specific and tactile. Celine is one of The Voice's better mentors, for sure. – Download from iTunes
I didn't connect to Brandon so much during the Blinds, but here I'm getting a sense of his tone. He's got a distinct sound. Very modern. The singers are connecting pretty well, but Davina is less confident. She seems nervous? But her raw talent is evident. Gwen will probably pick Brandon, and Adam Davina (he said specifically he wants to add another girl to his team.) Blake professes his love for Brandon. He wants to hug him. Alicia calls him "dirty and elegant." Yep. Gwen Chooses Brandon. Adam Steals Davina. Blake gets his hug! 
https://www.youtube.com/watch?v=YJrS5Xak9LU
Advancing to the Knockouts:
Lilli Passero – Team Alicia 
Jesse Larson – Team Adam
Brandon Royal – Team Gwen
Davina Leone – Team Gwen – Stolen by Adam Levine
Eliminated
Lauren Judd – Team Alicia
Taylor Alexander – Team Adam