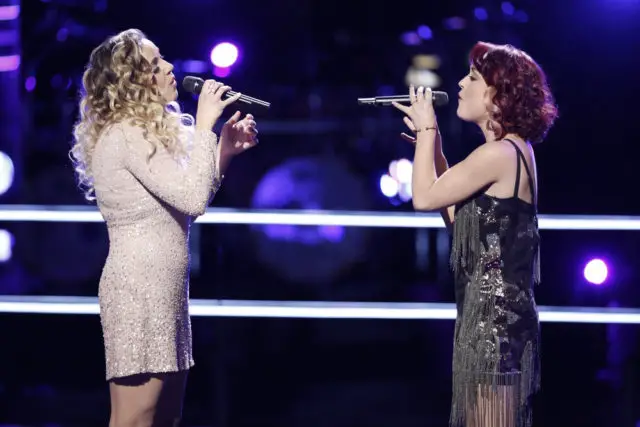 The Voice season 12 Battle Rounds begin tonight. The coaches will be joined by superstar advisors to help prepare team members to battle. Two singers duet, only ONE advances to the Knockout rounds. That is, unless, another coach steals them. Each coach gets two steals.
Adam Levine will be joined by John Legend. Luke Bryan joins forces with his buddy Blake Shelton. Celine Dion teaches Team Gwen Stefani a thing or two about singing. And, DJ Khaled helps Alicia Keys prepare her team.
Click this link for tonight's The Voice 12 Song Spoilers.
DJ Khaled is the "King of Snapchat," host Carson Daly tells us. Ok then. And what is up with Gwen's outfit? And whaddup with that weird knot in her hair?
Brennley Brown vs Lauren Duski – Team Blake Shelton – Better Man by Little Big Town – Brennley was a contestant on America's Got Talent last year. She also lives on a farm…or something. She's only 14 and SHE'S SO BUBBLY. Lauren comes from a family of dentists. But she'd rather pursue music than go to med school. Blake is pitting the two pop country girls against each other. T Swiftie wrote the song, Apparently it's about one of her many terrible boyfriends.   (it's never her fault). Blake compares Lauren to Trisha Yearwood, but tells her she needs to bring some anger to her performance. Lauren decides to think of a guy who broke her heart. Luke finds the "break" in Brennley's voice amazing. Blake tells her to work on her diction. She's also got to find motivation to sing a song that's beyond her emotional range. Nevertheless, Luke believes the two singers are on a level playing field. – Download from iTunes
Brennley's voice really pops and her range is elastic. Lauren's presentation is low key. She might get lost in this performance. Brennley is play acting, but she's got a great voice and personality. Lauren is bringing the grown up emotion though and she has a rich tone. Brennley loses control of her voice at one point. Ouch. Overall, she's the better singer, but Lauren has more depth. Alicia compares Lauren's voice to honey. She felt Brennley was "authentic." Gwen loves Brennley's confidence. Gwen loves the richness of Lauren's voice, but she's drawn to Brennley's innocence. Adam thinks they are both in "really great shape." He's talking about their voice. Ha. Blake Chooses Lauren….and wait for it….Gwen Steals Brennley. As if THAT wasn't telegraphed (AND PLANNED) ahead of time. Adam Steals Brennley too. Gwen loves her spirit! Her instinct says they need to work together.  Oh wait. Now we're taking a break to sing Happy Birthday to Brennley.  So I guess she's 15 now? AFTER A COMMERCIAL BREAK.  Brennley chooses Team Gwen. Of course.  Blake would rather his best singer go to Gwen because  Adam is "evil." 
https://www.youtube.com/watch?v=8MC-wkoLzOM
Kenny P vs JChosen – Team Gwen Stefani – I Was Made to Love Her by Stevie Wonder – J works with special needs kids. And he's a dad. He was a 4 chair turn. Kenny comes from a musical family. He covered Todd Rundgren! JChosen is very intimidated. Celine tries to loosen him up. He doesn't have to call her Miss Celine, she says. Gwen wasn't expecting J to be so nervous and is afraid he's holding back. Celine loves quoting her late husband. She's a very hands on mentor. She's got great vocal AND performance tips. "I tried so hard to get undressed," Celine says after rocking out during their rehearsal. Maybe it makes more sense in French.  – Download from iTunes
They're both good. J has a smooth voice. Kenny is growly and powerful. He's keeping my attention. Gwen may be right about J holding something back.  On a sexier song, J would probably be killing it. He needs some slinky Marvin to really shine. Kenny has a ton of confidence. Adam wants J on his team. Adam thinks they're both dead even. Blake loves J's smooth voice. But Kenny's edginess is cool! Alicia enjoyed the camaraderie. Gwen regrets putting them together. Gwen Chooses JChosen. I thought Kenny was better, but JChosen has been a favorite from day one. Kenny P is Eliminated.
https://www.youtube.com/watch?v=MPn6cQHJsPE
Anatalia Villaranda vs Missy Robertson – Team Alicia Keys – Tightrope by Janelle Monae – 17 year old Anatalia is only 4'9″.  She was a Top 41 contestant on American Idol last year. Missy's dad is a pastor. She works with disabled people. I barely remember her. Something tells me that Missy is toast.  Alicia wanted to give them an energetic song. DJ is impressed with Missy's swag. Alicia  choreographs the runs and the dynamics to keep the performance from becoming monotonous. Yeah, the song seems hella hard to sing –  Download from iTunes
Anatalia is SUPER SPARKLY  in blue, young and energetic. The song is tailor-made for her. Missy is a solid vocalist. But lets face it. Even if Missy held her own (she did!) She's the foddery-est fodder that ever foddered.  Gwen calls Anatalia a "firecracker." Adam wonders if she's a wind-up toy. Like a two hour concert, he said. He calls Missy the anchor of the performance. He prefered her. Blake calls it Grammy-worthy. Alicia chooses Anatalia. Duh. Missy is Eliminated.  The crowd is yelling "Steal!" but it doesn't happen. Alicia compares Anatalia to Bruno Mars. 
https://www.youtube.com/watch?v=6j6JaU5uTDk
Mark Isaiah vs Gaby Borromeo – Team Adam Levine – PILLOWTALK by Zayn – Mark is The Voice 12s mini-Bieber. He's going to win this battle. Or he'll be stolen at the very least. Gaby worked as a demo singer and had a record contract with…John Legend. Reunion! Mark is the most current, radio ready contestant this season. Nobody is going to give him up. John thinks Gaby's talent has matured nicely. Adam wants to instill as much confidence in the young singers as possible. –  Download from iTunes
There isn't a ton of chemistry between these two. But they both exude a relevant vibe. Mark though. He's cute. He's probably already got an army of girls stanning for him. Blake felt Mark had a grasp on the syncopation of the song. He leans toward him in the battle. Alicia thinks its a matter of what Adam is looking for. Gwen thought Mark owned it. She liked Gaby's high notes. Adam Chooses Mark. OF COURSE. Gaby is Eliminated. Poor little cannon fodder.
https://www.youtube.com/watch?v=HQZWjs2Rv3I
Felicia Temple vs Quizz Swanigan – Team Alicia Keys – Titanium by David Guetta ft Sia – Felicia battled cancer last year. And after her audition, Alicia sang with her. Quizz is a 13 year old Michael Jackson impersonator. He begins tripping when he meets DJ. He knows exactly who he is and what he's done. Alicia chose the song because she wanted to take both singers out of their boxes. Felicia feels a strong connection to the song–she sang it during her cancer battle.  Alicia gives Quizz pointers on how to hit high notes. His changing voice means he's afraid to try. Alicia works diligently with him. DJ hears strong parts, but wants ALL parts to be great. Alicia counsels them–figure out what the song means to you, she says. – Download from iTunes
Their voices are mismatched. He's a good singer for a young kid, but no match for her emotional maturity and tone. The singers don't really develop any chemistry. Felicia seems to be concentrating hard on winning a tough battle. Quizz is the youngest! The Voice! Contestant! Evah! He's not going anywhere. Gwen loves Quizz's unique tone. She'd choose Quizz "because you're 13 and that blows my mind." Yikes. Adam thinks in that duet, he'd choose Felicia. Blake notes that Felicia has been 13 before! He loves her round tone. He'd choose her. Alicia chooses Quizz. There are no surprises tonight! At the very last minute, Blake Shelton Steals Felicia. And no, it's not surprising. The way the other coaches were fawning over her, it was obvious she would not leave the competition. Felicia is a big Alicia fangirl. I'm sure she's glad to still be in it, but a little disappointed to be on a different team.
https://www.youtube.com/watch?v=D41yXn4PuS4
Welp. This last battle ends in a triple steal. 
Ashley Levin vs Casi Joy – Team Blake Shelton – How Blue by Reba McIntyre – Ashley is taking care of her elderly father, who is suffering from dementia. Casi has been living in Nashville, singing for tips. She recently got engaged. She sang that awesome cover of "Blue" in the Blinds. Blake says both singers have a classic country sound, but there's only room for one. Ashley attempts to put her own spin on the song. Blake and Luke advise her to sing it as it is. Blake suggests Casi turn down the growl. They're both attempting to outsing each other. Blake calls it his "toughest battle." – Download from iTunes
The duo start off a 'cappella in harmony. The voices blend beautifully. These two are pretty evenly matched. They are actually very similar. Great vocalists, good stage presence. How to choose? Casi has more charisma. She's compelling. But does it matter? They're both going to move on. Adam calls the performance a "boxing match." Alicia thinks Ashley is a little more reserved, but probably has more inside. Gwen thinks Casi is more seasoned. Adam thinks Ashley might have won the battle. Blake Chooses Casi. I thought he would.  Adam, Gwen and Alicia Steal Ashley. Adam warns her that Blake and Gwen will present themselves as a team. But he turned first! Gwen says she has a "new found love" of country music through her B-friend Blake. Alicia reminds her that Adam did not turn for her during the Blinds. Oops. Ashley Chooses Alicia. I thought for sure she'd go for that twofer. 
https://www.youtube.com/watch?v=1_DL5s4DNik
RESULTS:
Moving on to the Knockouts
Brennley Brown – Team Blake
Lauren Duski – Team Blake – Stolen by Team Gwen
JChosen – Team Gwen
Anatalia Villaranda – Team Gwen
Mark Isaiah – Team Adam
Quizz Swanigan – Team Alicia
Felicia Temple – Team Alicia – Stolen by Team Blake
Casi Joy – Team Blake
Ashley Levin – Team Blake – Stolen by Team Alicia
Eliminated
Kenny P – Team Gwen
Missy Robertson – Team Alicia
Gabby Borromeo – Team Adam