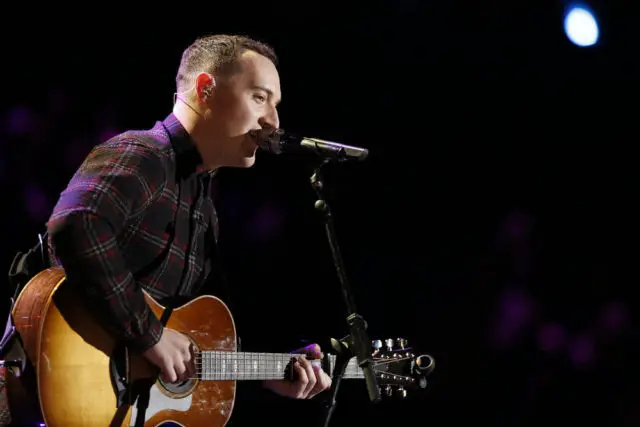 Team Miley Cyrus member, Aaron Gibson hit the bottom THREE times during his run on The Voice season 11. But his luck finally ran out in the semifinals last week when he once again hit the bottom 2, losing a bid to sing for the 4th spot in the following week's finale.
Aaron is philosophical about his experience, however. Sure, he hit bottom three times, but the insta-save gave him more opportunities to sing for America. He's completely happy with his experience, Aaron told a group of reporters in a phone conference last week.
Do you have a favorite contestant whom you think might win?
I think that it's still anybody's game. It's the first time in the season that they haven't had a very clear frontrunner. And it all comes down to song choice. If I had to guess based on weeks prior who's been doing the best on the charts and stuff I'd probably go with Sundance [Head]. But it really is anybody's game. But if I have to choose, you know, I'll say Sundance.
What's next for you?
Man I came into this writing music — I'm still writing music — and so I'm going to continue to write music. You can expect a lot of new material–hopefully an album here sometime in the spring.
Can you name one specific thing you learned on The Voice that you're going to apply in your future music career?
…Confidence in myself and staying true to myself and not worrying about other people's opinions. I used to believe that you could write something like a perfect song that everyone likes. But unfortunately that's not the case so now I just need to be true to me, and moving forward that's something that I completely plan on doing.
How did you feel following Monday night's performance show? Did you see yourself making the final four? Did you think it was a long shot? Were you surprised about the results?
I'm a very analytical person so I wasn't surprised I ended up in the bottom two. It seems to be a repeating pattern for me personally. But I had so much fun doing this. My personal journey ended about the way I expected it, just being realistic. I love and respect everybody who I got to know during the course of this. It's naturally sad–you want to go as far as possible. But I'm very positive right now. Everything happens for a reason.
As it kept happening each week — that you were having to perform with the instant save — was it getting frustrating to keep landing in the bottom group?
No, not at all. To be honest, I got to sing more than anybody else on the show. So I guess for what that's worth it's awesome. I came into this–music is not a competition. This is about exposure, this is about proving something to myself. Everybody has different reasons for being on the show. I was lucky enough to get to achieve all mine. It was not frustrating at all. Every day here has [been] beyond insanely amazing. It's hard to describe. [It's] like, getting to hang out with your best friends every day and getting to work with them. I'm just going to say music's not a competition man — it's an expression — so I'm not mad at all.
What's most difficult: Choosing a song, making the song your own, and results night. From most difficult to least difficult.
Definitely the hardest part is song choice and making the song my own…
You [and Brendan Fletcher] were the artists on the show with the raspy, unique deep voices and coaches always told you guys that you don't need the bells and whistles and frills of high notes and production to succeed on The Voice. Do you agree with that? How far did you expect to make it?
Art is art. There's so many different ways to interpret it. What some people find appealing others don't. And, you know, I came here wanting to make my mark in any way I can. I think that Brendan and I both proved that you can do something different and get very far. I never expected to get as far as I did. I think that all of us are super unique in our ways. It was refreshing to know that America feels the same. That you don't always have to be the same technicality.
Miley mentioned in her remarks after your performance on Monday that you did the song ( ) for her. Meaning, that she maybe had to twist your arm a little bit or talk you into it. Could you talk a little bit about that? And do you regret doing the song now?
I don't have any regrets for any of the songs. I think poor song choice [was mentioned about] every song I picked. That's okay I loved every single song I got to do on the show. I did do the song at the request of Miley. I came to her with a different idea she was happy to run with, but then she felt this was a better pick. I trust her as a coach. And if she thinks she has a good idea who am I to say it's not? So I have no regrets at all and I was very happy to do it.