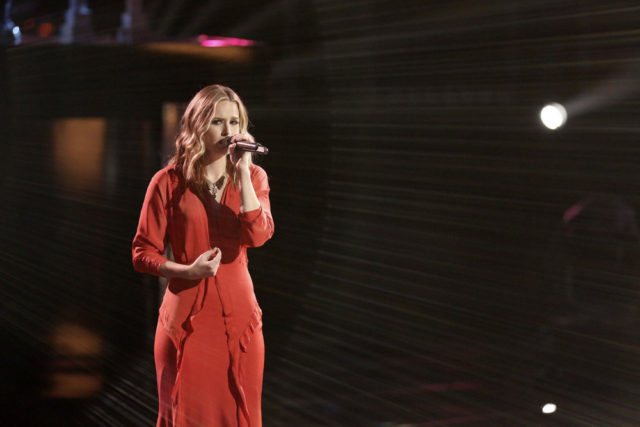 Between Prince and Beyonce, it's going to be tough for The Voice performers to chart high this week. I doubt that any of the singers will climb into the Top 10. But son of a gun! Look at Paxton Ingram. He was the curve ruining bottom dweller of last week's charts. Whip out an ole' gospel tune, and the dude is CHARTING HIGHER THAN EVERYONE. And Mary Sarah is right behind him? With that boring bit of pop country fluff? I don't get it. Maybe Laith Al-Saadi and his incendiary performance of "Make it Rain" will catch up and surpass them. If life were fair, he would.
That Blake Shelton knows exactly what he's doing. He was going to be damned if one of his singers would leave the competition early. I wonder if Paxton's thing from now on will be gospel music. Once Blake finds a winning formula for a team member, he tends to stick with it. He's NOT a risk taker.
I'm not sure what's going wrong with Owen, other than him just completely losing his mojo. He needed a game changer this week. I thought his performance of "Fire and Rain" was connected like his earlier performances. But sometimes, once a crowd has given up on you, there's not much chance of winning them back. There's a good chance he'll be in the bottom again. But with whom? That's going to be tougher to call. Remember: iTunes is probably not the best prognostication tool.
Now that the other show is over for good, ya'll thought we were done with Big Machine Record's Scott Borchetta. NOT SO FAAAASSST! During Pharrell's critique of the country fried Adam Wakefield's performance, he suggested Big Machine records pay attention. They are! (Scott has right of first refusal of The Voice country music winners)
HEY @PHARRELL WE'RE WATCHING! :) WOW @adamwakefield WITH IDOL OVER I CAN WATCH THE VOICE NOW, RT? @BigMachine #MHV pic.twitter.com/LEVli5M3Kf

— Scott Borchetta (@scottborchetta) April 26, 2016
iTunes Charts as of 12:12 am
27. Paxton Ingram – Break Every Chain
33. Mary Sarah – Johnny and June
38. Laith Al-Saadi – Make it Rain
40. Alisan Porter – Stay with me Baby
46. Adam Wakefield – Lights
48. Hannah Huston – I Can't Make You Love Me
113. Bryan Bautista – Just the Way You Are
139. Shalyah Fearing – The Climb
143. Nick Hagelin – Your Body is a Wonderland
151. Owen Danoff – Fire and Rain
158. Daniel Passino – Time after Time
It's time to VOTE FOR YOUR FAVS! I'll post the results tomorrow with the weekly predictions.
Take the Polls
Favorite Performance
Favorite Team
Who Will Be Eliminated?
Who Should Be Eliminated?
Grade The Episode