The Voice 10 Recap Top 9 Results
One of Top 9 contestants leaves the competition tonight on
The Voice
. Which member of
Team Blake Shelton
,
Team Adam Levine
,
Team Pharrell Williams
or
Team Christina Aguilera
will it be? Eight contestants will move on to next week's SEMI FINAL BLOOD BATH at which time four singers will be eliminated.
In the meantime, James Bay will perform "Let It Go" from his debut album, Chaos and the Calm.  And Andy Samberg in the guise of Conner4Real, the central figure in the upcoming "mockumentary"  Popstar: Never Stop Never Stopping, performs "I'm so Humble"  alongside Voice coach Adam Levine, who also makes an appearance in the film. 
At the end of the night, the Bottom 2 contestants will sing for the Insta-Save. You can learn more about that here. After the two singers perform for their lives, viewers have five minutes to save their fave via twitter. The singer with the fewest tweets leaves the competition.
First up: Host Carson Daly ask the coach Dumb Questions. YADA YADA YADA I'm so proud of my team blah blah blah. Christina says it's tough finding the right songs for her singers. "It's terrifying!" she declares. Maybe if she calmed down, she'd pick better songs. Carson congratulates Blake on his duet with gal pal Gwen Stefani. The song only made it to #2 on iTunes because of some dude named Justin Timberlake, Blake complains.
Time for results! The Top 9 take the stage. Carson's Stupid Questions. What would advancing mean to Hannah? Kill me now. That's me, not Hannah. Her answer is the usual blah blah of great coach grateful I'm learning so much cakes.  Carson asks Mary Sarah about fan encounters. Apparently she gets a lot of proposals online. The first artist safe and moving on to the semifinals is Hannah Huston from Team Pharrell! Ha ha. SURPRISE FACE! She was not expecting that. At least not so soon.
Next, James Bay performs "Let it Go."  That song, a white dude guitar ballad, has become a big hit, apparently.
The remaining eight artists are on stage. Bryan Bautista's most memorable experience on The Voice was coming back for the Battle Round with Malik Heard, whom he gives props.  Shalyah Fearing says it was an honor to sing "Change is Gonna Come" with her grandmother in the audience. And America saved…from Team Christina…Bryan Bautista! America also saved…from Team Blake…Adam Wakefield.
Next up is a filler clip featuring "Conner" acting as an "adviser" to the Top 9. The contestants play along gamely as Andy Samberg does his best douchebag Justin Bieber impression.  The video is followed by  Samberg and Adam Levine singing "I'm So Humble" from the movie. The point being, of course, is that he's an assclown douchenozzle and not humble at all. Har har.
The six remaining artists take the stage. Carson asks Paxton who his best friends are and he names Alisan, Nick, Bryan and Hannah but not his fellow teammate Mary standing next to him. "I usually try to stick with people who get that it's  supposed to be fun."  He turns to Mary as he says this although he did not name her. Hm. Paxton's BFF Alisan talks about carrying the torch for mothers everywhere who have not abandoned their dreams.  America saved…from Team Adam….Laith Al-Saadi. America also saved…from Team Blake…Mary Sarah. No surprises yet!
Time to reveal the Bottom 2. The four remaining artists take the stage. Carson asks Nick what he learned about himself being on The Voice and he launches into a speech about "integrating his processes" which boils down to him putting his family front and center rather than hiding them. Or something. America saved…from Team Christina…Alisan Porter. America also saved…Shalyah Fearing from Team Adam!
Paxton Ingram and Nick Hagelin are bottom 2. No surprises at all here.  Interesting that Alisan was one of the last to be declared safe. The singers are advanced to the next round "in no particular order" but there is something psychological about seeing your fav sweat it out. It can only help Alisan earn more votes next week.
Paxton Ingram and Nick Hagelin will sing for the save! After the break…
Here we go…
Paxton Ingram – How Will I Know – Paxton sings a ballad version of Whitney's "How Will I Know" with only piano as accompaniment. Smart boy.  This is the best possible thing he could do at this point–sing an emotional song that has the potential to REALLY connect to the audience. "Dude. That is the way to sing to save yourself…that was a great song choice,' says Pharrell, "You sang with zero fear. America needs to vote you through." Adam thinks the save is the hardest part of the show, nevertheless Paxton triumphed and showed resilience, he says. Blake's wondering why they didn't sing THAT song in the competition. Blake believes Paxton makes every song his own, while honoring the artist he covers. For that reason, he should be saved.  I want to adopt Paxton. Srsly. Ha. He's so earnest and sweet.
https://www.youtube.com/watch?v=6CY2OJWA50c
Nick Hagelin – Change the World – It's another mushy vocal from Nick. Dude's got a thin af voice. That's a big part of his problem. He probably should have sung a love song and stared straight at his family the entire time. If they are even in the audience? They may not be. Pharrell compliments him on his ability to connect to the audience. The girls go crazy! He says. Not crazy enough though. Adam thinks both singers are bright shining personalities. "It's a shame to see either one of you go." Nick's performance made Christina smile. Dur, Xtina. That performance was kinda boring. "You are truly one of my favorite people encountered on my team," she says. She really admires his honesty and willingness to be himself.
https://www.youtube.com/watch?v=M596gswiHk0
In any case, I am Insta-Saving the adorable little sprite, Paxton.
OK GUYS #VoiceSavePaxton #VoiceSaveNick on twitter. Only one tweet per account. Retweet all you want!
When the graph was removed from the screen, it was literally 50 vs 50. America instantly saved….Paxton Ingram! YAYYY. Paxton won by LESS THAN 100 tweets says Carson. WOW.
https://www.youtube.com/watch?v=E6ayvtlTExc
I would not have been all that upset if Paxton was sent home instead. The person left would have been eliminated next week, and probably without a shot at the wildcard. Paxton owes everything to Blake and his army of fans. Still, the singer deserved to prevail for that decision to perform a heartfelt acoustic ballad–one that turned a peppy Whitney Houston hit on its head. KUDOS. Nick picked a song that did him no favors. He was so close to nabbing it. If he'd chosen a heart wrenching ballad and dedicated it to his family, he'd probably still be in it.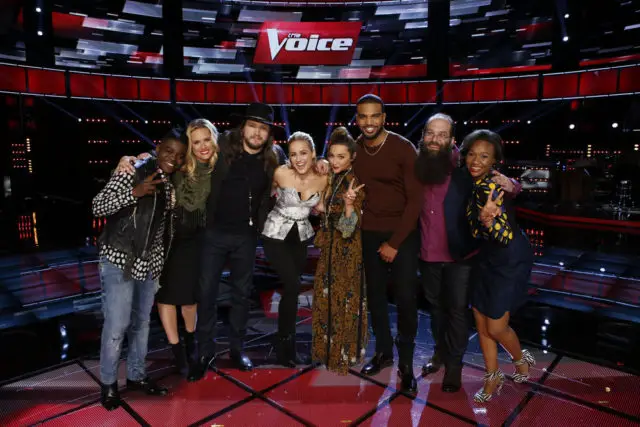 Top 8
Hannah Huston – Team Pharrell
Bryan Bautista – Team Christina
Adam Wakefield – Team Blake
Laith Al-Saadi – Team Adam
Mary Sarah – Team Blake
Alisan Porter – Team Christina
Shalyah Fearing – Team Adam
Paxton Ingram – Team Blake – Saved by America's Insta-Save
Team Christina's Nick Hagelin is ELIMINATED