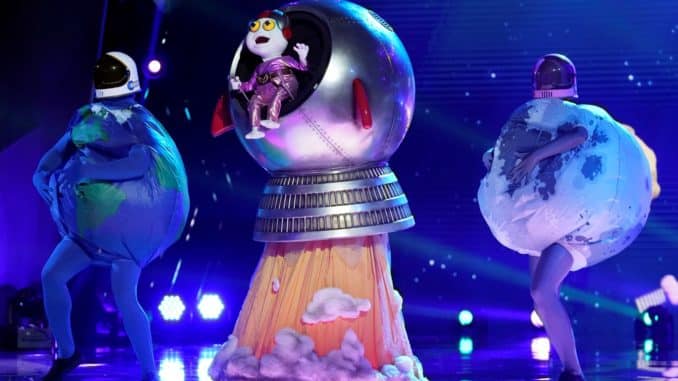 The hit FOX celebrity guessing game, The Masked Singer is back! And guess what else has returned? Including American Idol alums in the cast. Uh huh.
In fact, TWO alums may be in the season 4 cast. Thanks to a tip from a reader, I feel confident that Baby Alien is none other than American Idol season 1 runner-up Justin Guarini. A commenter brought the idea to my attention, and after investigating. DING DING DING. I DO believe we have a winner!
The clues:
Baby Alien talked about being stuck in second gear. Justin placed second on American Idol in 2002. Plus, after finishing Idol as runner-up to Kelly Clarkson, Justin's carer has had its ups and down.  
The clues video is chock full of clues pointing to Philadelphia, Justin's hometown. There's the Liberty Bell, and a parade which points to Justin's participation in the Philadelphia Thanksgiving Parade.
The video package also namecchecks Broadway, where Justin starred in several roles, including Women on the Verge of a Nervous Breakdown, American Idiot, Wicked and In Transit.
The package mentioned The Tonys. In 2016 Justin attended the Tony Awards, and co-hosted backstage coverage of the live broadcast in partnership with BroadwayHD.com. And he performed on the telecast with the In Transit cast.
And as far as the singing goes? Listen to Justin perform Stevie Wonder's "For Once in My Life" for American Idol Hollywood week.
Sure, the performance is 18 years old. Regardless, listen to Baby Alien's rendition of George Michael's "Faith." The tone and phrasing is very similar.
If Baby Alien is, indeed, Justin Guarini, he won't be the first American Idol finalist to compete on The Masked Singer. Season 5 alum Chris Daughtry sailed into the season 2 finals as the lovable Rottweiler mask.
The other possible American Idol alum this season is season 9 singer Tori Kelly. Some of her fans are convinced she is The Seahorse, but I'm not quite as sure about that one, at the moment.
And with season 6 winner, Jordin Sparks, guest judging on the new FOX game show, I Can See Your Voice, it seems like casting FOX era American Idol alums has become a thing.