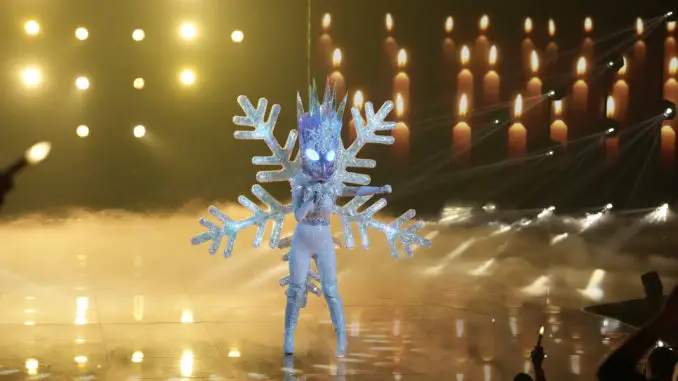 The Masked Singer season 8 continues with its Semi-Final on a special Thanksgiving episode. Nick Cannon hosts, Robin Thicke, Jenny McCarthy, Ken Jeong and Nicole Scherzinger are on the judges panel.
A new format means only ONE mask survives every week. At the end of three rounds, the remaining three celebrities will compete in the semi-finals, which airs on Thanksgiving night! That's TONIGHT after the NFL game on FOX.
Harp, Lambs and Snowstorm will compete for a spot on NEXT WEEK's FINALE. One act will be unmasked tonight.
Harp
Clues: Here mom was a singer just like Harp. "She is my rock." She claims only her mom knows she's on The Masked Singer. Erm. At this point, everyone knows who you are! Harp calls her mom for words of encouragement
Performance: About Damn Time by Lizzo – Harp should win the Golden Mask, hands down. She's clearly the best singer left in the contest! Her big R&B voice cannot be denied. The security guards remove her back piece, allowing the big voiced belter to move around the stage freely showing off her dance moves. These performances feel extra long tonight. The judges are sure Harp will make it to the finals! On Stage Clue: A photo of Oprah. "When I met Oprah for the first time, Oprah said hi to her mom. I REMEMBER WHEN Harp met Oprah! It was with the cast of Glee. Ken guesses Jennifer Hudson. Hahahah. Jenny guesses Jordin Sparks. LOL NO. Nicole guesses Fantasia or Amber Riley. DING DING DING. Harp is Amber, and Nicole knows it. The litany of American Idol contestants is not even close.
Snowstorm
Clues: She had dreamed about being a pop star, until her voice teacher said she couldn't sing. "This one's for you, dream killer!" declares Snowstorm, dedicating the song to the negative nellie.
Performance: Thinking of You by Katy Perry – But she's not a great technical singer! But pop singers don't necessarily have to be that. Charisma, great stage presence, ability to entertain. Being a pop star is a package! This big ballad highlights pitch problems, unfortunately. She has no vibrato and is shouty at points. On Stage Clue: Big silver balloons say "Squiggly." Squiggly monster was the reason she decided to sign up for the show. She tears up talking about him (the late Bob Saget). Robin guesses Witney Cu mmings, Jenny guesses Nikki Glaser (That's who the INTERNETS SAY IT IS), Ken guesses Kristen Wiig.
Lambs
Clues: They were young ladies when they hit it big. But they were so burnt out, they began to have issues. They went their separate ways. But then reunited! They've won awards "It's been a very long time," laments one of the lambs.
Performance: Need You Now by Lady A – It's a good pick for the trio. The harmonies are impressive. Not better than Harp, though! The panel indulges in a group hug, in keeping with the song's theme! On Stage Clue: "Reunion" is the hint. They hope to sing together for the rest of their lives. Nicole guesses All Saints. Who? Ken guesses Spice Girls. Robin guesses Wilson Phillips. DING DING DING. That's EXACTLY WHO IT IS. The only thing missing is dropping clues about being descended from music royalty.
Battle Royal
Harp, Snowstorm and Lambs will perform the same song in their own style! They sing "Since U Been Gone" by Kelly Clarkson. Snowflake sounds kinda terrible. The low notes are giving her fits. The key is low because of the high notes, probably. Harp is next, she turns the song into a DRAMATIC ballad. Then she nails the high notes. It's a really great rendition! Lambs is closest to the original, but still slowed up in comparison. They put the full force of their harmonies on the chorus.
The studio audience and the panel will vote for the two masks who will head into the finals.
RESULTS
In no particular order, the first mask moving into the season finale is…Harp! The second act heading to the finale is…Lambs! Snowstorm is eliminated! Final guesses. Robin: Witney Cu mmings. Nicole: Elisa Schlesinger. Ken: Kristen Wiig. Jenny: Nikki Glaser. And the Snowstorm is…. Gotta wait until after the break! Boo. And the Snowstorm is…Nikki Glaser.
Harp (Amber Riley) and Lambs (Wilson Phillips) will duke it out next Wednesday, November 30th for the The Masked Trophy.