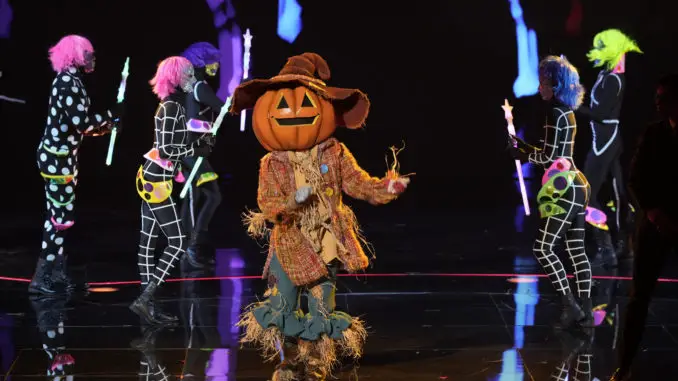 The Masked Singer season 8 continues with the final week of the third round of contestants. Nick Cannon hosts, Robin Thicke, Jenny McCarthy, Ken Jeong and Nicole Scherzinger are on the judges panel.
A new format means only ONE mask survives every week. At the end of three rounds, the remaining three celebrities will compete in the semi-finals, which airs on Thanksgiving night! It's a two night The Masked Singer extravaganza! The big finale airs next Wednesday, November 30, starting with a recap show at 8, and the finale at 9 pm ET/PT.
But tonight, it's Fright Night on The Masked Singer. Last week, Snowstorm was crowned The Queen of the Masked Singer and will face off against Scarecrow and Sir Bug a Boo. Two celebrities leave the competition tonight. We're live blogging the performances and eliminations here!  
Fright night? A day before Thanksgiving? Isn't the timing off? Oh well.
Sir Bug a Boo
Clues: There's a movie reel, an old fashioned phone with question marks. Ghosts. He was in a contest, and his work earned a permanent place in pop culture.
Performance: Devil with the Blue Dress On – Bug can carry a tune without going off key, but he's probably not a professional singer. He lumbers around the stage in his awkward costume. The long arms seems unmanageable. On Stage Clue: A photo of Nicole! "You and I have jammed together before. I'm smiling and laughing behind this costume." Jenny guesses Ernie Hudson (from Ghostbusters) Ken guesses Jordan Peele. I highly doubt that. Nicole guesses Randy Jackson or Little Rel.
Scarecrow
Clues: She sang on Broadway. She saves animals in green pastures. "See you in your nightmares Ken."
Performance: Abracadabra by Steve Miller – Scarecrow is an older lady and her voice sounds VERY FAMILIAR. VERY VERY FAMILIAR. She's not a great singer, but Broadway wouldn't be a stretch. Even as she performs, she needs help from a security dude. She's somebody everybody knows, for sure. Just can't put my finger on it! On Stage Clue: The clue is staring you right in your face. Robin guesses Susan Sarandon. Jenny guesses Glenn Close. Ken guesses Parker Posey.
Snowstorm
Clues: Snowstorm is defending her crown from last week. speed dating, nuts, and a picture of a house are clues.
Performance: Sweet but Psycho by Ava Max – Snowstorm isn't an amazing vocalist but she's a credible pop artist. If she survives tonight, she'll be crushed by Harp and Lambs tomorrow night. But this is a very good song choice for her. Compared to her competition, she deserves to go through. On Stage Clue: "Always read the warnings….to keep the monsters away." Jenny guesses Kyle Richards Ken guesses Lisa Renner "Would my lips fit under this?" Snowstorm jokes. Nicole guesses Sabrina Carpenter.
Prediction: The internets are saying that Snowstorm is comedian Nikki Glaser. The "Home" clue from tonight could point to her current E! reality series Welcome Home Nikki Glaser. Last week, the on camera clue hinted that she worked with Ken in the past. Nikki and Ken appeared together on a Comedy Central Roast of Alec Baldwin She also appeared on the Rob Lowe roast, fitting a clue that she worked with Lowe. She's been on a ton of shows, including getting voted off of Dancing with the Stars with Gleb Savchenko the first week. She's also hosted a bunch of podcasts, in addition to HBO's FBOY Island. Snowstorm is obviously witty. Makes sense she's a comedian who can sing.
First Unmasking
The studio audience voted! It's time to unmask the first of two contestants. Scarecrow interrupts Nick and forfeits her place in the competition. "I just came to bother Ken. I've enjoyed entertaining you so much through the years." OK what's happening here is very very very fake. Final guesses Ken: Parker Posey. Jenny: Glenn Close Robin: Susan Sarandon Nicole: Jamie Lee Curtis And the Scarecrow is….Linda Blair. Oh boy. She was the possessed girl in The Exorcist. Linda explains that she LOVES The Masked Singer and that she's appearing on the show because it makes her happy and she wants to promote her animal foundation. KEN'S CRYING.
The cast keeps insisting that Scarecrow's self-eviction is "THE FIRST TIME EVER!" But Linda is not the first Mask to quit before being eliminated. Mickey Rourke pulled a stunt on season 4 as the Gremlin. He complained about the costume being too hot and took off his own mask before the voting. That seemed pretty fake, too.
Battle Royale
Snowstorm and Sir Bug a Boo will go head to head singing the same song in their own style. The tune is "Somebody's Watching Me" by Rockwell. Bug is speak talking his way through the song. Snowstorm is clearly superior. Will the panel chose her? They claim that the choice will be hard. Hm.
Second elimination
And unsurprisingly, Snowstorm heads to the semifinal. She's the Queen of the Masked Singer. Sir Bug a Boo will be unmasked. Final guesses. Nicole: Randy Jackson Robin: Keenan Ivory Wayans Jenny: Ernie Hudson Ken: Jordan Peele. Nick says he knows who it is. And Sir Bug a Boo is….Ray Parker Jr. Wow. His singing was kinda weak.
The Masked Singer season 8 Semi-Final episode AIRS ON FOX THANKSGIVING NIGHT! Ignore that Nick kept referring to "next week." The World Series schedule often screws up the FOX schedule.
Performing in the Semi-Final: Harp (Amber Riley); Lambs (Wilson Phillips) and Snowstorm (Nikki Glaser probably). Snowstorm NOT leaving the competition at the end of the Semi-Final would be SHOCKING. It's probably going to be Harp and Lambs in next week's Finale.