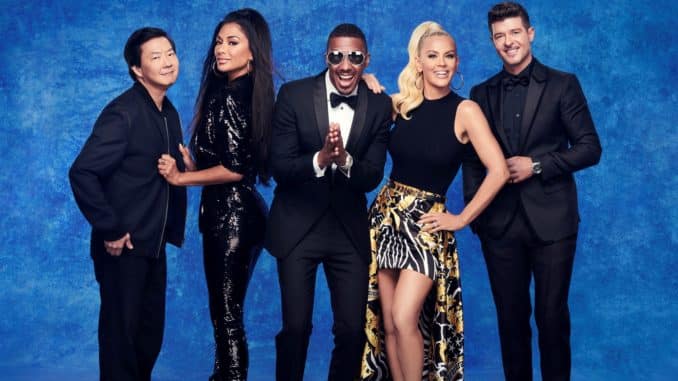 The Masked Singer revealed a brand new twist for Season 6 called the "Take it Off Buzzer"
Here is how it will work, according to Entertainment Tonight: If a panelist–say Jenny McCarthy who is pretty good at guessing identities–is absolutely sure they know who is behind the mask, they can hit the buzzer. At that point, they give the name. If they are correct, that contestant has to unmask immediately and leave the competition. The panelist who guessed correctly earns two points toward their quest for the Golden Ear Trophy.
However, if the panelist is wrong? RUH RHO. The contestant remains masked and on the show, but the panelist will lose two points towards the Golden Ear Trophy. There are caveats.  The new buzzer can only be used once in Group A and once in Group B. Not every panelist will get a chance to use the buzzer.
"The whole idea to introduce this is just to add spontaneity. Our panel keeps saying, 'I know who it is,' but we wanted to put them to the test," executive producer Craig Plestis told Entertainment Weekly. "So the Take It Off Buzzer can be used any time in the show, anytime. As long as that contestant's on the stage, and [the panelist] thinks they know who that person is, they can hit that buzzer."
The consequences for being wrong can be humiliating
The producer teases that beyond losing Golden Ear points, there will be additional penalties for wrong answers.  But he is keeping that info under wraps for now. "It's something that is absolutely humiliating," he teased.
"It's a very fun addition this season, and very dramatic on a couple of occasions," showrunner James Breen said. It reportedly took all of the panelists by surprise.  Additionally, Pletis hint that if a panelist successfully unmasks a singer, there could be an unmasking at the end of the episode as well. 
The Masked Singer 6 Reveals Guest Panelists (Photos)
The Masked Singer season 6 returns to FOX with a two night premiere on Wednesday September 22 and Thursday September 23 at 8 pm. After the FOX NFL Sunday double-header on Sept 12, fans get a sneak peek at the costumes, including a surprise reveal. 
The Masked Singer features Ken Jeong, Jenny McCarthy, Nicole Scherzinger and Robin Thicke as panelists. Nick Cannon hosts. 
Season 6 costumes unveiled already include: Bull, Dalmatian, Banana Split, Cupcake, Queen of Hearts Hamster and Mallard.