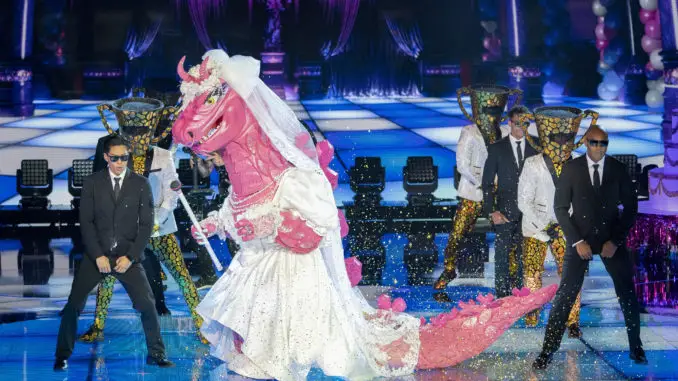 The Masked Singer season 8 continues with a new round of three contestants. Nick Cannon hosts, Robin Thicke, Jenny McCarthy, Ken Jeong and Nicole Scherzinger are on the judges panel.
A new format means only ONE mask survives every week. At the end of three rounds, three celebrities will compete in the semi-finals for a chance to compete in the finale.
Tonight, it's Hall of Fame Night on The Masked Singer. Three new contestants, Gopher, Venus Fly Trap and Brides will compete for Queen or King of The Masked Singer. Two celebrities leave the competition tonight. We're live blogging the performances and eliminations here!  
Ken Jeong is out with Covid, Lego Masters' Joel McHale will take his place.. And the late Leslie Jordan serves as a guest judge. It's one of his last TV performances before his October 24 death.
The show opens with Nicole Scherzinger performing "Fame" from the iconic movie.
Bride
Clues: Bride is a purple dinosaur in a wedding dress and veil. Bridezilla! Roses "Feel good stories." A British accent, but could be fake. He sells out arenas. Bride is a guy! He played in a band, and then went solo. 
Performance: Shut Up and Dance by Walk the Moon – Definitely a guy! And a rock singer. Bride could be a legacy rock star. Maybe a hair band dude. He's good enough to win the night, depending on the two singers who come next. An actual goat brings out the On Stage Clue: Action Hero "I have no problem playing the hero amongst other things." Joel and Robin think the accent is fake. Nicole guesses David Coverdale. Robin thinks it's Carrot Top. WHAT?
Gopher
Clues: Intergalactic space cowboy. He started a movement. Blazed new trails on many Old Town Roads. The Smithsonian is part of his legacy. A Grammy. Samples
Performance: It's Your Thing by Isley Brothers – Gopher isn't a professional singer. And he sounds older–at least middle aged or older. This is a weird one! But we'll find out soon enough who he is. Stage hands bring out a stool for Gopher to sit on. Hm. On Stage Clue: A medal with "LOL" He might be a comedian? Jenny guesses Martin Lawrence Leslie guesses Little Nas and Flavor Flav Joel guesses George Wallace. Robin guesses Sly Stone (nope lol) or George Clinton (makes more sense).
Venus Fly Trap
Clues: Orion. He went down as the best in history in his 20s and 40s. A horseshoe. A medal. Says a piece of him is probably in all of our homes.
Performance: Get Ready by The Temptations – Venus Fly Trap is the worst singer of the night so far, he can barely carry a tune. He might be a sports figure of some sort. On Stage Clue: The goat bringing out the clues is named Hawkeye. "One hundred million" is the clue. "I took the punches, I took the blows." Leslie guesses Mike Tyson. Jenny guesses Bo Jackson Nicole guesses Charles Barkley. Robin guesses George Foreman. The George Foreman grill. YES INDEED I HAVE ONE OF THOSE IN MY HOME. Good guess from Robin. 
First Elimination
Leaving and unmasking first is…The Venus Flytrap! Final guesses. Jenny: Bo Jackson. Nicole: Charles Barkley. Leslie: Mike Tyson. Joel: Mickey Rourke (Who has already been on the show? No no?) Robin: George Foreman. And the Venus Fly Trap is…George Foreman! I'm making myself a sammich in my grill to celebrate. 
Battle Royale
Bride and Gopher will perform the same song, each in their own styles. The panel will then decide who will be crowned King of The Masked Singer, move on to next week's show. Drummer Sheila E. is performing. The two sing "All Star " by Smash Mouth. Gopher can barely carry a tune. In between performances, Sheila E. rocks the drums. Bride kinda drops his English accent during his performance. He's a better singer than Gopher, so he's probably got this. 
2nd Result – King of Masked Singer Crowned!
The King of The Masked Sing is Bride. Gopher is eliminated. Leslie: Flavor Flav. Joel: George Wallace. Jenny: Bootsy Collins. Robin: George Clinton. Nicole: George Clinton. Gopher is George Clinton! George may not be the King of the Masked Singer. But he is the King of Funk–a generous musician and producer. Iconic!