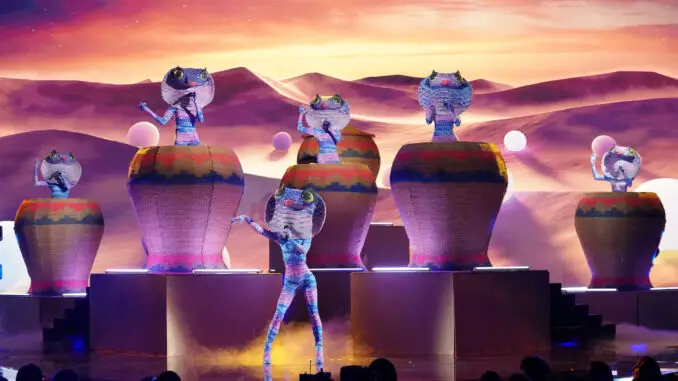 The Masked Singer season 7 continues, featuring panelists Robin Thicke, Jenny McCarthy, Ken Jeong and Nicole Scherzinger, and Nick Cannon as host.  Fifteen contestants are divided up into 3 groups: The Good, The Bad and The Cuddly. 
This week, the remaining three costumes perform as part of Group C for studio and panel votes. The masks include: Prince (Good), Space Bunny (Good), and Queen Cobra (Bad). TWO contestant will be unmasked. The remaining singer moves on to next week's FINALE.
Prince
Clues: Carnegie Hall. He had something special to share with the world. An airplane. He traveled to scary places. But people didn't know who he really was. Finally, people recognized his true talent. 
Performormance: Sir Duke by Stevie Wonder – Froggy is a solid singer, and very entertaining and charismatic. His costume allows him to dance and move around the stage. He's interacting with the audience. So, obviously, someone accustomed to working stages. "I did this show because I come from a teeny little town where I wasn't understood…I came to be known for things other than music." Jenny guesses JC Chasez. Robin guesses Ben Platt. Hell no. Nicole Andrew Runnels. LOL NO. 
Prediction: The Internets say Prince is actor Cheyenne Jackson. He's done mostly acting, but has performed on stage and on Glee. 
Space Bunny
Clues: He comes from a tiny borough where people lived off the land. His mom moved them to the big city. His friends were turning bad. He left a trail of carrots.? An electric drill is a clue.
Performance: "Now That We Found Love" – Space Bunny is a throwback singer. He's performed mostly Island type stuff on stage. This week, he's going for rapping and singing a pop song. Bunny is totally the party guy. He's very funny. "I'm just trying to get some bling." Nick thinks he knows who it is. Jenny guesses Sean Kingston. Ken guesses Owen Wilson. LOL. Ken's guesses are more ridiculous than ever. Robin guesses Shaggy. DING DING DING. 
Predictions: Robin agrees with the internets, that Space Bunny is Shaggy.
Queen Cobra
Clues: Three queens from different parts of the world. They tried different things to find success. We became the baddest of baddies. 
Performance: "Leave the Door Open" by Silk Sonic – Now we know for sure Queen Cobra are three. They sing in harmony and in solos. By now, any fan of 90s girl groups should know who this is. They have very recognizable voices. The act is so novel, I expect them to breeze right into the finale. "The Wiz…we have our weaknesses but we walk together so we can BANG down the road." Ken thinks it's Ariana Grande, Jessie J and Nicki Minaj. "Don't clap for that!" Nick insists (He is correct). Robin guesses SWV. Nicole guesses En Vogue. DING DING DING.
Prediction: Nicole agrees with the Internets. Queen Cobra are the three ladies of En Vogue.
Final Showdown
Prince, Space Bunny and Queen Cobra sing Katy Perry's "Roar."  Queen Cobra's vocals sound very echo-ey. Are they all lip-synching to a track? I think so. This show is so FAKE. The voices sound totally tuned. Jenny says they all should go on tour or make an album together. Sure. 
RESULTS
The first singer eliminated from The Masked Singer is….Space Bunny. Final guesses. Ken: Owen Wilson. Jenny: Sean Kingston. Robin: Shaggy. Nicole: Shaggy. And Space Bunny is Reggae singer Shaggy! He was just on Ken's other show. "What took you so long!" he says. He disguised his voice as much as he could. Ha. Shaggy is very amusing. 
The second singer getting unmasked tonight is...Queen Cobras. OK, This result is surprising. VERY SURPRISED. Prince heads to the Season Finale. Final guesses. Ken: Ariana Grande, Jessie J and Nicki Minaj. Nicole: En Vogue. Jenny: En Vogue. Robin: SWV. And Queen Cobra are the 90s girl group En Vogue. Every contestant in the finale is a member from "Team Good." Maybe that's why Queen Cobra from Team Bad were eliminated, in order to declare a "Team winner" before the finale.
NEXT WEEK: It's the FINALE featuring Firefly, Ringmaster and Prince. The celebrities behind the masks are rumored to be Teyana Taylor, Hayley Orrantia and Cheyenne Jackson, respectively.