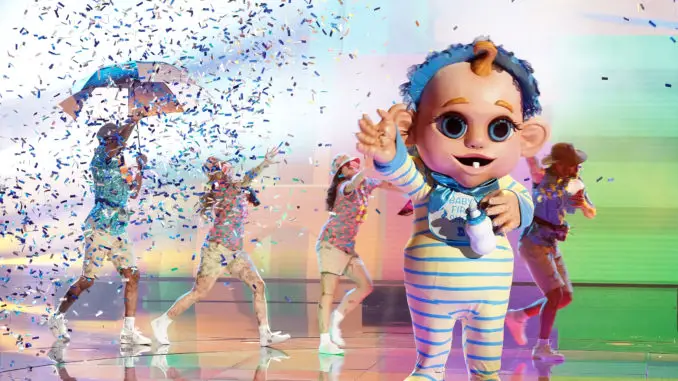 Tonight, season 6 of the wacky singing competition, The Masked Singer continues with more from Group A contestants and a NEW Wildcard.
FIVE  masks will perform tonight, including Baby, Bull, Hamster, Skunk and NEW wildcard, Pepper,
After the contestants are presented, with clues, they will perform a song. Then, it's up to the audience and judges to guess who is behind the mask.
The Masked Singer 6: Is Katharine McPhee & David Foster Banana Split?
The Masked SInger 6: Is The Bull American Idol's Todrick Hall? (Probably!)
Ken Jeong, Jenny McCarthy, Nicole Scherzinger and Robin Thicke sit on the panel. Nick Cannon hosts.
Bull
Clues: He's no stranger to a house party, as he spins discs like a DJ. "It is litty city committee."  Carnegie Hall is a clue. As a kid, he was a wallflower. But now he's the life of the party. His song choice is showing solidarity and support to the one and only Britney Spears. "My feet have never felt more gigantic." 
Performance: Circus by Britney Spears – Bull takes the stage to show off his dance moves. He is obviously a trained dancer. He dives into an impressive split mid performance. The judges are going crazy. IT'S BRITNEY BULL says Nick. Tonight, the masks bring Party Favors. A wrapped box is a clue. Jenny guesses Donald Glover. Robin guesses Anthony Ramos. Nicole guesses Leslie Odom Jr. The judges are stuck on the Carnegie Hall clue. They think Bull might be a Broadway star.
Prediction: Bull is most certainly American Idol alum, Youtube and Broadway star, Todrick Hall!
Hamster
Clues: "You should have seen me in my 20s. I was living in a huge city working with my best pals. The fun we had when we were younger, was the most fun ever. There's nothing like being famous and the next day being famous. That's what happened to all of us. And the fact that we're still friends all these years later is phenomenal."  A photo of a basset hound is a clue. Also, a Pope scepter. 
Performance: Crazy Little Thing Called Live – Hamster is back to his Elvis vibe. He can carry a tune, but his phrasing is exaggerated and goofy. Obviously, he's doing that on purpose. He should sing a serious song seriously if he wants to stick around. Hamster's Party Favor: He likes to stay hydrated with his friends at the party. It's one of those sippy beer hats. Ken guesses a bunch of SNL alums. Robin and Jenny guess Rob Schneider. Nicole guesses Paul Rudd. Lol no.
Prediction: Yes, the clues tonight pointed to Saturday Night Live. Hamster is most certainly Rob Schneider, who starred on the show in the late 80s and early 90s. When he's unmasked, he and Jenny can trade anti-vaxx tips. 
Skunk
Clues: She's been to some of the most epic parties around. Pufferfish mask makes an appearance (Toni Braxton). She's partied with "some of the most iconic people in the world." She carries a cookie box "family size" on a tray. "I used to be the hostess with the mostess. These days I limit the people I allow into my personal space."  She disco dances as she describes getting older and removing "the wrong people from your life." 
Performance: Midnight Train to Georgia by Gladys Knight – She's covering THE BEE. Skunk is definitely a legendary diva of some sort. Robin calls her his favorite vocalist in six seasons. Party favor: It's a boom box. And it plays gospel music. "Turn it up so the whole Empire can hear you." Ken guesses Taraji P. Henson. She doesn't sing like that! Jenny guesses Queen Latifah Nicole guesses Tamar Braxton. 
Prediction: Skunk is singer, rapper and reality star, Faith Evans.
Baby
Clues: "The best house party I've ever been on was a trip. It was a house party on 8 wheels. I got to bring my whole family along for the ride. I got pictures of my kids taking a bath in the sink." Suddenly, he's speaking with a fake British accent. Baby book with a tooth on the cover. 
Performance: Meet the Flintstones – What the actual eff. He's seriously singing the Flintstones theme. This performance is so audacious, it may get him through to the next round OR NOT. Baby can't carry a tune, unfortunately. Ken loved it, natch. Party favor: A cooler "I'm still the star of the tailgate, even if there is a little grease on the grill." Jenny guesses John Travolta or Bruce Willis. Robin guesses Rod Stewart or Keith Richards. UHM HELL NO. Ken guesses Gordon Ramsay. Michael Strahan is his friend. He drops in with a good luck message. Hm. 
Pepper – Wildcard
Clues: "I've always had my own flavor. And I'm constantly thinking of ways to not be bland.  But this last year has been the craziest. Something I did went viral, basically overnight. I never expected any of it. But the coolest part was seeing people take what I did and add their own flavor to it. " She and the guards do a Tik Tok like dance, and there is a Tic-Tac-Toe board with X and Os. "Keep dreaming" is a clue. 
Performance: Jealous by Labrinth – Pepper has range, but her tone is kind of whispery. Fake tears from an audience member AND from Nicole! Is she a singing Tik Tok star? The judges make their first impression guesses. The last one done, has to eat a spicy pepper. And it's Jenny. She chews it and barely flinches…at first. A man in black brings her milk. Party Favor. Roller skates! "You bring roller skates to a party, because you don't need a driver's licence." Ken guesses Kesha. Jenny guesses Hailee Steinfeld. Jenny thinks Pepper could be a big star like Lady Gaga. No. 
Prediction: The internets say Pepper is UK singer Natasha Bedingfield. In fact, her 2004 hit "Unwritten" went viral on Tik Tok this year. Do a search, there are a ton of clips out there. 
RESULTS
Time to vote: Studio audience, Panel and Super Fans across America! The singer headed home tonight is…Baby. That is the right choice. The baby is crying! First impression guesses: Robin: Chuck Norris he's sticking with that! Nicole guessed Michael Cain she's changing to James Corden. Ken guessed Hugh Jackman but he's changing to Gordon Ramsay. Jenny guessed Kurt Russell but changed to Bruce Willis. And the Baby is…Larry the Cable Guy. Buh bye. He says it's the first time he ever sang. NO WAY /sarcasm. That stupid English accent was so fake.