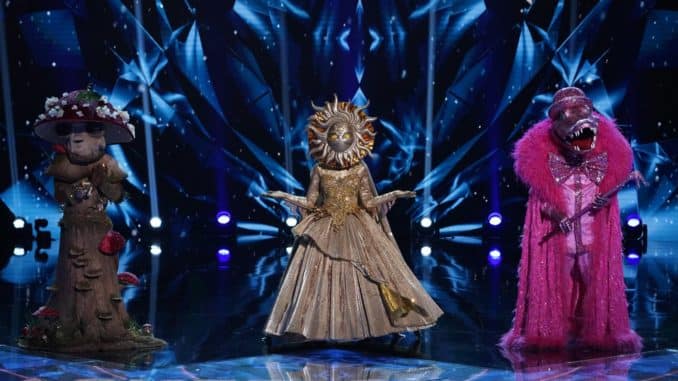 Tonight, it's The Masked Singer finale featuring THREE finalists! By the end of the episode, all will be unmasked, and a winner will be revealed. 
Ken Jeong, Jenny McCarthy, Nicole Scherzinger and Robin Thicke sit on the panel, while Nick Cannon hosts. 
Performing tonight in the finale is: Sun, Crocodile, and Mushroom. 
Before the finale, an hour long clip show aired with a new group Christmas performance and a few new clues. Fun Fact: After her first performance, the costume designers adjusted Sun's costume because she could not hit the high notes.
Christmas (Baby Please Come Home) by Sun, Crocodile and Mushroom
Crocodile
Clues: Growing up, his family was dirt poor. 
Performance: Open Arms by Journey – It's another ballad for the Crocodile. Well, a ballad him past the Seahorse aka Tori Kelly last week! Could he beat The Sun? I hope not. But this is a pretty good vocal, with big rock notes, and a falsetto. The contestants bring "gifts" as clues: Croc brings a gift to Jenny. It's under her chair! It's an angel. 
Mushroom
Clues: Mushroom channeled his daughter while creating his costumed character. Everyone has heard Mushroom's music, in the grocery store or radio, but may not know his name. It's a HUGE clue that rules out guesses like Jordan Fisher and Pharrell… So does the reveal that he has a daughter. 
Performance: I Wish by Stevie Wonder – It's his daughter's favorite song. One thing Mushroom did all season was disguise his voice. Not so much tonight. He's really letting go in this performance. Mushroom calls himself a "connector." Nick says it's a great clue if Mushroom is who Nick THINKS he is. Mush gives Nicole a gift. It's "Mushroom cookie dough ice cream."
Sun
Clues: She's been in the industry since she was a kid. Some see her as a the little girl singer, pop princess, or the woman she is today. She is dedicating her song to her significant other, who has stuck by her through good times and bad.
Performance: The Story by Brandi Carlile – Good performance from Sun. She should win, I believe. At this point, it's between her and Crocodile. Sun's gift is for Robin. It's a bunch of mistletoe. 
It's the FINAL VOTE of the season. The performer with the most votes will win!
The third place finisher is The Crocodile! I'm a little surprised. I thought he could win! Time for first impression guesses. Ken thought it was Bradley Cooper he's changed his mind. Now Ken thinks Croc is Nick Lachey. Nicole's first impression was Nick Lachey. Now she thinks it's Jordan Knight. And Robin Thicke's first impression was Jordan Knight! Now he thinks it's Howie D (what?). Oohh. Jenny's first impression was Nick Carter. She's gonna win the Golden Ear. And she is sticking with the CORRECT GUESS.
And the Crocodile is Nick Carter from Backstreet Boys!
Next, Nick ANNOUNCES THE WINNER! The winner of this season's GOLDEN MASK IS…THE SUN! Mushroom is the runner up. 
Mushroom first impression guesses: Jenny's first impression was Maxwell. She now thinks its NE-YO. Ken's first impression was Justin Timberlake. Now, he thinks it's Pharrell. That was my guess for most of the season. But it's not him. Nicole's first impression was Donald Glover. But now she thinks it's Aloe Blacc!!!!!! SHE WINS! Robin's first guess was Billy Porter. He's decided to piggy back off of Nicole and offers Aloe Blacc. 
And the Mushroom is….Aloe Blacc!!!!! He did a good job fooling everyone until the end. He was a good contestant. 
The Golden Ear goes to Jenny McCarthy. She got the most first impression guesses correct. Jenny's first impression of the Sun was Demi Lovato. But now she thinks it's LeAnn Rimes. Ken's first impression was Gwyneth Paltrow. But now he thinks it's Mandy Moore. Nicole's first impression was Katharine McPhee. But now she thinks it's Leann Rimes. Robin's first impression was Natasha Bedingfield. But now he thinks it's Katharine McPhee. UM NO. 
And the SUN THE SEASON 4 WINNER IS….Leann Rimes
Results:
3. Crocodile – Nick Carter
2. Mushroom – Aloe Blacc
1. Sun – Leann Rimes – WINNER