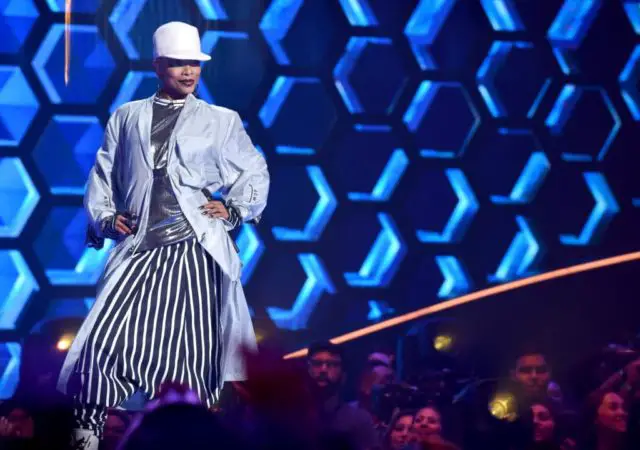 On Thursday's (June 28) The Four, hip hop giant Timbaland will be filling in for hip hop contestant Sharaya J. on the group number.
It's not just rap battles Sharaya has been engaging in recently. She's currently fighting stage 2 breast cancer. While competing on The Four, she has also been undergoing rounds of chemotherapy. The cancer treatments have been wreaking havoc on her vocal chords, unfortunately. While the ambitious rapper will rise to any challengers that choose her to face off this week, doctors felt it best that she sit out the group number.
The number scheduled for the four contestants to perform is Timbaland's "The Way I Are." The legendary producer, songwriter and hip hop artist is close with Missy Elliott–Sharaya's mentor–and was more than happy to perform in the number as a special surprise.
Approached by P. Diddy, Mario Winans, Laurieann Gibson, and Adam Blackstone to fill in, reportes Variety exclusively, Timbaland said, "I was very excited to be a guest on The Four, led by some of the biggest names in music — Puff, Khaled, Meghan Trainor, and Fergie." He added, "I've known Sharaya for years and when I heard that she was unable to participate in the group performance, I felt honored to step in. This platform inspires diverse, undiscovered stars to get started in their music careers with the very best."
So far, Shayaya has defended her chair twice. First, she battled Florida native James Farrow in Week 2. Last week, she fought off 17 year old Briana Burns aka Lil Bri. Before her battle with James, Sharaya was featured on a video package discussing her chemo treatments, which she had to fly home back to Atlanta for right after her first week.
"I'm chasing the dream and fighting for my life," she said. "I am a survivor and a fighter, and I will be sitting in one of those chairs until the end."
It's not unprecedented for a singing show to accommodate a contestant's health issues. When American Idol season 11 contestant Phillip Phillips was dealing with a brutal kidney condition during his season, he sat out the weekly Ford commercials. Phillip eventually took the title.
Watch a promo clip below.
https://youtu.be/D3OWMc7unVo