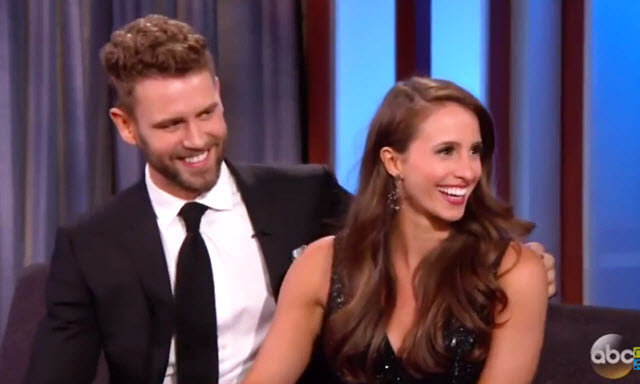 Newly engaged The Bachelor couple, Nick Viall and Vanessa Grimaldi stopped by Jimmy Kimmel Live last night to talk about what lies ahead for the couple.
The Bachelor Season 21 Finale Recap and Live Blog (VIDEO)
First on Nick's plate is yet ANOTHER reality show (His FIFTH). He'll compete on Season 24 of Dancing With the Stars, with pro partner Peta Murgatroyd. "What a great way to start off your relationship," Jimmy quipped. Vanessa gets to go from "watching Nick make out with other women on The Bachelor to… dancing with this beautiful Russian supermodel dancer."
Nick points out that Peta just had a baby with fiance Maks Chmierkovskiy. If there were any funny business, Maks would probably kick his ass.
In the next segment, Nick and Vanessa played Kimmel's version of "The New Engaged Game" and much hilarity ensued.
Here are a couple of extra media items: Members of Bachelor Nation, including past The Bachelor stars Sean Lowe and Catherine Guidici Lowe and The Bachelorette's Trista Sutter felt the couple's After the Rose interview was more than a little awkward. Nick and Vanessa respond to the haters via People magazine
"You can never make people happy. At the end of the day, we are focusing on our relationship," said Grimaldi. "It's easy to focus on the negative, which sometimes I do, and Nick tries to get me out of it. But it's the world that we're living in."
And who cares what people think when becoming a Bachelor couple can result in a big post-show payday! New York Magazine explores the lucrative opportunities afforded folks who participate in the show–particularly in the world of social media endorsements. Ka-Ching!