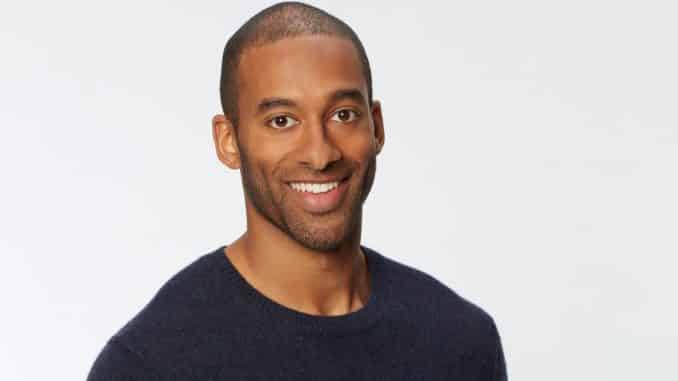 Thirty-two women are on the hunt for love with Matt James when the exciting, landmark 25th edition of The Bachelor premieres on Monday Jan 4 (8:00-10:01 p.m. EDT), on ABC.  Check out the photo gallery at the bottom of the page.
At the end of night one, 24 lucky bachelorettes remain to toast the Bachelor and join him on the romantic adventure of a lifetime!
The 28-year-old real estate broker, entrepreneur and community organization founder on his journey to find love during this historic season (Matt is the first Black male Bachelor in the season's history).
Matt meets lingerie clad lady, another two arrive in "style"
Although Matt hasn't been in love before, he feels he is ready now to welcome it into his life—no matter what challenges he will face.  On the premiere episode, the women will do everything they can to catch this North Carolinian native's eye. 
For instance, 0ne woman causes a stir by arriving in nothing but black lingerie and asks Matt to help her pick out an outfit from a rack of clothes.
But the drama is ratcheted up when dueling ladies arrive: one in a chauffeur-driven gold Bentley, only to be upstaged by another being carried in on a throne like Cleopatra, wearing a gold crown. Behold "the Queen."
However, nothing can stop the first blossoms of romance from blooming between Matt and the women. One who was born deaf and has a cochlear implant wins his admiration, but will she garner the coveted first impression rose?
Matt finds his first rose ceremony overwhelming, discovering it difficult to say goodbye to the women he really didn't want to disappoint.
The 32 women who will vie for Matt's heart are the following:
Abigail, 25, a client financial manager from Beaverton, Ore.
Alana, 26, a photographer from Toronto, Ontario, Canada
Alicia, 24, a professional ballerina from New York City, N.Y.
Amber, 30, a nursing student from Costa Mesa, Calif.
Anna, 24, a copywriter from Chicago, Ill.
Bri, 24, a communications manager from San Francisco, Calif.
Carolyn, 30, a journalist from Los Angeles, Calif.
Casandra, 25, a social worker from Newport Beach, Calif.
Chelsea, 28, a runway model from Brooklyn, N.Y.
Corrinne, 22, a marketing manager from Pomfret, Conn.
Emani, 25, a realtor from Albuquerque, N.M.
Illeana, 25, a health food developer from New York City, N.Y.
Jessenia, 27, a social media marketer from San Antonio, Texas
Kaili, 26, a hostess from Chicago, Ill.
Katie, 29, a bank marketing manager from Renton, Wash.
Khaylah, 28, a healthcare advocate from Durham, N.C.
Kimberly, 28, an airline recruiter from Seattle, Wash.
Kit, 21, a socialite from New York City, N.Y.
Kristin, 27, an attorney from Jersey City, N.J.
Lauren, 29, a corporate attorney from Miami, Fla.
Magi, 32, a pharmacist from Adwa, Ethiopia
Mari, 24, a marketing director from Odenton, Md.
Marylynn, 28, an event coordinator from Studio City, Calif.
MJ, 23, a hairstylist from Hudson, Ohio
Pieper, 23, a graduate student from Happy Valley, Ore.
Rachael, 24, a graphic designer from Ga.
Saneh, 25, an IT consultant from Denver, Colo.
Sarah, 24, a broadcast journalist from San Diego, Calif.
Serena C., 24, a flight attendant from San Francisco, Calif.
Serena P., 22, a publicist from Toronto, Ontario, Canada
Sydney, 28, a marketing specialist from Nashville, Tenn.
Victoria, 27, a queen from Los Angeles, Calif.
Hosted by Chris Harrison.
Meet the Women of The Bachelor 25