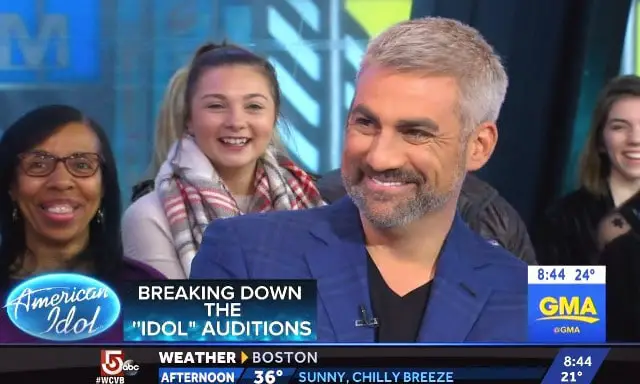 Taylor Hicks dropped by Good Morning America on Monday to chat American Idol. The bluesy singer, who won the fifth season in 2006, shared his thoughts on Sunday night's hopefuls.
He particularly liked Maddie Zahm, the singer who closed the show with a touching story about her best friend, a special needs student. Taylor felt the audition was not only one of the best of the night, but one of the best of the last 4 or 5 years.
Les Greene was also a favorite. Taylor noted that the singer auditioned with "A Change is Gonna Come," the same song he auditioned with more than a decade ago. He called it a "great rendition" of the song adding "he could easily be in the winner's circle.
Taylor also singled out karaoke singer Crystal Alicia for praise. "She's got great stage presence, a really…unique voice. She's got the look. I think she just needs some experience and she'll be ready to roll."
His advice for contestant who are headed for Hollywood Week? "Stay off your cell phones!" Taylor insists. "I've seen contestants in Hollywood lose their voice because their cell phones ringing all the time. They're talking on their cell phones. You will lose your voice!"
And additionally, "Use the bathroom a lot. The bathroom has humidity," Taylor added, "It's good for the voice, people!"  Unusual advice from Taylor Hicks!
On the career front, the singer is getting ready to release a new album this fall, besides starring in the cable TV show "State Plate." 
"I'm a busy man," says Taylor.
Watch the interview below.