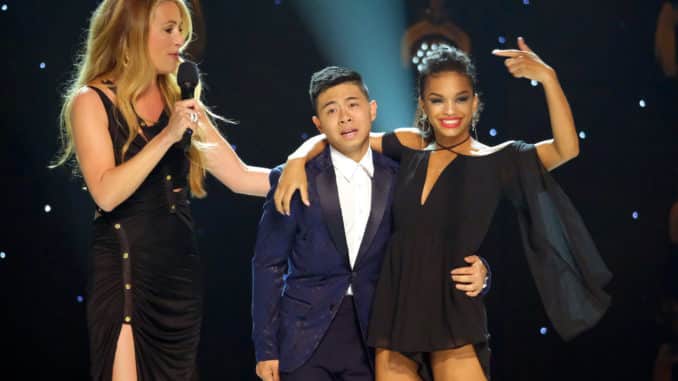 So You Think You Can Dance 2019 crowns a winner tonight! Who will win it all? Gino Cosculluela, Bailey Munoz, Sophie Pittman or Mariah Russell? Tonight, we find out. The winner takes home a $250,000 grand prize and a cover article in Dance Spirit, in addition to the title of "America's Favorite Dancer".
Sitting on the panel are Nigel Lythgoe, Mary Murphy, Laurieann Gibson and Dominic Sandoval. Cat Deeley hosts. FINALLY THE SHOW IS LIVE LIVE LIVE!
SYTYCD 16 – Finale Preview/Season Thoughts/Final Rankings
SYTYCD 2019 Recap – Top 4 Perform – Live Blog (Video)
The show kicks off with a fabulous Top 10 group dance choreographed by Mandy Moore. The judges and Top 4 will choose their favorite dances of the season. 
https://www.youtube.com/watch?v=_8nkiHMFpnY
Next, a video package features Laurieann at her cray cray CRAZIEST. Her first dance pick is from choreographer Luther Brown. She goes nuts introducing Mariah and Bailey dancing hip hop to Lizzo's "Tempo."
https://www.youtube.com/watch?v=dYPWOD-oDDU
Next, Nigel Lythgoe picks  Ray Leeper's "exhilarating" Jazz routine "You Can Keep Your Hat On" choreographed for Ezra and Madison. Very sexy!
https://www.youtube.com/watch?v=a-Nmpp2HSCM
Dominic Sandoval's video package is about his SENSITIVE nature. He cries a lot! That B boy sheds some tears. Dom's favorite routine is from choreographer Travis Wall for Eddie and Sophie performing to Billie Eilish's "When The Party's Over." It's Eddie, Sophie and a mattress. 
https://www.youtube.com/watch?v=J76QdAYlzgs
And now Mariah picks her favorite routine, a contemporary routine by Mandy Korpinen & Elizabeth Petrin to "Slide" by James Bay. Mariah and Bailey performed using a tricky housetop prop. 
https://www.youtube.com/watch?v=nJEcBT3a1cM
Next, Mary Murphy chooses her favorite routine. It's Gino and Stephanie's Jive danced to "Long Tall Sally" by former DWTS pros, Emma Slater and Sasha Farber. The duo are notably not in the audience tonight.
https://www.youtube.com/watch?v=MagAooSKhVU
Welp! The show is promoting auditions for next year! Which probably means So You Think You Can Dance will come back for season 17. 
The Top 10 are back to perform a reprise routine to Harry Styles' "Sign of the Time by choreographer Travis Wall. At the end, the dancers pull off their grey sweatshirts, turn around to spell out "Enough." That routine aired after on the summer's mass shootings. 
https://www.youtube.com/watch?v=d7DaUY23TYE
Dom chooses another favorite routine. He  picks a Broadway routine, "I'll Be Seeing You" for  Anna and Benjamin choreographed by Al Blackstone.
https://www.youtube.com/watch?v=nbkxZkS9rGw
Mary again! She chooses Gino and All-star Comfort's hip hop danced to "Get Up" by Ciara, choreographed by Luther Brown. Mary calls the dance, with a Caesar and Cleopatra theme "hot" and "precise."
https://www.youtube.com/watch?v=qlgO2SHpdxU
Now, it's a clip that recaps the entire season. 
Nigel picks another favorite routine. He quotes Nietzsche! Ok then. He introduces Phoebe Kochis. She's the young dancer with Down syndrome who auditioned for the show. She didn't make the cut, but Nigel invited her to the Academy as a guest. Now, tonight, she performs a short routine to Taylor Swift's "Me!"
https://www.youtube.com/watch?v=Pg56Grg8bkg
Sophie chooses her favorite dance. She picks the contemporary routine danced to "You Will Be Found" choreographed by Kacie Monnie for Sophie and Gino. Sophie appreciated that she was telling Kacie's story. Sophie finishes in tears…
https://www.youtube.com/watch?v=rValvFQUWFc
The Top 10 are going on tour this fall. The show can STILL support a yearly tour, which is cool. All-stars Lauren, Cyrus and the Top 10 perform a brand new group routine choreographed by Luther Brown just for the tour. The hip hop routine is performed to "Post That" by Leikeli47.
https://www.youtube.com/watch?v=G-ogdsVitHg
Aw…look at Dom's SYTYCD audition! So long ago. He's embarrassed. Mary had very very dark hair in those days. He chooses another favorite dance! He picks Madison Mariah and Sophie's Ray Leeper Jazz routine to "I Can't Stand the Rain" by Tina Turner. 
https://www.youtube.com/watch?v=MkgUYNqzu4c
Mary chooses another routine. She loves Bailey! "He affects me," she says. "He triumphs over his challenges," she says. She picks all-star Koko and Bailey's "Hey Mambo," a Broadway routine by choreographer Al Blackstone.
https://www.youtube.com/watch?v=0vAyr0S0-5U
Laurianne chooses another favorite routine. This time a beautiful contemporary number choreographed by Talia Fava for Bailey, Gino and Ezra performed to "Amen" by Amber Run. Laurieann notes that each dancer represents a style, hip hop, contemporary and ballroom, respectively.
https://www.youtube.com/watch?v=gD33r_YIUls
Time for some bloopers! Yay.
Gino chooses his favorite routine. And it's a Jazz routine, choreographed by Jonathan Redavid to "Trouble" by Elvis Presley. Sophie and Gino performed. 
https://www.youtube.com/watch?v=Y7bIz-JDFkM
Now, it's Bailey's turn to pick a fav. He chooses a Jazz routine by Ray Leeper danced to "Need You Tonight" by INXS, performed by Bailey and Mariah. Bailey appreciated the challenge to be sexy.
https://www.youtube.com/watch?v=QNpr4UqO9Wk
In a video clip, the Top 4 talk about what they'd do with 200K winnings, and what a win would mean to them. Lots of tears in this clip. 
TIME FOR SOME RESULTS! The Top 4 are on stage with Cat. After 3.4 million votes, the dancer who as earned a fourth place spot is Sophie. And now it's time for her goodbye clip. Sniff. 
Nigel picks one more routine. Gino and Bailey dancing a Broadway routine choreographed by Al Blackstone to "Girl from Ipanema" by Nat King Cole and Gregory Porter. One of my favorites!
https://www.youtube.com/watch?v=FqfTauJJNWo
Laurianne chooses the last judges pick. She picks a contemporary routine by SYTYCD routine Robert Roldan for all-star Gabby and Ezra to "Ne me quitte pas" by Jacques Brel.
https://www.youtube.com/watch?v=rmT1mVQfMQ8
More Results: The Top 3 join Cat on stage. The difference between 2 and 3 was less than 1 percent! The 3rd place dancer is…Gino.  Oops. Is that booing I hear in the audience? Gino was arguably the best technical dancer of the four. But it's not unusual for the most talented dancer to finish as a runner-up. Although Gino didn't win, but he'll be fine. He has been cast in the Broadway revival of West Side Story. 
Time for Gino's goodbye package. 
The Top 2, Bailey and Mariah get their packages head of the results. And the winner of So You Think You Can Dance 2019 is BAILEY! Weird that Cat didn't announce it, but showed them both the card? Hm.
Hip hop dancer Bailey Munoz was not the best dancer in the competition, but he was an extremely likeable contestant. A solid performer, unafraid to be vulnerable. It's how voting usually goes down on So You Think You Can Dance. Likeability and relatability almost always wins out over technical skill. Also, SYTYCD fans LOVE the hip hop dancers who can traverse a variety of styles. 
A big thanks to Franky for a great season of recaps! He's recapping the Dancing with the Stars premiere tonight. Make sure to check that out.
RESULTS
First Place – Bailey Munoz
Second Place – Mariah Russell
Third Place – Gino Cosculluela
Fourth place – Sophie Pittman