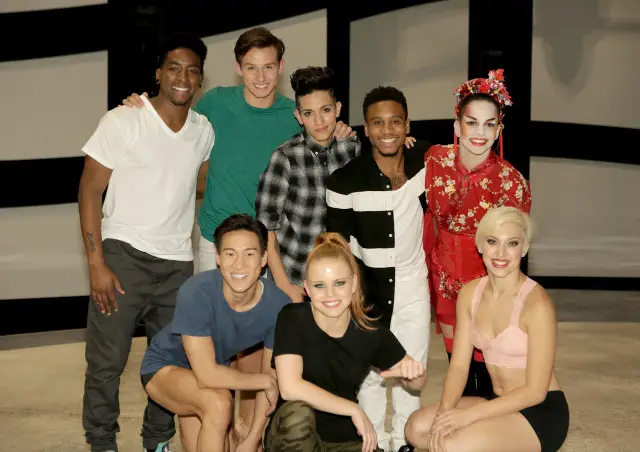 Join me here and don't forget to post your thoughts in the comments! Who is going home>
Top 8 Dance- Lilies Of The Night (Pina Soundtrack)- Choreo by Tyce Diorio
A very Addams Family dance. All the girls look like Wednesday, and the guys kinda look like Pugsley… if Pugsley were skinny. Good use of chairs. Also, a nice dance that featured everyone. No one standout. I thought Derek, Hailee, Jaja, and Virgil all did solid work. I lost Neptune in that. That felt like a Tyce routine. Nice to have him back.
Click to Watch Lilies of the Night Group Dance Video
Twitch dipping Travis. LOL.
Team Street won again with 52% of the vote, and Team Stage with 48%. Derek is holding you back Travis.
We're getting 8 routines tonight, and each dancer will solo. Our judges are still Nigel, Paula, and Jason. I have to say, I feel like both Paula and Jason have gotten better as judges as the season progresses. Sometimes, Jason is even the dissenting opinion on the dance, which is nice to see sometimes (even if I don't agree).
1st Routine- Virgil and Jasmine- African with Sean Cheeseman- Kintamani by Transglobal Underground
Virgil is worried about being able to lift Jasmine. LOL. Love the costumes. I wonder if we'll ever get a dancer whose style is African in future seasons (if there are any). Virgil does well in this style. Honestly, I find Jasmine to be a little stiff in her movements, and disconnected a bit from Virgil. Virgil is trying to connect with her. It's odd. I love Jasmine, but I think she held that dance back a bit. There was no connection between them, but Virgil really tried. Odd routine for me. I thought he did a great job, but the pairing didn't work for me. Nigel apologizes for crediting Jasmine with something Sasha did. Nigel says Virgil hasn't had a bad week (true). He says he punches above his weight. He calls Virgil an Ant-Man. Paula says he proved size doesn't matter. He has unyielding confidence. Jason agrees that he hasn't had a bad week. He thought he was on point stylistically. He says that his "sinister" comes off as comedic. RESULTS! Virgil is safe.
Click to watch Virgil's African Jazz Routine and Solo VIDEO
1st Solo- Jim- The Four Seasons: Summer by Antonio Vivaldi
The dancers are talking about their first performance. Jim's first performance involved a pink tuxedo. He was the only boy in his first performance. Ballet solos are hard, but I feel like he pulled it off. Lots of technique shown. The judges gave him a standing ovation.
2nd Routine- Derek and Jamie- Contemporary by Tyce Diorio- Never Dreamed You'd Leave In Summer by Stevie Wonder
Travis thinks Tyce is gonna bring out something in Derek. Derek's been missing the connection. Will he have it this week? I think Derek missed a catch a bit and smacked Jamie in the face. She's just a pro though. Derek still feels empty here. It's paint by numbers. The faces he thinks we want to see. I like the choreo by Tyce, and Jamie is fierce, but I'm not feeling anything from Derek. I think he dancing is on point, but he still lacks the connection for most of the dance. He pulls it in at the end, and it finally feels a little real. This is Top 8, we deserve better Derek. Paula is proud of Derek, saying he's finally letting go. Jason says "good job" but doesn't seem to feel it. He says it missed the connection, and he didn't believe it. Jason says this is the top 8 and it's all about the nitty gritty. Nigel agrees with Jason, but also says he sees a vast improvement. Nigel says Derek needs to be more vulnerable. He loved Tyce's choreo. He says he believes in Derek and wishes him love and luck. Jason also says he believes in Derek. RESULTS! Derek is in danger.
Click to watch Derek's Contemporary Routine and Solo VIDEO
2nd Solo- Jaja- Hype City by Tight Eyez
Her first performance was a solo with a purple costume. She won her competition. Her solos are always on point. She dances like she dances for her life everytime. She's got something to prove, and I feel it in every solo. It's the movement she feels, not the movement she's been choreographed.
Degree promo session. Because this show needs to make some money to stay on the air. HAILEE AND FIKSHUN? That's coming up? Gaby and Robert? Jaja and Ricky? Jim and Comfort? I'm down. I hope Ricky's doing Broadway. I campaigned last week for Broadway dancers to actually do the Broadway style as All-Stars. Ricky was in On The Town for a while, a prize he won when he won last season.
3rd Routine- Hailee and Fik-Shun- Hip Hop by Luther Brown- Let It Go by Chronique Sneed
Travis wants Hailee to surpass Fik-Shun. That's really hard, bro. Hailee looks really cool. A little like Madonna in the early 90's. Fi-Shun has better, quicker footwork. Hailee is really fun in this. One of her biggest pluses all season has been her personality, which is shining. She needs to be quicker though. Fik-Shun is faster, looser than her. She's got the bounce and the groove, but it's a little slow and stiff still. Fik-Shun out performed her. The choreo wasn't even that hard. I dunno. Gaby might overtake her this week. Jason gives props to Luther. Jason says Hailee brought Chicken and Waffles. He says it was a party in his mouth. Nigel doesn't know about Chicken and Waffles, but he loved the flavor of the dance. He thought Hailee and Fik-Shun worked like bread and butter. Nigel says she epitomizes the connection between her partner, the dance, and the audience. He calls her a star. Paula says Hailee is "all that" and dynamic as a performer. RESULTS! Hailee IS IN DANGER! WHAT? That means Gaby and Jim are automatically safe. Is there a curse for people I put at the #1 spot on my power list? Am I dooming them? If so, Derek is totally going to #1 next week.
Click to watch Hailee's African Hip Hop Routine and Solo VIDEO
3rd Solo- Gaby- Oye Como Va by Santana
Gaby's first recital was ballet when she was 3 years old. She was crying her first performance out of fear. Glad she got past that. Gaby looks fierce, and is performing the hell out of her solo. Love it. FIERCE. Great job. Way to take advantage of Hailee being down in the bottom two and make a play for #1.
Hailee wore it better, Travis. Hailee did.
4th Routine- Megz and Paul- Paso Doble by Jean Marc- Blade Of Blood by Tom Player
The costumes and the capes are on point. Megz needs to keep her back straight more. She's stiff, and slow. The choreo was great, but Megz wasn't. Nigel says he loves Megz, and is proud of how far she's gotten. She's gotten far than he initially thought, but deserves to be here. He says she gave it 100%, but it exposed her lack of technique. Feet under the body. He says it wasn't strong enough. Paula agrees with Nigel, but says she brings intensity and fire, but this is the one area that did expose her. Paula tells her to work on her core strength. Her shoulders were up, and she needed to point her toes. Jason agrees. He says the intensity turned into tension, and pulled the audience away from the performance. RESULTS! Megz is in danger.
Click to watch Megz' Paso Doble Routine and Solo VIDEO
4th Solo- Derek- Two Me In Love by The Irrepresibles
His first performance was basically as a fill in because another boy had been injured. Derek's song title is as close as he's ever going to come to being able to discuss his sexuality on the show. That solo felt really short, and I don't think he really gave anything spectacular. Meh. I don't know why all the contemporary solos look the same. Can't these kids tell a quick story in a few seconds to a good song?
Tour Promo. 70 cities. Tickets go on sale on Friday.
5th Routine- Neptune and Kayla- Jazz by Ray Leeper- Infinity by The xx
A couple that was broken up and apart, comes back together and realizes they were always meant to be together. Technically, I don't see any faults with Neptune. I just don't feel the connection between the two dancers. The choreo is OK. The music is meh. I thought Neptune did a good job though, except for not connecting with Kayla. Paula says Neptune has grown exponentially. She says his isolations are wonderful. Paula also says he's exposed in this dance to his lack of training. Jason says he's had a series of good weeks, but he struggled this week, especially with the lifts. Nigel says he's also proud of Neptune. Nigel hopes Neptune does formal training after this, because he could be a good professional dancer if he puts the work in. RESULTS! Neptune is in danger. That means Jaja is safe.
Click to watch Neptune's Jazz Routine and Solo VIDEO
We now know our Bottom Four. Jaja, Gaby, and Jim all get to do their routines without any stress of being in danger.
5th Solo- Virgil- i by Kendrick Lamar
His first performance was at a family BBQ at 3 years old. He throws in some floor work, which is a nice change of pace. He can't compete with the other hip hop dancers as a soloist, so he does a little B-Boy work to distinguish himself. He's lucky Asaf isn't around anymore.
6th Routine- Jim and Comfort- Hip Hop by Pharcyde and Phoenix- Hey Mama by David Guetta
Jim knows he needs to connect, but he can't look at Comfort in the eyes. She's Medusa. These costumes are on point. Comfort is spectacular as always. This is kind of a stiff Hip Hop routine as intended, so Jim actually is pulling it off. Honestly? My favorite routine of the night. The first routine worthy of Top 8. Best routine of the night. Jason applauds Jim for going for it. Jason says he still needs to embody the hip hop more. He says Hip Hop looks foreign to him. Nigel agrees with Jason. He loved the concept of the dance, but was uncomfortable a bit. He says he needed to relax and get into it. He says Jim's solo was exquisite. Paula says they threw everything into the routine, and didn't allow Jim to breathe in it. She calls him unparalleled. We already know, Jim is SAFE.
Click to watch Jim's Hip Hop Routine and Solo VIDEO
6th Solo- Hailee- Vanguardian by Steed Lord
Hailee got trampled in her first dance. She finished the number even though she was crying after getting knocked over. Repetitive movement. A cool front flip. A little better than Derek's solo, but nowhere near the level of Jaja, Jim, or Gaby's solos.
7th Routine- Gaby and Robert- Contemporary by Mandy Moore- Angel by Sarah Maclachlin
She's got a great combo of All-Star and choreographer here. And song. That moment where Gaby just loses her shit was great. Beautiful routine. My new favorite of the night. They must have saved the best ones for last. Gaby is SLAYING THIS ROUTINE. Dead. So much connection. Robert is fantastic. The holds… the lifts. Just… everything. This dance is everything. If you didn't like it, check your pulse. Gaby's gonna win this thing. That last hold… breathtaking. Standing O from the judges, first for any routine of the night. The audience is also applauding for a long time. Nigel calls it in a class of its own, and says she was absolutely brilliant. He says it was outstanding. The emotion was beautifully contained. Her technique is magnificent. Paula says she was world class. She loves how Gaby pays attention to detail. She says Gaby is an actress. Not one thing she could have done more perfectly. Jason says Gaby isn't missing anything. She just gets it. He says stars get it. He says she's surpassed what he thought. He says she's been getting standing O's for a long time. We already know Gaby is SAFE.
Click to watch Gaby's Contemporary Routine and Solo VIDEO
7th Solo- Megz- Delirious (Boneless) by Steve Aoki
Her first performance was 1996. She wore a pink tutu. Megz's solo is great. She's letting us know she's not done yet. She's still got a bit of fight left in her.
8th Routine- Jaja and Ricky- Broadway by Al Blackstone- Let's Face The Music and Dance- Nat King Cole
A smooth talking mobster and his wife get thrown into a jail cell. Wow. Ricky is just incredible in the style. He's got the bounce that Jaja doesn't have. She's too upright in places. She's got personality, but like most hip hoppers have been tonight, it's a bit stiff and slow. That little hip hop moment was cute, but not in the style. Her personality is on point, definitely. She's got a broadway personality, just not quite in the style. She came across as a non-dancer actress trying her hand at Broadway for the first time. Paula says Jaja embodies character to the Nth degree. Jaja says she felt the character. She calls her the belle of the ball. Jason loves a period piece, and thought she looked like a movie star out of the 20's. Consummate dancer. Nigel says Jaja reminded her of Amy Adams. He thought the choreo was great. Nigel says everything she's given to do, she does well. He says Vegas or Broadway would be lucky to have her. We already know Jaja is SAFE!
Click to watch Jaja's African Broadway Routine and Solo VIDEO
8th Solo- Neptune- Get Big by Dorrough
Neptune's first performance was at his dad's wedding reception. A little bit of bone breaking, a little krump. Aggressive. Nice solo. Honestly, I liked it better than Virgil's. I'd say Virgil had the weakest of Team Street's solo, but not the weakest overall of the night. (That would be Derek.)
I'm hoping we get to keep Neptune and Hailee for another week. Megz has had two weak weeks in a row, and Derek hasn't really improved much. He's just always underwhelming. Hailee deserves to stay. Neptune outdanced Megz tonight in their routines, and outdanced her last week.
Team Street Group Routine- Choreo by Dave Scott- Finna Get Loose by Puff Daddy
Takes place on the hottest day of the summer. Fun. Awesome. They all get to show off how great they are in their style, with little solo moments for each dancer.
Click to watch Team Street Group Routine VIDEO
Team Stage Group Routine- Choreo by Tassandra Savage- Give Me Love by Ed Sheeran
Beautiful song. Actually, beautiful choreo, I loved every moment of it. Why can't the duets be as strong as the group routines? Hell, I even loved Derek in this. If I had to pick the most disconnected of the four, it wouldn't be Derek, it would be Jim. The girls though… 100% on point. Standing O.
Click to watch Team Stage Group Routine VIDEO
Results time!
SAFE SO FAR:
Team Street: Virgil, Jaja
Team Stage: Jim, Gaby
IN DANGER:
Team Street: Megz, Neptune
Team Stage: Derek, Hailee
Who did we send home this week?
Leaving us tonight: Derek and Neptune.
Megz and Hailee get another week.
Click to Watch The Top 6 Revealed – Derek & Neptune Eliminated – VIDEO
How do you feel about those results? Sad to see Neptune go? He's been an incredible contender. Join me on Thursday for my power rankings, and next Monday for the Top 6.