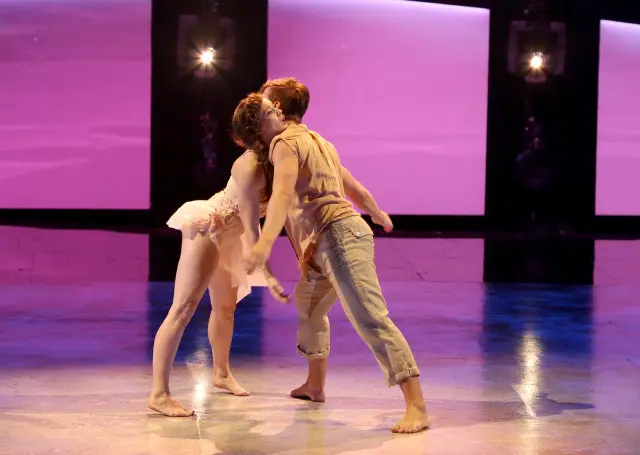 SYTYCD 12 Top 8 – Derek Piquette & Jamie – Contemporary – VIDEO
Derek and Jamie- Contemporary by Tyce Diorio-Never Dreamed You'd Leave In Summer by Stevie Wonder – Travis thinks Tyce is gonna bring out something in Derek. Derek's been missing the connection. Will he have it this week? I think Derek missed a catch a bit and smacked Jamie in the face. She's just a pro though. Derek still feels empty here. It's paint by numbers. The faces he thinks we want to see. I like the choreo by Tyce, and Jamie is fierce, but I'm not feeling anything from Derek. I think he dancing is on point, but he still lacks the connection for most of the dance. He pulls it in at the end, and it finally feels a little real. This is Top 8, we deserve better Derek. Paula is proud of Derek, saying he's finally letting go. Jason says "good job" but doesn't seem to feel it. He says it missed the connection, and he didn't believe it. Jason says this is the top 8 and it's all about the nitty gritty. Nigel agrees with Jason, but also says he sees a vast improvement. Nigel says Derek needs to be more vulnerable. He loved Tyce's choreo. He says he believes in Derek and wishes him love and luck. Jason also says he believes in Derek. RESULTS! Derek is in danger.
Click for Mac's full SYTYCD Season 12 Top 10 Results & Performance Recap
Derek's Solo – Two Me In Love by The Irrepressibles – His first performance was basically as a fill in because another boy had been injured. Derek's song title is as close as he's ever going to come to being able to discuss his sexuality on the show. That solo felt really short, and I don't think he really gave anything spectacular. Meh. I don't know why all the contemporary solos look the same. Can't these kids tell a quick story in a few seconds to a good song?