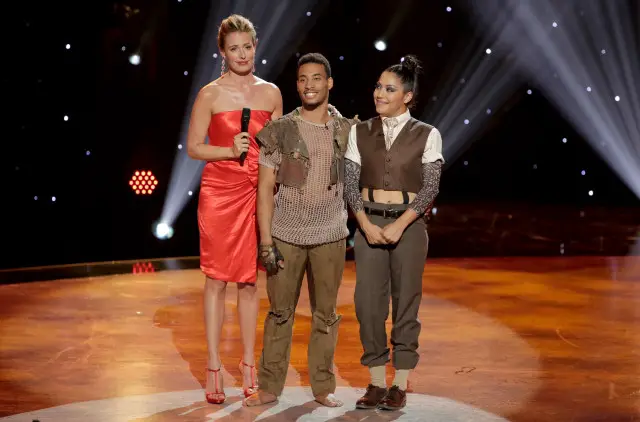 Join me here tonight as we talk about our favorite DANCERS!
The Twitter Save comes into play tonight, so get ready to save your favorite dancers.
Tonight one Stage Dancer and one Street Dancer will leave the competition.
Baila Como Yo- District 78
The whole top 20 dances a hip hop infused number. Probably to help handicapping the street dancers. The costumes and makeup make it hard to see who the standouts are. Good dance. I think it helped team street a bit more.
Click to Watch Baila Como Y o- District 78 Top 20 Group Dance
I've heard rumors that a few of the street dancers have had some training. That should help them tonight as they conquer other forms of dance.
Cat mentions Ryan Seacrest is going to pimp his new show tonight. Also, the 10th Anniversary show is tomorrow at 8PM. Only a one hour show.
Travis, Sonya, and Spencer all got Emmy nominations. The show got a total of 8 nominations.
No change to the judging panel. Nigel, Paula, Jason. Nigel says the show has had 53 emmy nominations over the years.
1) Yorelis, Darien, Hailee- Salsa by Jonathan and Oksana – Brucutu by Samarra
For all those who thought ballroom styles were out… they're not. But ballroom with three people? None of these three dancers are in their style. Travis was disappointed by Darien, and thought he was being outdanced by the girls. Ooo.. Darien messed up that lift. Hailee recovered. Hailee and Yorelis both killed it. Darien? Not so much. Jason joked about people almost losing their lives on stage. He tells Darien he has to be ready for anything, because it could mean an injury for his partners. He called it a little less than OK, and gives Yorelis props. Nigel says the two girls were hot and spicy and fabulous. Nigel called Darien the yogurt that calmed it down. Nigel also noticed the lift. So did Paula, and applauds Hailee for recovering like a pro. She liked the footwork on the girls, and also thought they had presence. She says Hailee knows how to sell it through her eyes. Paula says Darien was a bit inside his head. He was inside his head and still messed up that lift? Wow. RESULTS! Darien is in DANGER. Hailee and Yorelis are SAFE! I'd say Darien is in big danger.
Click to Watch Yorelis, Darien, Hailee – Salsa VIDEO
2) Derek and Ariana- Jazz by Ray Leeper- Cry Me A River by Michael Buble
Two people come together and unite over the pain of losing a loved one. Derek loves Derek's technique. He says Ariana has a ton of style and presence. Ariana says street dancers can have technique. Travis says Derek has presence. Twitch says Ariana blew his mind. That was killer. I wasn't crazy about the costuming, or the weird tears under Derek's eyes. Two dancers I wasn't crazy about just made me pay attention. For a street dancer, Ariana slayed that. Paula says it was great to see a jazz routine. Paula thought it was executed well. She thinks Ariana nailed it, and says Derek's technique is perfect. Paula says they need to work on performance in the face. Paula thought Ariana did phenomenal. Nigel says he was shocked by Ariana. Nigel tells Derek he needs to work on his face. RESULTS! Both Ariana and Derek are in the bottom six. That's two stage dancers and one street dancer so far.
Click to Watch Derek and Ariana – Jazz – VIDEO
Degree promo. How much do the dancers move?
3) Alexia, Megz, Virgil – Contemporary by Dee- Until We Go Down by Ruelle
Virgil has to be strong in this piece. I'm interested to see Megz do contemp. Alexia is in her style. Megz and Virgil really went for it 100%, and they look really great. Sometimes Megz's arms don't extend quite like Alexia's. Alexia, who I didn't really notice last week, really came through in this dance. All three dancers did well. I didn't think Megz had that in her. Nigel liked it "a great deal". Nigel compliments Alexia for last week, and again for tonight, saying she slides under the radar a lot. He says "WOW" to both Megz and Virgil. Paula is proud of all of them. Jason says they deserved their standing O. He says Virgil became a top contender today. RESULTS! All three dancers are safe.
Click to Watch Alexia, Megz, Virgil – Contemporary – VIDEO
Ryan pimps out Knock Knock Live.
4) Gaby, Edson, Burum, and Lily- Bollywood by Niccol- Dhol Baaje
No one is in their style with Bollywood. Good on Burum. For real. He finally picked up choreo. For me, I thought Edson stole the dance from Burum, but I'm still impressed. I couldn't tell who was Lily and who was Gaby in parts, which was good. Nigel was happy to see Burum pick up choreo. He didn't think it was that strong overall. Paula liked it and thought it was fun. Paula loves Lily's face. Paula is proud of Burum. Paula thinks Edson can give a bit more, but his technique is great. And Gaby should "get off the stage". RESULTS! Lily is in danger. Gaby, Burum, and Edson are SAFE!
Click to Watch Gaby, Edson, Burum, and Lily- Bollywood – VIDEO
5) Kate, Asaf, Neptune- Broadway by Spencer Liff- All About That Bass- Postmodern Jukebox
Spencer says Kate is a fantastic performer. Twitch is proud of Neptune for going for it. Spencer says Asaf gets frustrated quickly. Asaf wants to do his moves in Broadway. Twitch says it feels like it goes in one ear and out the other when he talks to Asaf. Kate looks fantastic. Asaf actually learned choreo. Mad props to Neptune for committing 100%. I'm kind of impressed by Asaf. It could be better, looser, etc, but I expected nothing. Paula says what Spencer did was inventive. Paula says Neptune was commmitted, creative, and innovative. She calls Kate a beautiful stunning dancer. Paula gives Asaf most improved, and tells him to get comfortable with the uncomfortable. Jason says Asaf can become a better performer just through the process. He calls Kate a movie star, but felt like she could have given more. Jason is proud of Neptune. Nigel tells Kate to be careful that her coolness can be seen as not performing. He says Neptune threw himself into it, and he looked like a jazz dancer. Nigel says a negative mind will never create a positive life. RESULTS! Neptune is in danger. Asaf and Kate are safe. WOW. Really? Asaf is safe? OK…
Click to Watch Kate, Asaf, Neptune – Broadway – VIDEO
That means the rest of Team Street is safe. Yaya and JJ are safe before they even have to dance.
National Dance Day Promo. This Saturday!
6) Jaja and Jim- Hip Hop by Christopher Scott- No Woman, No Cry- Bob Marley
Jaja drew her own style. Jim's a ballet dancer. Bluprint is assisting Christopher Scott. This is pretty amazing. Basically the favorite dancer from Team Stage and Street came together for a really fun hip hop number. As expected, Jaja is killing it. Jim is surprising too. I'm expecting someone to mention Alex Wong in the judging panel. Standing O from the judges. Nigel says it's emotional for him to see Ballet come together with Hip Hop and be that beautiful is amazing. Paula says they proved if they commit, there's endless possibilities. Jason says it was an unbelievable routine, and calls them stars. He says he didn't see a ballet dancer up there, he saw a bright shining star. RESULTS. Yaya is already safe, but Jim is safe too.
Click to Watch Jaja and Jim – Hip Hop – VIDEO
We're still looking for one more bottom three stage dancer. Marisa, Moises, and JJ are up next. Either Marisa or Moises have to be in the bottom 3. I'm betting its Moises.
7) Moises, Marisa, JJ- Jazz by Ray Leeper- I'm So Sorry by Imagine Dragons
Ray says Moises is a beautiful dancer, but he's up against two powerful women. Ray wants to see Marisa's training a bit more. I'm drawn to Marisa here mostly. Moises is doing solid work, as is JJ, but Marisa is so strong. And her face is just like… fierce. FIERCE by Chanel. It's insane. Great dance. Marisa wins face of the night. Jason thought it was very good, and thought Moises was coming into his own. Jason thought Marisa was off putting. WHAT? Dude. Those weren't happy smiles, those were "I'm queen bitch" smiles. Nigel says there were two strong girls, and makes a Moses parting the red sea joke. Nigel loved Moises's technique, and didn't like the smiles. Paula understood the smiles, and stood up for them. Paula says JJ is kryptonite (I don't think she knows what kryptonite is). Paula almost gets cut off, but gives Moises quick props too. RESULTS: Moises is in danger. JJ and Marisa are safe.
Click to Watch Moises, Marisa, JJ – Jazz – VIDEO
IN DANGER:
Team Stage: Darion, Derek, Moises
Team Street: Ariana, Lily, Neptune
SAFE:
Team Stage: Hailee, Alexia, Gaby, Edson, Kate, Jim, Marisa
Team Street: Yorelis, Megz, Virgil, Burum, Asaf, Yaya, JJ
Who will you be twitter saving? We don't get to see any solos. So nevermind. I voted to save Moises and Ariana. Sorry Neptune.
Street Dancers had 46% of the vote last week, but Stage Dancers had 54% of the vote.
Team Street Group Routine- Choreo by Christopher Scott and Phillip Chbeeb- Time by Nathan Lainer
They're dancing using seesaws. Thats crazy. Chris Scott loves Megz. Phillip loves Neptune. They both love Virgil. Asaf has concerns. Neptune stands out in the dance. The seesaws are a cool gimmick. This was the best dance of the night. Best choreo for sure. Loved it. Team Street!
Click to Watch Team Street Group Routine VIDEO
After the break, Team Stage does their group routine.
Team Stage Group Routine- Choreo by Travis Wall- Stabat Mater by Woodkid
Travis calls the routine explosive. I wanna see Twitch do some choreo. OK, costuming wins here. Everyone looks great. I noticed Jim, Hailee, Edson, Kate, and Alexia in that dance. Killer choreo. That's a tough call between Stage and Street tonight. Standing O from the judges. Nigel says Team Stage!
Click to Watch Team Stage Group Routine VIDEO
RESULTS! Darion, Derek, and Moises stay on stage, Lily, Ariana, and Neptune come back out.
Saved By The Twitter Vote: Neptune and Moises
Still in danger: Lily, Ariana, Derek, and Darion.
I'm betting they send Darion home. I'm not sure which girl, but I have a bad feeling its Ariana (which is why I tried to twitter save her). I'd rather it be Lily. I'm OK with Darion going home.
Nigel says they're saving Derek and Ariana. Darion and Lily are going home. I'm OK with that.
Click to Watch the Results and Elimination VIDEO
Join me tomorrow night for the SYTYCD 10 year anniversary special, and again next week for Top 18. Don't forget to vote at FOX.com/DANCE or using the FOX NOW APP or texting the dancers name to 21523.