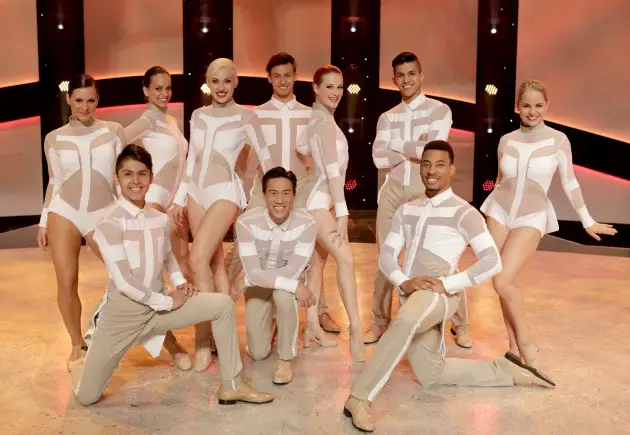 Join me here tonight. We get to find out, officially, who the injured dancer is and who is replacing them, as well as see a few dancers really for the first time.
I'm excited. Are you? Don't forget to discuss below. Are you TEAM STAGE or TEAM STREET?
Well, Asaf is in the opening montage, so SPOILER ALERT. Asaf is back in the competition. The opening montage of Twitch and Travis giving motivational speeches is pretty legit.
Revolt- Nathan Lanier- Choreo By: Christoper Scott and Jessie Lee Keller
The Top 20 do a combined routine, where both teams are still dancing in their styles. The stage dancers keep it contemporary and the street dancers keep it hip hop. This seriously might be the best Top 20 ever, as long as we never see their weaknesses. LOL. 20 dancers, all strong in their styles.
Click to Watch the SYTYCD Top 20 Group Dance
Asaf is also introduced again in the Top 20 introductions, with no explanation yet.
They're on a new stage this year, though it looks the same. Now Cat addresses Asaf being in and Hurricane being injured and having to drop out. Hope he's OK.
Your judges are still just the same three. Nigel, Paula, and Jason. No guest judges. After this week, they'll be dancing out of their styles. This week, they're dancing in their own styles.
1) TEAM STREET: Megz, Neptune, JJ- The Illest by Far East Movement- Choreo By Dave Scott
The routine is about superheros saving the world. Dave gives JJ props for giving face the whole time. He wants more personality from Neptune. Twitch is excited for the dance. I'm excited. Megz's hair is legit. On point tonight. These are three incredible dancers and a great way to start off the show. I thought they all matched each other. No one dancer stood out from the pack. All three killed it. I'm impressed with Neptune, since this is the first time we've seen him. I've been a big fan of Megz the whole time. Nigel gives props to Chris Scott for the opening routine. Nigel told Megz that she brought excitement to the routine. Nigel asks Neptune why he's called Neptune, and he says he brings the peace and love to the stage. Nigel reminds him he has to bring personality. I felt he matched the personality needed for this routine. Paula's excited for all of them, and tells them to commit to the characters. Jason thought it was good. He felt let down by the performance. He says we're way past "good" now. Twitch greets his dancers off stage.
Click to Watch Megz, Neptune JJ – SYTYCD Top 20 – Team Street – VIDEO
2) TEAM STAGE: Gaby, Derek, Moises- Luminous by Max Richter- Choreo by Stacey Tookey
It's about finding your inner light. Stacey says Gaby is just as strong as a contemporary trained girl. Fog machine. Beautiful white costumes. They're trying for a moment here with only the second dance of the night. I can't really tell that Gaby's out of her style. She's doing a great job. Both boys are solid too. That's the problem of dancing in your style, is that you're probably going to nail it. You're expected to nail it. Paula tells Stacey Tookey that she's beautiful, and that she brings emotion into every intricate moment. She said it showed their strengths. Paula says Gaby is becoming irreplaceable. Jason said he'd pay to see that. He also gives props to Gaby. Nigel commended them for being in unison. Nigel again gives props to Gaby, who technically danced out of her style tonight. Travis tells Gaby she held up really well.
Click to Watch Gaby, Derek, Moises – SYTYCD Top 20 – Team Stage – VIDEO
3) TEAM STREET: Lily, Jaja, Burim, and Asaf-Easy by Son Lux- Choreo By Chris Scott
Will Asaf learn the choreo? LOL. He took 17 classes in two days in the time he had from getting the phone call till he actually had to show up for the show. Chris Scott seemed stressed, but let's see how the dance pans out. In the choreo sections, the girls outperform the guys. But when those two boys get to hit the floor and break? Game changer. It's a shame they don't get to do it more. I'd still give the dance to Jaja and Lily. Cat does the Chris Pratt against the raptors pose with the dancers. Jason calls it beasty. He's impressed. Nigel thought Team Stage stole the competition with the last routine, but Team Street just stole it back. Did Nigel just call her Linda? Lily. Nigel reminds Asaf that to win he has to be a good entertainer and a good dancer. Paula says Chris Scott is a genius. Paula loves Jaja. Paula just called her Laurie. WHAT THE HELL IS HER NAME? Is is Lily? Laurie? Linda? DOES ANYONE KNOW WHAT HER NAME IS? Asaf thanks his dancers for putting in the work. The judges mock him for thinking he's a judge. At least he knows what Lily's name is.
Click to Watch Lily, Jaja, Burim, and Asaf – SYTYCD Top 20 – Team Street – VIDEO
4) TEAM STAGE: Hailee, Marissa, and Alexa-New Dorp New York by SBTSRK- Choreo by Brian Freidman
Brian wants them to be in stilettos. He's wearing his own stilettos for the routine. Brian says Alexa needs to lose her competition background. Hailee looks hot. She's got grace face, and she just is really comfortable in her body and the movements. You can tell the other two girls struggled with doing this dance in their heads. It's really sexy, and they're wearing almost nothing. Hailee just owns it. Alexa really didn't stand out for me. I found myself either drawn to Marissa or Hailee (mostly Hailee). All three dancers are beautiful, but Alexa just doesn't draw me in. Nigel says Hailee looks like a young Madonna. Nigel says when things are overtly sexual, you have to internalize some of it. Paula says it's subtlety and little smiles. Paula tells Marissa not to doubt herself. Jason agrees with the other judges, but thought they nailed it.
Click to Watch Hailee, Marissa and Alexa – SYTYCD Top 20 – Team Stage – VIDEO
5) TEAM STAGE: Darion and Jim- Blood and Stone by AudioMachine – Choreo by Benoit Swan Pouffer
They're doing a ballet routine. Travis says it's the hardest routine ever on the show. Travis says it'll be a routine everyone remembers. He says it'll be a standing O number. That's some hype. I would have found them different costumes… Not knocking ballet at all, but these costumes look a little feminine for their first big dance. They're not dancing feminine at all. They're SLAYING this dance. Unlike when those girls tried ballet last year, this is way better. Routine of the night indeed. A perfect showcase of their talent. Paula says it's the first time we've had two ballet boys. Paula didn't like the costumes either. Jason says we have the best dancers in the world. He says it's a performance that'll be remembered. Nigel says Jim has amazing feet. Nigel needs more light from Darion.
Click to Watch Darion, and Jim – SYTYCD Top 20 – Team Stage – VIDEO
July 25th is NATIONAL DANCE DAY! ZOMG! Two routines. Team Street's Twitch has a beginner routine, Team Stage's Travis has a more advanced routine.
6) TEAM STREET: Ariana, Virgil, Yorelis- Locked Out Of Heaven by Bruno Mars- Choreo By: Pharside and Phoenix
Virgil has to choose between heaven (Ariana) or hell (Yorelis). It's a battle for his soul. Pharside Virgil is great to work with. They're waiting for Ariana to break out of her shell. This choreo is legit. This is how you do a three person dance and still tell a story. Best team street dance tonight. Ariana kind fades out and loses to Yorelis in terms of personality and stage presence. Virgil has stage presence in spades. Jason thought Ariana held her own. He called it fly. Nigel says it was fly for him too. Nigel thought Ariana also matched them. She's dancing in her style. Why was there an expectation that she wouldn't match them? You're basically saying "I was expecting to be disappointed by Ariana, not the other two, but Ariana didn't disappoint me and I'm surprised!" It's like you're letting the audience know she's not as strong as the other two. You're handicapping her. I didn't feel she was performing on their level, but she hit all her moves.
Click to Watch Ariana, Virgil, Yorelis – SYTYCD Top 20 – Team Steet – VIDEO
7) TEAM STAGE: Edson and Kate- Shaped Like A Gun by Tailor – Choreo by Travis Wall
Kate is the oldest member on Team Stage. I thought Travis wasn't doing choreo this season? Everyone on Team Street had to dance with 3 or 4 people, yet Team Stage got two teams of two dancers? Umm… not fair. This is, of course, incredible. It's Travis Wall, and it's the best contemporary we've seen tonight. Edson reminds me a bit of a lot of dancers who have done really well. I'm reminded of Robert and Chehon in his style. Kate is almost her own dancer. She looks a bit like Sophie Turner from Game Of Thrones. Nigel said it was beautiful dancing and beautiful choreo, but he didn't understand what it was about. Nigel wants them to figure out what the emotion is, and thinks they're both beautiful dancers. I kind of agree. I didn't know what that was about, but I thought it was well danced and beautiful. Paula says she was missing chemistry. Jason says when you push, you should actually push him. Live it.
Click to Watch Edson and Kate – SYTYCD Top 20 – Team Stage – VIDEO
I gotta say, Paula and Jason gave some of their best critiques tonight. They really stepped up their game. Coming up, Jason performs with the All-Stars.
We recap the All-Stars visiting the White House. Cat gives Ms Obama a pop quiz
Dream Dance Partner? Michael Jackson
What gets her moving? Anything Beyonce
Favorite style? Freestyle
Favorite move in her Take 5 dance? All good moves
Team Stage or Team Street? Street
She loved Gravity. She loved Rudy and Tanisha's Usher dance, and Comfort and Jasmine's Run the World.
Jason sings one of his songs, with a lot of production on stage, and some all-stars. He's doing a few moves. He plays with his mic like he's not lip syncing. On Stage: Jasmine, Kayla?, Fikshun, Joshua. A lot of masks were used, I couldn't see everyones faces.
Click to Watch Jason Derulo perform "Cheyenne" with the All Star Dancers
8) TEAM STAGE: Body Language by Queen- Choreo: Broadway by Warren Carlyle
The whole Top 10 Team Stage join together for this. No one is technically "in their style" for this. Virgil is the only one I know of with Broadway experience, and he's on Team Street. Warren singles out Gaby, Alexa, and Marissa (though he says she needs a bit more elegance). 10 dancers is going to make it hard to truly stand out. I'm not a fan of the costumes. I also question the choreo and the song choice. It's a good song, but it doesn't feel broadway at all. Neither does the choreo. There are moments, of course. It feels a bit more jazzy. I'd say this is pretty easy Broadway choreo. Having a white cane on stage with the dancers and top hats doesn't make the dance Broadway. Hated the dance, but the dancers did it well. I'd say I noticed Darien, Jim, Gaby, and Hailee the most.
Click to Watch the Team Stage Group Dance
9) TEAM STREET: Ready or Not Here I Come- Choreo by Tabitha and Napoleon.
Napoleon yells at the dancers in boot camp style. LOL. They're a squad of soldiers for this dance. Twitch says Virgil is a standout. Tabitha thinks Yorelis has the full package. Twitch says Megz brings strength and rawness. Twitch admitted that Burim and Asaf had a hard time with the choreo. Asaf is already complaining about choreo. AND HE'S BASICALLY IN HIS STYLE. God forbid this dude gets contemporary next week. Again, though, they're both fabulous B-Boys, and when they get to do their thing, it's great. They hid the B-Boys in the back as much as possible. For good reason. Tehy're not killing the choreo. And there was a section they didn't have to dance, because they breaked off the stage. Then when they came back in, they did more of their own style. They can't break their way through the competition. It was a great dance, but it showed how weak those two were. Standouts for me: Virgil, Jaja, Yorelis, Megz, JJ. Standing O from the judges.
Click to Watch the Team Street Group Dance
To vote, you can vote at Fox.Com/Dance, use the FOX NOW app, or text the name you're voting for to 21523.
One Stage and One Street will leave next week. I'm not gonna rank tonight. I want to rewatch things before I do my power list. My gut instinct tells me that a B-Boy needs to leave Team Street.
Next Tuesday: There's an extra SYTYCD episode to celebrate their 10 year anniversary. The best routines from over the years will be highlighted.
Who did you like? Who stood out for you? Sound off in the comments, and join me next week!