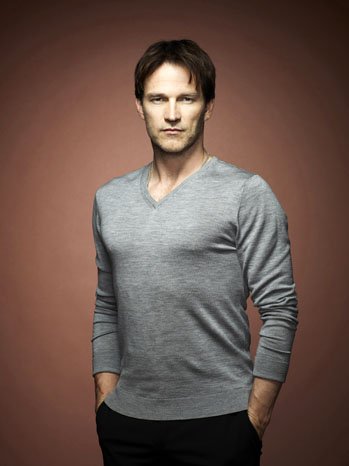 The Hollywood Reporter, Variety, and Deadline all report that Stephen Moyer, most well-known in the US for his current role as Bill Compton on HBO's True Blood, has been cast to play Captain Georg Von Trapp opposite Carrie Underwood's Maria in NBC's upcoming musical presentation of The Sound Of Music. The live telecast will air on Thursday, December 5th from 8-11 PM Eastern time.
Moyer has a plenty of live theater credentials outside of his current TV role. From the press release:
Last month he starred in the Hollywood Bowl's production of the iconic musical "Chicago," where he played charismatic attorney Billy Flynn.

Moyer is a stage veteran in the U.K., having spent time with the National Theatre of Wales, the Royal Shakespeare Company, the Oxford Stage Company and the Young Vic in England. He has played the lead role "Romeo and Juliet" as well as several other legit productions early in his career.
No doubt it's a good move to cast a veteran actor with stage experience to star alongside Carrie, who is a relative newbie to acting and a total newbie to a lead role like that of Maria.
Carrie has devoted a good portion of her summer to prepping her role as Maria. She told Country Countdown USA:
"I've already started. My summer's been reading scripts. I don't want to over-familiarize myself with it, but if I know my lines and my songs, so when I get there in October, that's when we move to New York, and start work. I want to get up there and have a solid two months in New York, just spend a couple weeks working on everything myself. I have two months blocked out in October and November, except for a week for the CMA Awards. That's part of the deal. So that'll be nice.
She also visited Salzburg as part of an anniversary vacation with her husband Mike Fisher, and reports that the song she sings in the shower these days is "The Lonely Goatherd." Well, as a country singer, Carrie surely has the yodel part down!
What do you think about Stephen Moyer as Captain Von Trapp? Here's video of him singing "Razzle Dazzle" and "We Both Reached For The Gun" from this summer's Hollywood Bowl production of Chicago:
http://www.youtube.com/watch?v=TnO7jL_b8rQ
http://www.youtube.com/watch?annotation_id=annotation_1181856687&feature=iv&src_vid=TnO7jL_b8rQ&v=gR2PPNxPe8U