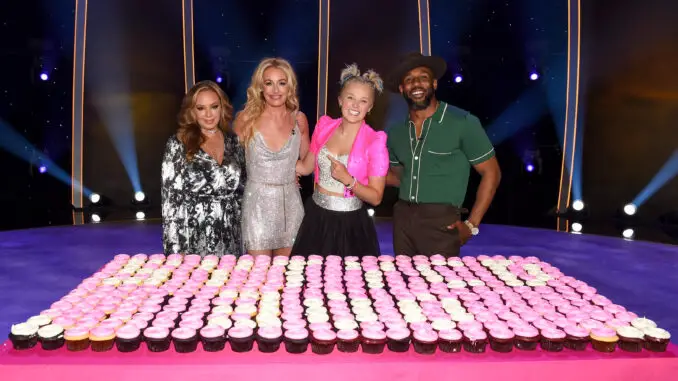 So You Think You Can Dance celebrates its 300th episode tonight, while it unveils its Top 12. Dancing with the Stars alum Leah Remini joins Stephen "tWitch" Boss and JoJo Siwa on the panel. Cat Deeley hosts.
Because the episode was taped last week, we have spoilers. Check them out, but do NOT SPOIL in the comments underneath this post. Thank you!
So You Think You Can Dance 2022 SPOILERS: Here are Your Top 12!
Happy 300th episode to So You Think You Can Dance. Cat explains that after last week's choreography round, only 24 contestants remained. Tonight, the Top 12 will be revealed. The winner will nab a 100K prize.
Oh boy. NO LIVE VOTING GUYS. "For the first time, the studio audience will "vote for their favorite," declares Cat as if it were some new, incredible upgrade for the show. Pro tip: It's not.
Sorry fans, you don't decide the winner. This show has been hollowed out to its very core.
Cat introduces new judge Leah Remini as a "dance enthusiast." Sure, I like dance too, but would that qualify me to sit on a dance competition judging panel?
The Top 24 dancers learn their fate in pairs.
James "Lord Finn" Thomas is in the Top 12. He started the competition with his girlfriend, who was eliminated during choreography. Shelfar Delgado is eliminated.
Next up, is Jaliyah "Juicy" Kersten who has experienced health issues, and Virginia Crouse. JoJo tells both their last moments were not their strongest. But Juicy is eliminated, while Virginia moves on.
Next, Virginia and James perform a hip hop routine to "Drop it Like It's Hot by Snoop Dogg feat. Pharrell Williams. The hip hop routine was choreographed by Luther Brown. tWitch loved the swag and energy. "y'all showed up for each other." Leah thought they worked beautifully as a team. JoJo congratulates Luther for his creative choreography.
Two more dancers learn their fate. Jordan Betscher dreamed of being a dancer on the show. Jocelyn Martinez is the last standing tapper. tWitch delivers the news. Jordan makes the top 12. No tappers this season, Jocelyn is eliminated.
Konnor Kelly is next. His supportive mom runs a dance studio. Waverly Fredericks struggled through choreography. JoJo tells Konnor that his journey ends today. Waverly is in the Top 12.
Waverly and Jordan perform a contemporary routine to "Bob in the Rain and the Lizard of Hope" by Tom Rosenthal. Props! They use umbrellas. It's lovely and lyrical. Mandy Korpinen & Elizabeth Petrin are the choreographers. JoJo notes that props are hard. She compliments their chemistry. tWitch loved their extension and length. Leah saw their connection. 
Next up in front of the judges are Mia Mellican and Anna Miller, who has been struggling. tWitch felt Anna disappeared in group routines. But they send Mia home. Anna moves on to the Top 12. 
Now, it's Samuel McWilliams and Beau Harmon.  Oh look. It's the disgraced Matthew Morrison delivering the news. Guess they couldn't completely edit him out of this episode. Beau, who is a comic jazz dancer makes the Top 12. Samuel is sent home.
Anna and Beau perform a Broadway number, to "Dancing in the Dark" by Frank Sinatra. The two are dressed as old-fashioned movie ushers. It's very fun. Al Blackstone is the choreographer. Leah loves that Beau is here. JoJo felt the two committed whole heartedly to the routine. tWitch is excited to see more of their partnership.
Next up in front of the judges: Thiago Pacheco grew up poor. Jerome Cunanan wants to do this for his family. J0Jo tells Jerome that his journey ends. Thiago moves on. 
Now, it's Flora Dickens, who admits that she struggles with nerves and Essence Wilmington. Hip hop dancer Essence moves on. Flora is eliminated.
Thiago and Essence dance a contemporary number to "No More I Love Yous" by Annie Lennox. The two dance amid frosty trees and smoke. It's like a sweet fairytale dream, but with a bittersweet ending.  Tessandra Chavez choreographed. tWitch is impressed with Essence's ability, as a hip hop dancer, to perform contemporary. He says…point your feet! Dive deeper into that character he tells Thiago. Leah agrees. "connect more," she says. JoJo disagrees. She believed the story. But they both need to work on their nerves. 
Next up it's Tresten Sosa, a ballroom dancer who has auditioned three times and Carter Williams. Sadly, the third time is not a charm for Tresten. He's eliminated. Carter advances. 
Now, it's Ralyn Johnson who JoJo felt could be more powerful. JoJo Lokhorst auditioned with jazz solo. Matthew says JoJo was impressive in choreography, however, JoJo is eliminated. Ralyn advances to the Top 12.
Carter and Ralyn perform a jive routine to "I'm Still Standing" by Elton John. Dancing with the Stars pro Alan Bersten choreographed the number. JoJo is impressed with the many flips and tricks performed and the duo's stamina. "High octane, high energy," says tWitch. Leah calls it "infectious."
Lastly in front of the judges: Keaton Kermode who is a "bro country dude" former football player. But he's a contemporary dancer! Also, Matthew Deloch, who has auditioned several times in the past. Matthew is eliminated, Keaton advances to the Top 12.  
And now, Camila Schwarz, a ballroom dancer, and another ballroom dancer Alexis Warr face the judges. Camila is eliminated, says JoJo. Alexis advances to the Top 12. 
Alexis and Keaton perform a contemporary routine to "Rome" by Dermot Kennedy. It's a super emotional piece that gets a standing ovation. Talia Favia choreographed. Leah asks Talia if she's crazy. "You were telling the story, you both connected." JoJo complimented their side-by-side section. "This is the best dance I've ever seen," she declares. tWitch calls it beautiful and artful. 
Now, the STUDIO AUDIENCE VOTES. The four dancers in danger are: Carter, Virginia, Thiago and Essence. 
HOWEVER NOBODY IS GOING HOME IT'S THE 300th EPISODE SAYS tWITCH. Oh boy!
The episode ends with a Top 12 group number to Bussin by Nicki Minaj and Lil Baby. Choreographed by Luther Brown.
SYTYCD Season 17 Top 12
James "Lord Finn" Thomas – Breaking
Virginia Crouse – Contemporary
Jordan Betscher – Jazz
Waverly Fredericks – Contemporary
Anna Miller – Contemporary
Beau Harmon – Jazz
Thiago Pacheco – Contemporary
Essence Wilmington – Hip hop
Carter Williams – Ballroom
Raylyn Johnson – Contemporary
Keaton Kermode – Contemporary
Alexis Warr – Ballroom
Eliminated from Top 12
The studio audience voted, but to celebrate the 300th episode, NOBODY is eliminated.